Frugal DIY Foaming Hand Soap
posted by Andrea | 06/12/2015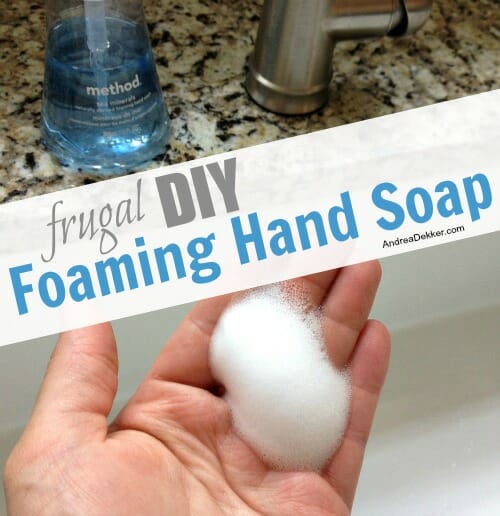 Earlier this month, I shared that one of my favorite things is foaming hand soap — mainly because it's SO much easier for kids to use than the regular gel soaps or bar soaps.
After sharing that post, I got several emails and comments about the fact that foaming soaps tends to be much more expensive than gel or bar soaps in the long run (because you use it up faster).
Well, since I've actually been making my own foaming hand soap (and since that recipe is super frugal) I figured it was a good time to share it here on my blog.
I first learned about how to make my own foaming hand soap from this post on MoneySavingMom.com… so when I purchased the Method foaming hand soap pump several months ago, I was excited about finally trying the DIY foaming hand soap recipe.
It didn't take long to run out of our first bottle of soap, and instead of filling it with the Method foaming hand soap refills, I filled it with the Method GEL soap refill.
The key however, is to only add about a 1/2 inch of gel soap to the bottom of the soap pump, then fill the rest of the pump with water!
After GENTLY swirling the soap into the water, you'll end up with a full bottle of foaming hand soap for mere pennies (you don't want to shake it too hard or it will make a mess).
Plus, if you purchase larger refill containers of gel soap, you will probably be set with soap for a couple of years (unless your kids have fun "playing" with the soap like mine do!)
This recipe is so simple and saves so much money when it comes to buying and using foaming hand soap! Plus, as I mentioned above, if you have small children, the foaming hand soap really is much easier for them to use themselves. Even Simon can scrub and rinse his own hands at 15 months old!
Also, although I have not tried it myself, I know other people who simply use a little dish soap to make foaming hand soap (which is probably even less expensive). The only type of "gel" soaps that don't work for foaming hand soaps are the creamy gel soaps.
Do you have any other frugal DIY cleaning recipes?