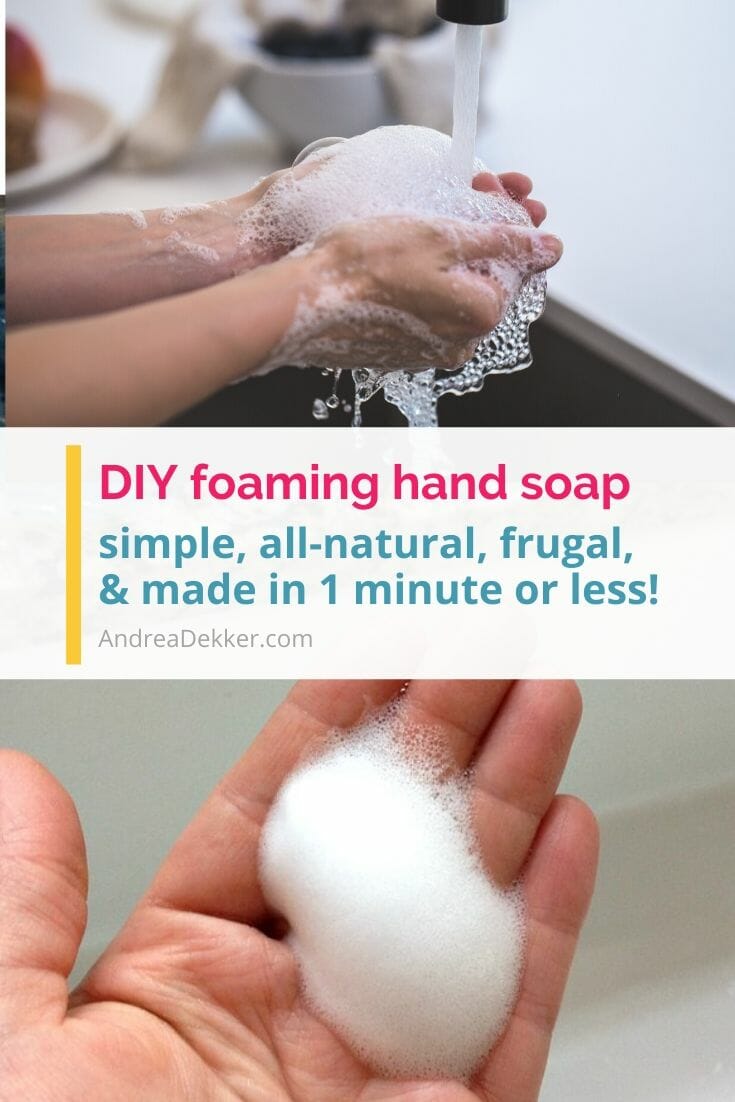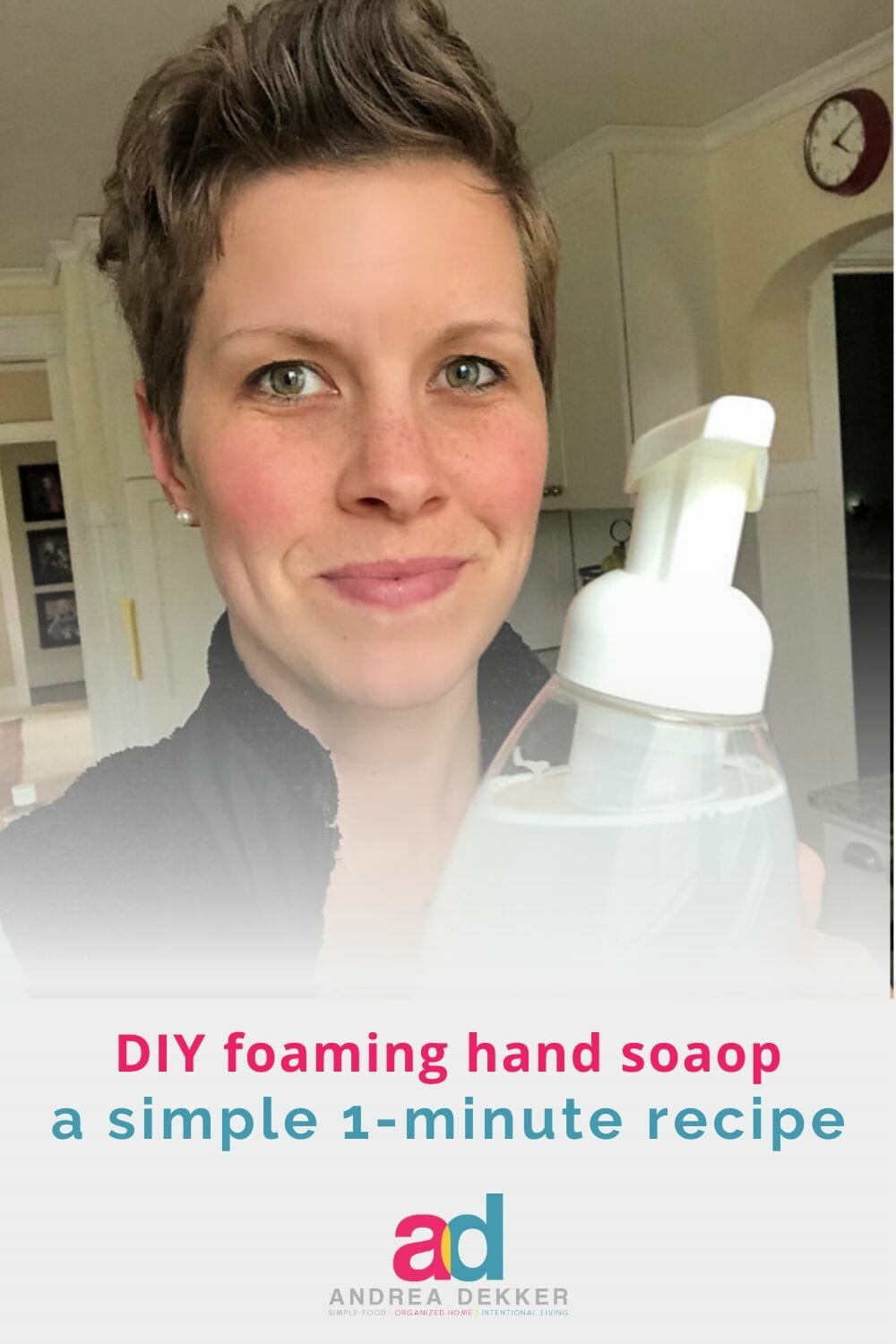 Get my simple recipe for all-natural DIY foaming hand soap and make your own in less than 1 minute, for only pennies a bottle. Your kids will love it and they might just wash their hands a bit more often… maybe!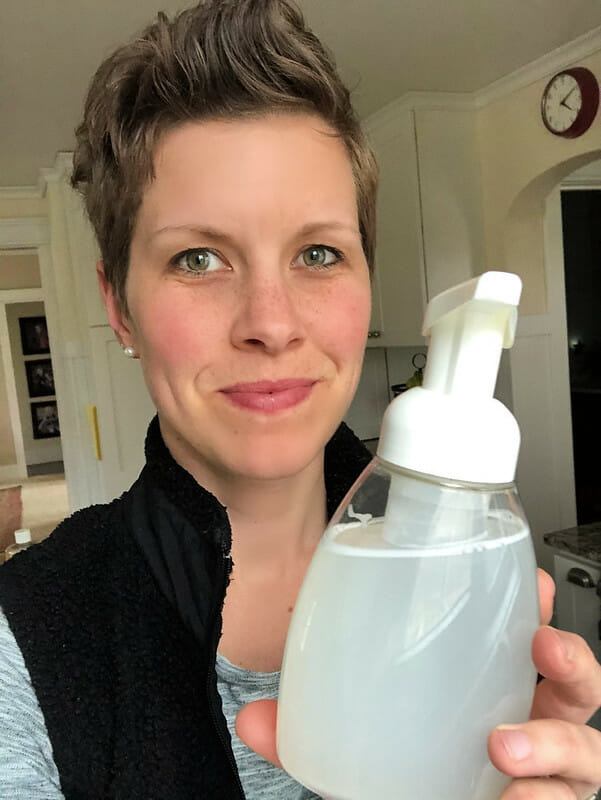 In 2020, our family switched to using all-natural cosmetics and personal care products — it's been SUCH a positive (and relatively easy) switch for us!
As a result, each of our bathrooms now has a bar of all-natural goat's milk soap next to the sink… which our kids DO use.
Tip: I use a junky knife to cut our bars of soap into thirds for small hands.
However, I've heard back from many of you whose kids have trouble with bar soap, so I thought I'd share my super simple ALL-NATURAL recipe for DIY foaming hand soap.
In my opinion, foaming soap is easier for small hands (especially when they're in a hurry — a.k.a. all the time!)
Foaming hand soap doesn't slide off their hands like gel soap and it's not as slippery to hold as a bar of soap… so for young children, foaming hand soap is a little way to make it easier (and more fun) for them to properly wash their hands.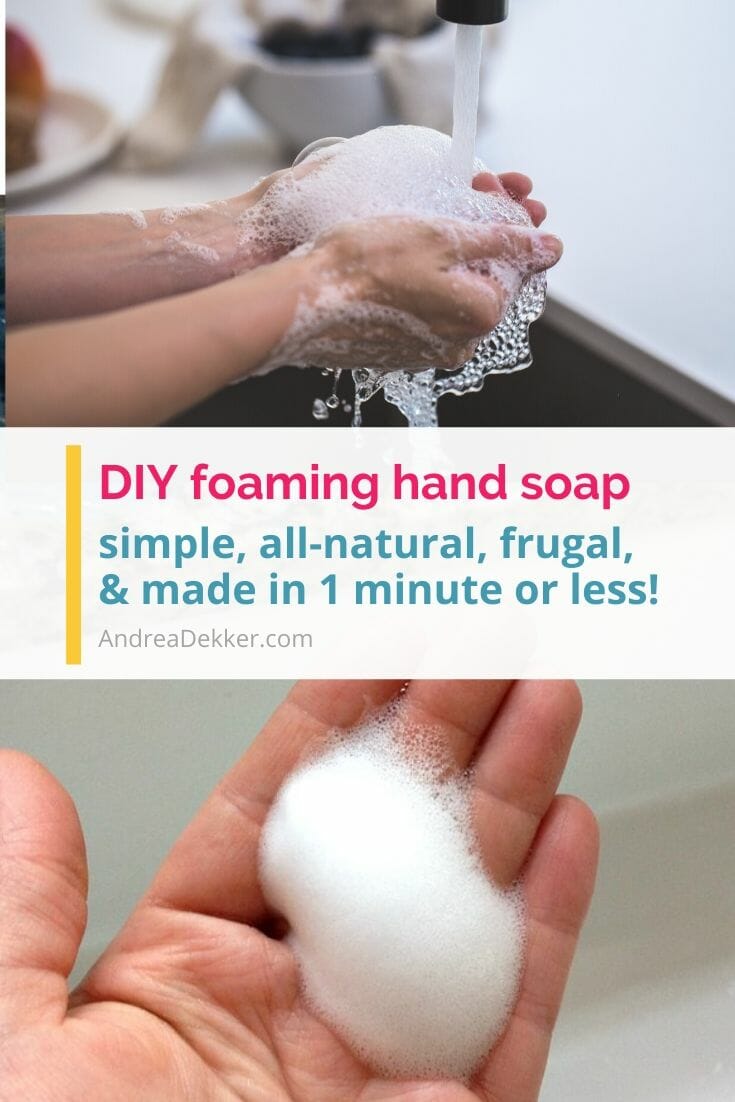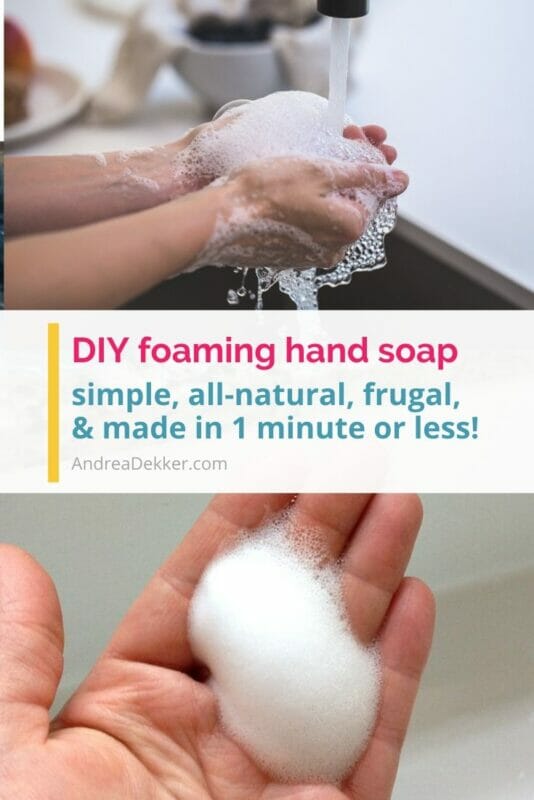 I learned how to make my own foaming hand soap many years ago.
At the time, I couldn't believe how simple the process was — I felt confident it wouldn't actually work for me!
Low and behold, within 1 minute, I had made my very first bottle of DIY foaming hand soap… I've never looked back since!
Yield: 1 bottle
Recipe for DIY Foaming Hand Soap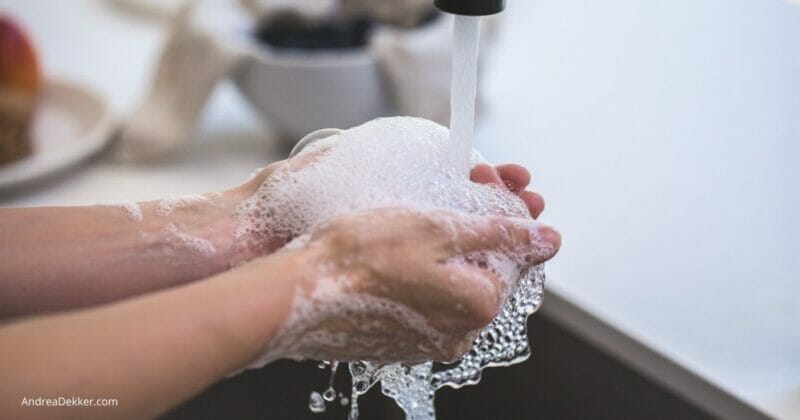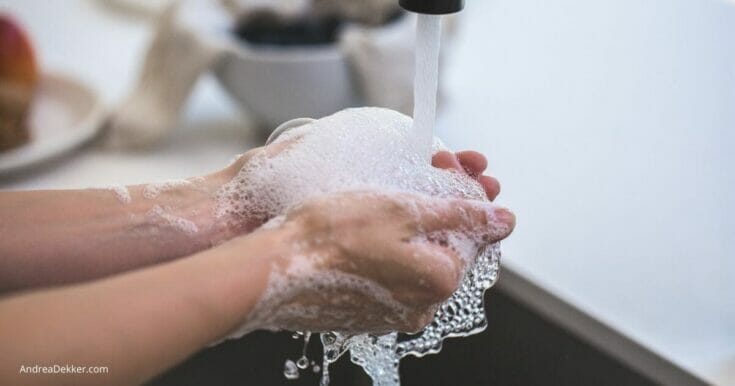 Learn how to make DIY foaming hand soap in less than 1 minute, for only pennies a bottle. Your kids will love it and they might just wash their hands a bit more often!
Materials
Castile soap or gel soap
water (filtered is best)
foaming soap dispenser
optional essential oils
Instructions
Pour 2 T. of Castile soap (or gel soap) into the bottom of soap dispenser
Add a few drops of essential oils (optional)
Slowly fill soap dispenser with water and screw on the pump top
Gently swirl to combine
Use and enjoy!
Notes
I suggest using filtered water as regular tap water could promote bacteria growth if you don't use your soap quickly.
If your foaming soap pump gets clogged or stops working, I suggest soaking the top of the pump in very hot water for 5 minutes, then pumping vigorously to clear our any gunk that may be stuck in the pump.
Recommended Products
As an Amazon Associate and member of other affiliate programs, I earn from qualifying purchases.
This recipe is so simple and saves so much money when it comes to buying and using foaming hand soap!
Plus, as I mentioned above, if you have small children, the foaming hand soap really is much easier for them to use themselves. Even our 2-year-old kiddos can easily pump and scrub their own hands!
A Few Helpful Notes:
Check out my Instagram Stories for a 1-minute video tutorial of how to make foaming hand soap.
Most gel dish soap WILL work for this foaming hand soap recipe (but won't necessarily be all-natural).
Creamy hand soaps (and dish soaps) will not work.
You may add essential oils if you like.
If you want to give your soap a little farmhouse charm, consider these ridiculously cute foaming soap dispensers!
This recipe also works to refill automatic foaming hand soap dispensers like this one (and the one pictured above).
You might consider using filtered water if you don't use up your soap quickly (like we do!) This will reduce the risk of bacteria growing inside the bottle of soap.
If your foaming soap dispenser gets clogged, simply soak it in hot water for 5 minutes and then pump vigorously to clear out any clog or buildup.
Related Reading:
This simple DIY foaming hand soap recipe is so easy to make, even your children or grandchildren can do it!
Have you tried making your own foaming hand soap? Do you have a favorite scent?
Pin this recipe for later so you don't lose it!