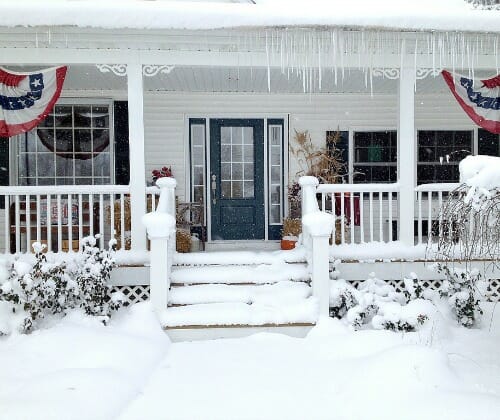 The days are getting shorter, the air is getting colder, and (as Nora excitedly announces almost every single day) "It's starting to feel like Autumn!"
She recently learned that Autumn is the same as "Fall" and I think she just likes saying the word — so we hear it a lot these days. I suppose her love of the fall months comes naturally, since it's always been my favorite season too.
Although I love the lazy days of summer with Dave home all day, there is just something about these fall months. In fact, besides the fact that almost all our family members live here, I think the beautiful fall months in Michigan are one of my favorite things about living in the Midwest.
If you live in (or travel to) the Midwest, you know how beautiful our fall weather is. However, there is also a lot of work to do in the fall.
Today (by request from a few readers) I'm sharing a rundown of what Dave and I do to "winterize" our home and yard for the Fall and Winter months ahead.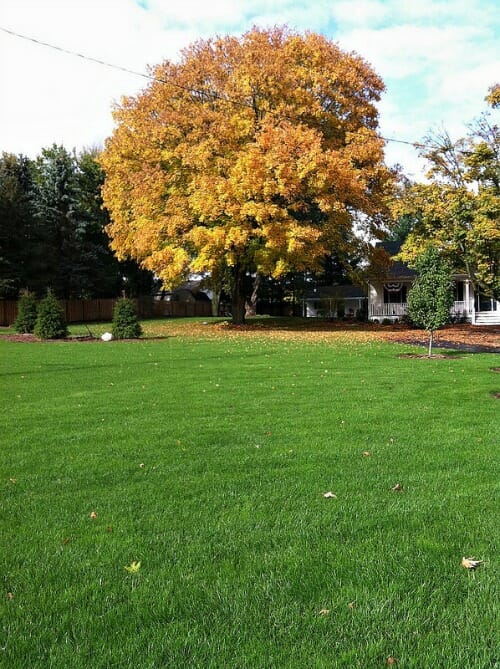 GARAGE:
Before it gets too cold, we like to do one last thorough cleaning of our garage — including spraying down the floor. There is a lot of dust and dirt that makes its way into our garage during the summer months, and I personally like getting it cleaned up before the weather is too cold to enjoy being outside.
We throw things away, better organize the space, move the pool toys, summer essentials, and gardening tools to the top shelves and haul out the snow shovels, sleds, and driveway salt.
Our garage floors have held up REALLY well to all our abuse, so cleaning it is a pretty quick process and the kids usually enjoy "helping".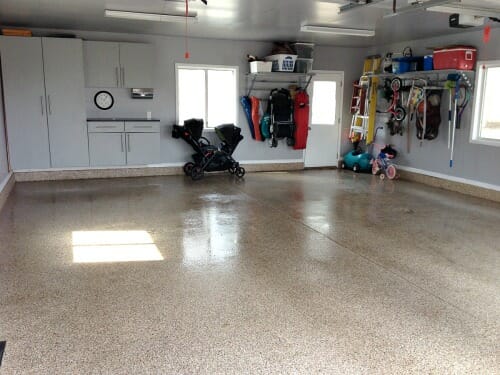 VEHICLES:
We usually get our tires checked to make sure they are adequate for driving in the snow, and we also have our mechanic do a 'once over' on everything when we get our next oil change. Being stranded somewhere is never any fun, but much less fun in the winter!
I also make sure our cars are stocked with a few blankets, water, snacks, jumper cables, snow brushes, and other "essentials" just in case of an emergency in bad weather.
You can see everything I keep in my car in this post.
GARDEN TOOLS & SHED:
I don't spend too much time fussing with our garden tools. They are inexpensive enough that we can just buy new ones if our current ones stop functioning. However, I do usually try to make sure they don't have any caked on dirt or mud and that they are in some sort of covered storage to protect them from the elements.
All of our yard tools fit in our tiny little garden shed — and they seem to do fine there all winter long. After a quick 15-minute organizing session, the shed is clean enough for winter!
MOTORIZED TOOLS:
Dave takes the reigns for this job — and it does take him more than the 15 minutes it takes me to clean up the non-motorized tools in the shed. He makes sure the mower is clean, the blades are sharpened, and the oil is changed. He does the same for our weed wiper, edger, and blower.
Although we have plow service for our long driveway, we do have a medium size snowblower to do the sidewalks and clean up various parts of our driveway that the plows can't reach. So he makes sure to change the oil in the snowblower and make sure it's working properly.
SPRINKLERS & HOSES:
We have our underground sprinkling professionally blown out every fall to prevent the pipes from freezing and leaving us with a HUGE mess. We also make sure to drain all our hoses and properly store them for the colder months.
YARD WORK:
Obviously, raking leaves is a big project for us every fall, but I also try to split some of our perennials every Fall. I don't like them to get too big, so I either split them and move them to other spots in our yard, or I sell them on Craigslist.
I usually try to get as many leaves and weeds out of the planting bed as possible, then I spread Preen one more time to hopefully help prevent some of the weeds that will eventually germinate.
Dave continues to mow the lawn until it gets too cold, and he also does whatever fertilizer is necessary for this time of year.
WINTER GEAR:
While I like to think of myself as "clutter-free" and not having more than we really need, I will be the first to admit that we have A LOT of winter gear!
Because we experience all sorts of weather here in Michigan (sometimes all in one week) we have found it useful to have various thicknesses of coats, gloves hats, etc. as well as several pairs of boots.
Thankfully, we now have a glorious mudroom to store everything in. I'm honestly not sure where we would put it all (especially as our kids grow and amass more winter gear!)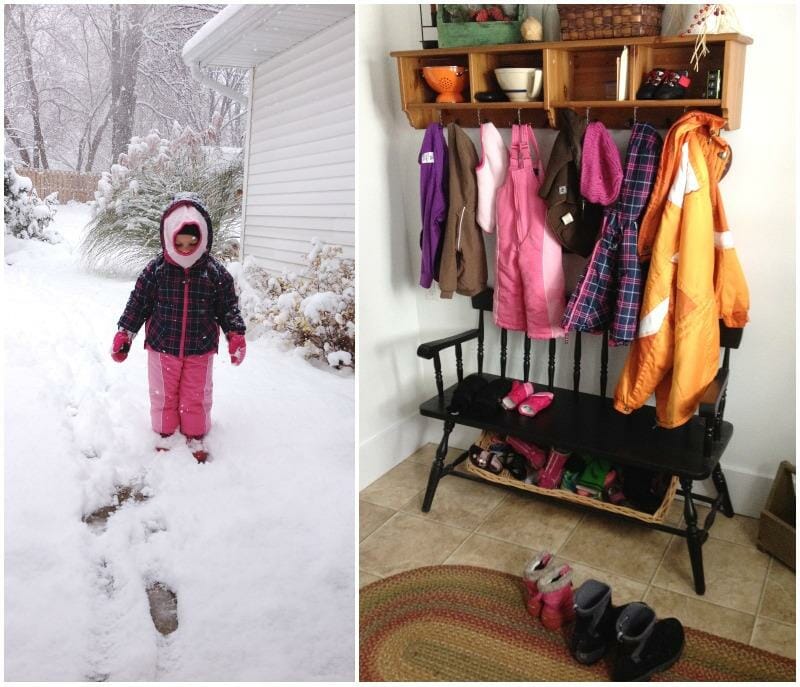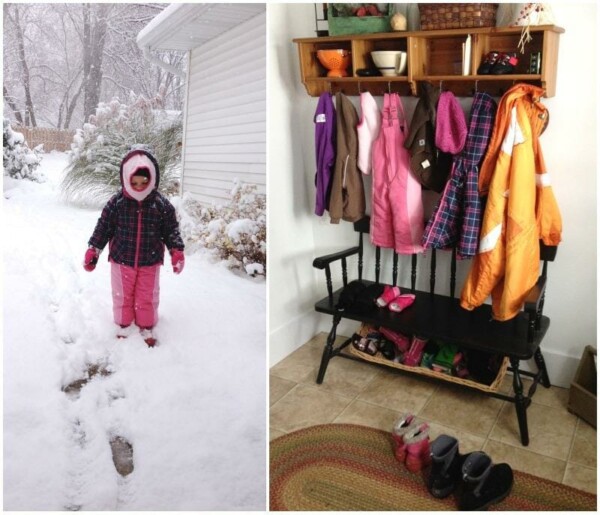 Every Fall, I take the time to put away all the swimsuits, beach towels, life jackets, goggles, and other pool gear and haul out the winter gear.
I've already done that this year — and all the kids have properly fitting snow gear, boots, hats, etc. They are super excited to venture out into the snow (I'm trying to be excited for them!)
AROUND THE HOUSE:
We try to have our carpets professionally cleaned every fall. We also have our air ducts cleaned in the fall — but not every year. We do not have our furnace serviced very often, but it's relatively new. If it were older, we might add this to our list.
We always make sure to change out our furnace filters before turning the heat on again (more information on that here). I have a goal to wash the windows (but that doesn't always happen!) After I wash the windows, I lock them to make sure they are sealed tightly to prevent drafts.
Since we have all new windows and doors on our house, we don't need to bother with doing much to "winterize" them, but I do know people who put up that plastic stuff over their windows and they swear it helps with their gas and energy bills.
I often find that my washing machine is going non-stop this time of year because I'm washing pillows, comforters, extra blankets, and quilts in preparation for colder nights. I also haul out the heating blanket for our bed.
MISCELLANEOUS:
Here are a few other random things I often try to do this time of year:
check the batteries in our smoke alarms
stock up on holiday baking supplies
start thinking more seriously about holiday shopping
do a bunch of canning (with produce from our own garden and also from local orchards)
I'm sure there are various other little things I'm forgetting about, but I think this is a pretty comprehensive list.
And obviously, we don't do this all in one day — or even one week. It's just a gradual process over the course of the Fall months in preparation for the upcoming Winter months. We do little projects here and there until they are eventually all complete.
How do you prepare for a new season?