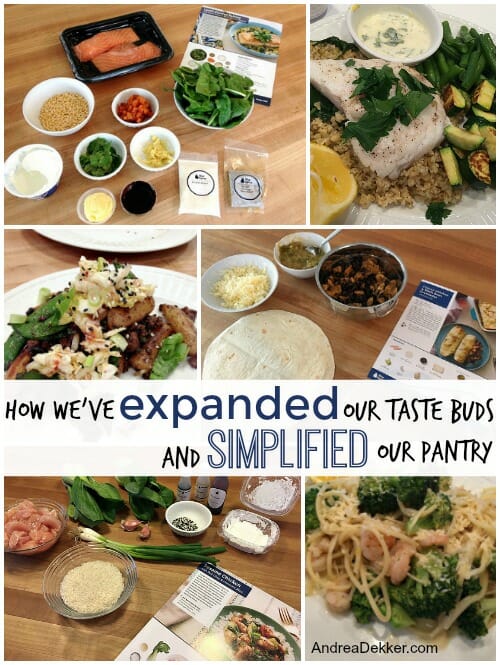 While I don't think I'm completely "stuck in a rut" when it comes to trying new recipes, I will admit to usually making recipes with "normal" ingredients I already have in the house — because I hate buying specific spices, oils, vinegar, or sauces just for one recipe (especially if I'm not even sure we'll like the recipe).
If I'm going to try a new recipe that has an unusual ingredient in it, I usually look up possible substitutes online and try to make do with something I already have in the house — or I just skip the ingredient all together 🙂
I realize how ridiculous this might sound to many of you more adventurous chefs, but I just hate cluttering up my pantry and refrigerator with nearly-full containers of something I purchased because I needed 1 Tablespoon, 1/2 teaspoon, or 1/4 cup for a new recipe. But I do like the idea of expanding our family's taste buds.
Can anyone relate or am I totally alone in this weirdness?
NOTE: This post contains affiliate links. I will receive compensation if you click through and make a purchase. Read my disclosure.
.
Fortunately, thanks to our MANY Blue Apron deliveries over the past 2 years, we have enjoyed several amazing recipes I would have never tried on my own; as well as a bunch of new spices, seasonings, sauces, and flavor combinations — all without cluttering up our pantry or refrigerator with jars and bottles we'll never use again.
The Blue Apron meals and recipes come with pre-measured spices, seasonings, sauces, oils, and vinegar that are the perfect amount for each individual recipe — but nothing more. This means we've been able to try more "exotic" flavor combos like Chicken Yakiniku with Sesame Carrots and Garlic Rice, Spicy Shrimp Coconut Curry, or Tangelo and Honey-Glazed Salmon without buying 20 different sauces and seasonings.
.
We recently enjoyed Creamy Shrimp Spaghetti — and even James gobbled it up!
I don't know why I never think my kids will like a lemon sauce on pasta — but they do. And this recipe used "Quark cheese" something I'd never heard of before (it was amazing!)
Over a year ago, we devoured our favorite Catfish recipe (my first experience with pasta and lemon sauce) and it's still one of our favorite ways to eat fish at home. I'm positive I would have never come up with that flavor combo if it weren't for our Blue Apron meals.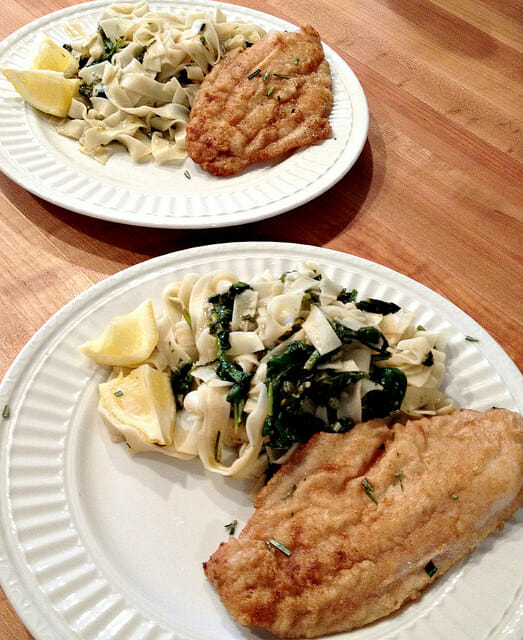 Who here has tried Cracked Freekeh?
We hadn't until a few months ago — it doesn't have much flavor on it's own, but was delicious served with Cod, a bunch of veggies, and a really yummy lemon herb sauce!
Another recent favorite was the Sesame Chicken with Bok Choy and Jasmine Rice.
I never seem to have the right seasonings in the house for Asian foods — but since Dave and I (and the kids) love Asian food, it is such a treat to get all the seasonings and sauces we need in pre-measured containers, ready for me to make the meal!
Another super crazy (and amazingly tasty) Asian-inspired meal was Beef Dukbokki with Quick Kimchi and Fresh Peas.
Wow, was that delicious. We had to fight over the last few bites because everyone wanted just a little bit more — and all the seasonings and sauces were ready to go for me!
Even something more "normal" like the Cheesy Chicken and Black Bean Enchiladas we had a couple of weeks ago were so full of flavor because I made my own Salsa Verde (starting by roasting tomatillos — something I've never done before!).
And back in December, one of our meals was a simple cheeseburger, BUT the recipe suggested sauteing the onions in balsamic vinegar before adding them to our burgers and WOW was that amazing!
SO simple, and SO flavorful — I've been sauteing our onions for burgers in balsamic vinegar ever since!
Did you know you can make these delicious recipes at home… for free?
The Blue Apron recipes are available for free on their website — all easily searchable by Cuisine, Season, or Main Ingredient.
However, if you'd like to make your job just a bit easier, you can get all the ingredients delivered to your doorstep for free too!
Blue Apron is offering THREE (3!) FREE meals to the first 100 people who place their first order via this link!!
If you enjoy cooking but feel like you make the same bland foods over and over again, or like you waste a bunch of money on spices and seasonings you never end up using again, I would highly encourage you to give Blue Apron a try.
There is NO commitment and you're NOT tied down to any sort of contract or schedule. You can skip shipments any time, or cancel your account completely if you feel the service isn't right for you.
I know I have thoroughly enjoyed spreading my culinary wings just a little bit, trying so many new flavor combos, tinkering with different ingredients, and finding several new recipes our family will enjoy for years to come!
This is a sponsored post on behalf of Blue Apron. All opinions are my own.