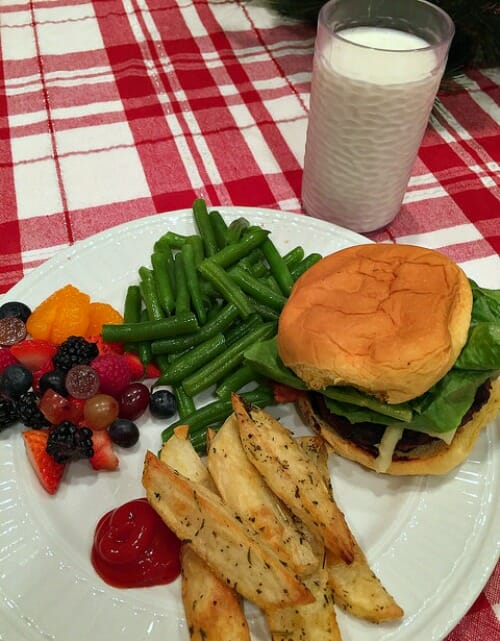 One food our entire family devours without a single complaint is cheeseburgers — even better when they are accompanied by Culver's fries or our favorite baked herbed potato wedges!
We have cheeseburgers on our menu plan at least once a month, and we also try to get to Culver's about once a month too — our children are all more than excited every time.
NOTE: This post contains affiliate links. If you click through my links and make a purchase, I will be compensated. Read my disclosure policy.
The kids just like ketchup and pickles on their cheeseburgers, but Dave and I try to mix up our toppings a bit, especially when we're grilling burgers at home.
Sometimes we add bacon, sometimes avocado, we often try different condiments and seasoning mixtures, and I've even tried adding a fried egg (it honestly was pretty good!)
A couple weeks ago, thanks to one of my Blue Apron meal shipments, I tried adding balsamic-glazed onions…
OH MY WORD was it delicious!
Dave and I decided we must have balsamic-glazed onions on all our burgers at home from now on!
Our burgers went from super delicious to "wow, this almost tastes like we're eating at a gourmet restaurant" just by adding those sweet, caramelized, balsamic glazed onions.
And it was SO easy!
Simply chop up some onion (I used one medium-size onion for 2 burgers and it was basically the perfect amount) and saute it in a little olive oil or butter until it's soft.
Then pour in a couple of tablespoons of balsamic vinegar and cook over medium heat until the liquid evaporates (about 2-4 minutes).
You'll be left with a sticky mass of blackened onions that don't look all that appetizing — but I promise, they will smell and taste so amazing!
The whole process takes me less than 10 minutes, and it's something I can easily do ahead of time and simply reheat them for 30 seconds when the burgers are ready.
I always spread the onions on the bottom bun, topped by the burger, then cheese, then any of our favorite burger toppings. And THEN, I enjoy a gourmet-tasting burger for a fraction of the price, right at my own kitchen table!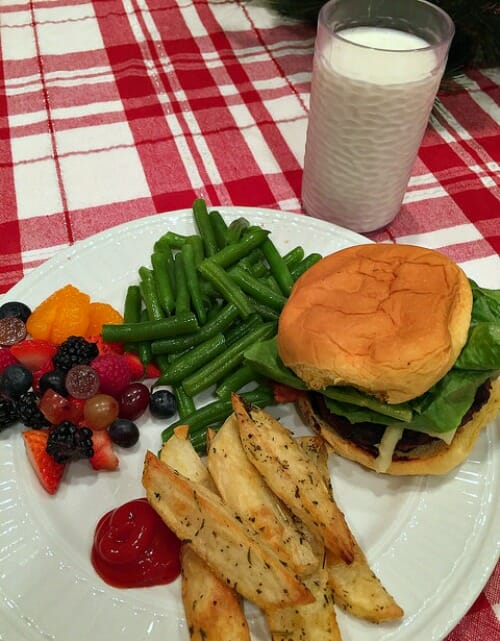 Even a couple of days later, Dave and I were still talking about how delicious our burgers were, and how I would have never thought to try sauteing our onions in balsamic vinegar if it weren't for our Blue Apron recipe.
I think this is one of the main things I appreciate about using Blue Apron's meal delivery service over the past couple of years.
Of course it's fabulous not to need a full meal plan for the week, it's nice to be able to take a week off from grocery shopping (or just go to get a few basics), and it's really fun to try new recipes — but it seems like every time I get another Blue Apron delivery, I learn a new cooking technique or food combination that can be applied to many different recipes I already make.
.
As I've mentioned before, I don't use Blue Apron every week, but since I can easily skip as many weeks as I want without canceling my subscription, I simply pick and choose when I want to utilize their yummy meals based on what recipes are offered and what our schedule looks like.
It's especially nice to have the Blue Apron refrigerated box arrive on my doorstep the day after a vacation — meaning I don't have to plan our menu or head to the grocery store for a couple days if I don't want to.
It's also fun to experiment with new recipes when I feel like I'm in a cooking rut, rotating the same handful of recipes over and over again. Yes, I love routine — but there are only so many times I can eat tatertot casserole without tiring of it!
Can anyone relate?
If you feel like you're in a meal-planning rut, if you'd like to try a few new foods, if you're not the best cook and want to learn with easy step-by-step instructions and photos, or if you're looking for a unique clutter-free gift for someone on your list this holiday season, you might consider giving Blue Apron a try!
In fact, if you act now, you might even be able to get a few meals for free!!
Get (or give) 3 FREE Meals!

Blue Apron is offering the 3 FREE meals to the first 50 people who place their first order via this link!!
You really have nothing to lose (except your grocery list and a little stress!) because there is no commitment and you're not tied down to any sort of contract. So why not try simplifying and streamlining your meal plan with Blue Apron!
It might just be the perfect gift to give YOURSELF this holiday season!