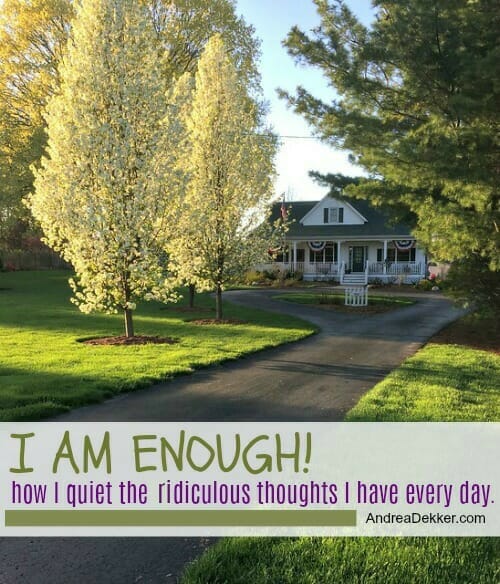 I've always been somewhat of a go-getter — striving for more, better, simpler, faster, smarter, easier, prettier, etc. not necessarily to show off or brag, but simply because I've always had an innate desire to improve whatever it is that I'm doing at that point in my life.
Growing up, I was rarely the BEST at anything; however, I was fairly good at many different things. I worked hard to be good at those things and took pride in realizing the fruits of my labor from a very young age (making the all-star team for little league softball, scoring close to perfect at many of my piano competitions, getting chosen as the team captain, earning a place in the top choir in high school, making the honor roll, graduating college in 3 years, etc.)
Now, as an adult, I still find myself striving for improvement in almost every single thing I do — again, not for the sake of anyone but myself, because that's just how my brain works!
My children could be quieter, more polite, and less crazy.
My time could be given more towards various volunteer opportunities at church, school, and within the community.
My wardrobe could be more hip and stylish.
My personality could be perkier, more outgoing, more adventurous, more relaxed.
My health could be improved by less sugar and more exercise.
My home could be cleaner and more organized.
My decór could be updated and my furniture could be rearranged.
My grocery shopping could be streamlined and I could use more coupons to save more money.
My blog could be refreshed with newer features and easier access to old content.
My social media could be updated more regularly with significantly more time and effort put into all the different platforms.
My business could be expanded to offer videos, podcasts, newsletters, ebooks, consulting, and even product sales.
My kitchen could be "greener" and I could waste less.
My medicine cabinet and cleaning supplies could be more natural.
My whole grain bread could be higher, softer, lighter, fluffier, and tastier.
My vegetable garden could be bigger, more organic, and more attractive.
My planting beds could have fewer weeds.
My landscape design could be more colorful, more "full", and more interesting.
My digital photo books could include more photos, better-quality photos, more text, more "extras".
I could read more, sleep more, pray more, play more, cook more, do more, be more… you get the idea.
Every single day, I have several of these thoughts enter my brain at any given moment. Sometimes they are fleeting and only stay for a split-second (like when I see a dust bunny roll across the wood flooring or finger prints all over a window). Other times they are nagging and hang on for extended periods of time.
Whatever the case, they are somewhat annoying!
.
I was recently thinking about these ridiculous thoughts (while mentally reminding myself of everything I do well, everything I'm good at, all the positive aspects of my home, life, job, family, etc.) and realized that if I have these thoughts every day, many of you must have them too!
(At least I hope I'm not the only one with these daily thoughts!)
The crazy thing for me is that I would honestly consider myself to be a very confident person.
I also feel extremely happy, grateful, and quite content with my current stage of life — staying home with our young children, working on home and yard projects, baking up a storm, and holding down the fort in my little corner of the internet!
I'm not a perfectionist.
I'm not a pessimist.
I'm not the type to want (or even know about) the latest and greatest products, services, tools, etc.
I'm definitely not someone who does anything just because others are doing it — in fact, I'm usually the one who purposely does things differently.
So why do I regularly have these crazy thoughts of all the things I should be and could be doing better than I'm currently doing them?
My remedy for these thoughts is simply to remind myself (over and over and over again) that I AM enough.

I am enough!

Then I force myself to immediately recount at least 5 things I do really well or 5 things I love about myself, my family, my home, my job, my garden, etc.
It's not a perfect fix, but it helps (and I can do it anywhere, anytime, for free!)
I am enough and I do enough. I am focused on what's important to me at this point in my life, and I'm not letting myself get side-tracked by too much "noise" all around me.
I am not suffocated or overly-burdened by these thoughts, but the thoughts are still there… almost every day, and they are still annoying.
My question for you today is 2-fold.
1. Do you have these types of thoughts?
2. If so, how do you deal with them?
NOTE: I am not looking for sympathy, I just want to start a conversation. I am truly so happy with my life, my family, my home, my job, etc. I have an abundance to be thankful for (and I am, most of the time)!