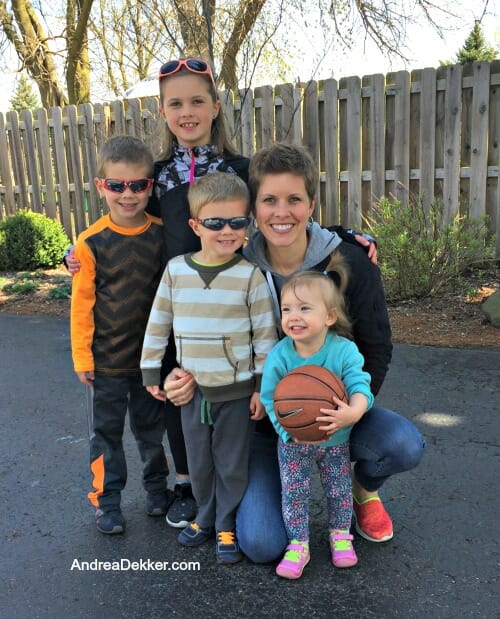 A couple weeks ago, I had an extremely busy week with several time sensitive projects for one of my Virtual Assistant clients, lots of extra activities at church, so many fun community events we could participate in, and all the busyness that accompanies the end of every school year (programs, concerts, preparing for teacher appreciation week, extra meetings, special days, treats, etc. etc.)
To top it all off, the weather was finally starting to warm up and all I really wanted to do was spend time working in the yard.
The week before, we had 6 big trees planted in various areas along our driveway and fence, we transplanted several shrubs, split tons of perennials, and really got things looking nice. Then we had 20+ yards of mulch delivered… which meant I really really REALLY wanted to spread that mulch over our planting beds and get it off our driveway.
One day in particular was especially packed full.
I woke up (at the usual 4:00 time) with my mind already swirling as I mentally tried to rearrange the day in attempts to fit all the pieces of the puzzle together.
Here's a short list of things I WANTED to do on that day:
make vegetable quiche and banana bread for breakfast
finish the urgent VA work I left from the night before (NOTE: it is NOT normal for me to have time-sensitive VA work)
complete a few smaller projects on my own blog
get kids dressed, fed, and ready — and Nora off to school
wash all the kid's bedding
get groceries (it had been over 2 weeks and we were running out of everything!)
take the younger 3 kids to a local play group from 9-10
go to an optional outside event at school (for Nora's class) from 10:15-11
stop by the bank
stop home to put the groceries away, switch out the laundry, and eat lunch
head back to school to bring Simon to the same optional outside event from 12:15-1:00
hurry home and hope Clara doesn't fall asleep in the car
finish laundry and make the beds
cut up raw veggies and roast 3 pans of veggies (now that we actually had groceries in the house)
make dinner (I had salmon ready to go the night before)
clean up the house and get the kids in bed
help Dave spread mulch
wrap up blog work, make my to-do list for the next day, shower and go to bed
As I looked over everything on my list that morning, I knew it wasn't all going to happen — especially since Clara didn't sleep well the night before due to a stuffed up nose so I knew she would sleep in longer than normal (meaning I couldn't leave the house to get groceries early enough to be back in time for the play group — and then the whole rest of the day's time-line would be thrown off).
My brain kept swirling, running through possible scenarios that could allow me to fit everything… and after about 10 minutes, I realized that the majority of the tasks on my to-do list were OPTIONAL.
I DID NOT HAVE TO DO THEM!
I was the cause of the busyness, the stress, and the chaos that would become of our day if I tried to pack everything in (with 3 kids along for the ride).
So… I quickly re-evaluated and prioritized my day to look A LOT different!
I finished the urgent VA work I had to do and completed the blog work for myself (all while the kids were still sleeping)
I nixed the quiche and banana bread and served breakfast burritos instead.
I decided NOT to wash all the bedding, but just wash pillow cases, pillow liners, PJ's, and the blankets they snuggle with at night.
I let Clara sleep in as long as she wanted and decided to skip the play group (the boys didn't seem to care one bit).
I decided to skip the optional (outdoor) school events because it had started to drizzle. Simon was a little bummed, but got over it because I said we'd get donuts (see below).
I stopped by the bank, then used a BOGO coupon to get the kids donuts at a local bakery for their morning snack (which they thought was awesome).
Then we got a massive amount of groceries from 3 different stores!
When we got home, I let the kids watch a movie in the car for 20 minutes while I put ALL the groceries away, changed out the laundry, and made lunch.
I got Clara down for a nap at her normal time, then I read a few books with the boys, and then we played upstairs while I put the laundry away and put all the blankets/pillow cases back on.
After playing for a while, I got the boys started with a coloring project at the table while I cut up raw veggies and fresh fruit, and cut up / seasoned veggies to roast for dinner (the boys consumed many fruits and veggies for their afternoon snack).
Dave and Nora got home right about the time Clara woke up from her nap, and everyone went upstairs to play while I finished a few computer-related projects and made dinner.
We ate a delicious salmon dinner with roasted veggies, fresh fruit, homemade rolls (from the day before), and cheesecake (from earlier in the week)!
We cleaned up the house, got the kids in bed, and then Dave and I decided to skip the mulch as the weather still wasn't great and we both had several other things to do.
Dave graded tests while watching basketball. I worked on my digital photo books and a little craft project I started for the upcoming teacher appreciation week.
We went to bed fairly on-time without feeling overwhelmed or overly-exhausted.
My entire day, my family's day, and the following days were significantly happier, less stressed, less chaotic, and more enjoyable simply because I CHOSE TO LET GO of several of those "not-100%-completely-necessary" activities.
My family managed just fine without a gourmet breakfast.
No one at the play group or the kids school was overly-disappointed that we didn't show up.
The kids were thrilled to have a donut and a little extra TV time!
The kids had plenty of time to play at home and we all enjoyed a slower pace to the day.
We still enjoyed a delicious dinner and had lots of fresh fruits and veggies to enjoy over the following days.
Everyone slept fine again in "dirty" sheets.
Dave and I enjoyed a more relaxing evening inside and we finished the mulch over the next 2 days.
.
Now, I completely understand that many of you might read through the list of things I decided to skip and think I got it all "wrong". You would much rather attend play groups and events at your kids' school versus finishing the laundry, getting groceries, and roasting veggies.
BUT, based on MY personality and what I know about MY kids, I am confident my choices were the best choices for us on that day.
The point I want to make is not that you should skip out on fun extracurricular activities or stay home instead of going out!

Rather, I hope the next time you have an overly busy, stressful, or chaotic day ahead, you stop and remember this post – and then honestly evaluate whether you actually MUST do everything on your list, or if you can make the choice to eliminate some (or several) of the extra things.
My guess is that more often than not, you will have at least a few to-dos you don't actually HAVE to do (at least not that day).
.
In general, I'm almost always a fan of "doing it now" versus waiting until later… but as I mentioned a couple weeks ago, there are almost always exceptions to every rule, and on extra busy, stressful, and chaotic days, I have found it's often more beneficial for me AND for my family if I take a step back, put a few non-essentials off for a bit, and re-prioritize my day.
Of course, we cannot do this every single day… but once in a while, it might be just the "break" we need to maintain our sanity.
NOTE: If you feel like you are constantly stressed and living in chaos, you probably have way too much on your plate right now. Maybe it's just a really busy season of life for you, or maybe you need to start staying "no" a little more often.
As you go through this VERY busy time of year, take a few extra minutes to think through and plan your days.
Realistically determine what you can and cannot accomplish… then, honestly evaluate if there is anything you can remove from your list (either for now, or for good!)
Don't be the cause of your own chaos!