My Favorite DIY Cleaners
posted by Andrea | 05/9/2016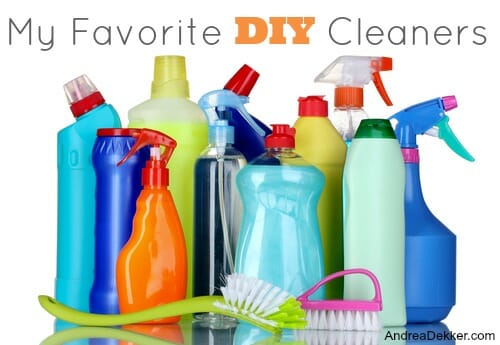 Last week I shared 8 tips to simplify my weekly cleaning routine — and as a follow-up, I thought it might be fitting to share several of MY favorite homemade DIY cleaners.
They are all super easy to make using simple ingredients you most likely have in your cabinets right now!
1. All-Purpose Cleaner
This one-ingredient all-purpose cleaner couldn't be simpler… and it's extremely frugal too.
It's the cleaner I use for almost everything — tables, high chairs, toys, bathrooms, wood floors, tile floors, and almost any other hard surface. I have one bottle mixed up under our kitchen sink and then another one mixed up in our Bathroom Cleaning Bucket.
Here's the basic recipe:

Create a 50/50 mixture of water and white vinegar in a spray bottle
Use to clean and wipe down almost any hard surface.
NOTE: The vinegar smell goes away in less than 5 minutes, so it's really not that bad. However, if you just can't stand the smell, I'd suggest looking into the 4 Monks cleaning vinegar!
.
2. Window/Glass Cleaner
After trying a few recipes for homemade glass and window cleaners, I wasn't satisfied because all of them left streaks. Finally, I found this recipe a few years ago and have never looked back!
Here's the basic recipe:

Mix 1 c. water, 2 T. vinegar, 2 T. rubbing alcohol, and 1.5 t. cornstarch in a small spray bottle.
Shake well
Spray on windows, mirrors, or any other glass surface
Wipe with a soft cloth or paper towel
Read more details about this cleaning method here.
NOTE: I do also use this window cloth when I'm cleaning LOTS of windows and mirrors at the same time. I know there are many other brands that offer similar cloths.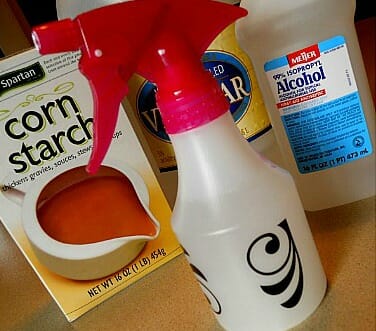 .
3. Shower Cleaner
I was skeptical about this shower cleaner, but it really does work well. I've had some people tell me it doesn't work for them, but I've had nothing but great results with this cleaner.
Here's the basic recipe:

Pour about 1 c. of white vinegar into a plastic spray bottle.
Heat it up in the microwave until very warm.
Pour 1 T. of Dawn dish soap into the spray bottle.
Put the top of the spray bottle on and gently shake until they are combined.
Read more details about this cleaning method here.
.
4. Chrome Cleaner
Seriously, this "cleaner" works miracles on my chrome shower fixtures — and it takes me all of 3 minutes to complete. Simply cut open a lemon and rub it on your chrome. Done!
Read more details about this cleaning method here.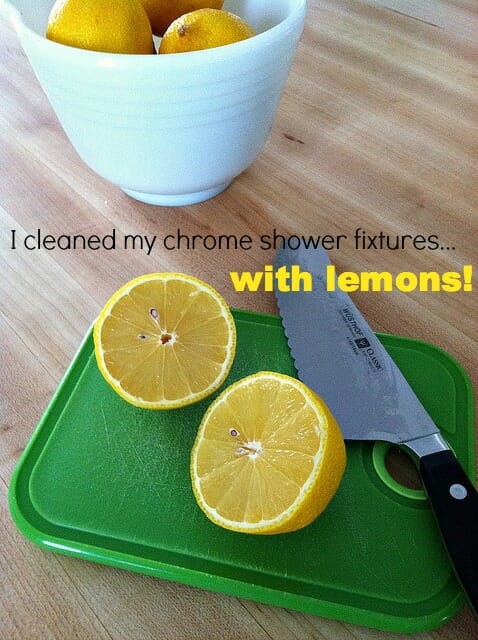 .
5. Granite Counter Cleaner
When we had granite counters installed in our new kitchen, we were told we shouldn't use a vinegar based DIY cleaner as the vinegar could eat away at the granite. So I set out to find another homemade cleaner that would be suitable for my new counters. It didn't take long for me to find one that worked really well. I've been faithfully using this recipe ever since.
Here's the basic recipe:

Mix 1/4 c. rubbing alcohol and 3-4 drops of dish soap in a 16 oz. spray bottle
Fill the bottle the rest of the way with water
Use to clean any granite surface. 
Read more details about this cleaning method here.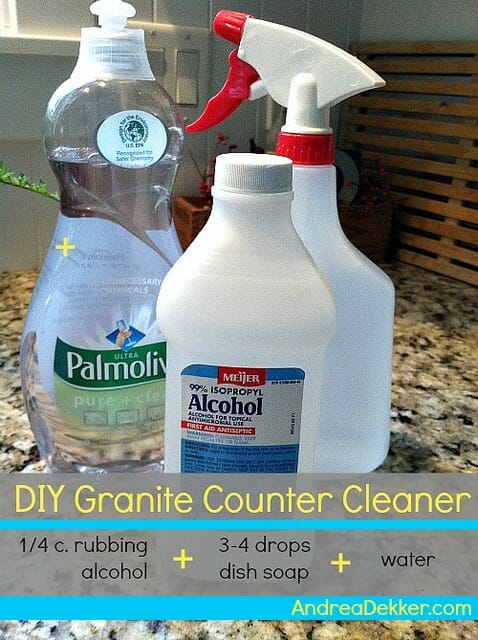 .
6. Stainless Steel Cleaner
Along with our granite counters, we also installed all stainless steel appliances in our kitchen. I was originally hesitant to get stainless steel because I hate all the fingerprints. However, I've been pleasantly surprised by how low maintenance our appliances are. That said, I still need to clean them sometimes — but I'm happy to say I found 4 super simple DIY cleaners for our stainless steel.
One of my favorite methods is just using water and a microfiber cloth. You can also use the 50/50 vinegar/water mixture I referred to in my all-purpose cleaner above.
Read more about my favorite stainless steel cleaners here.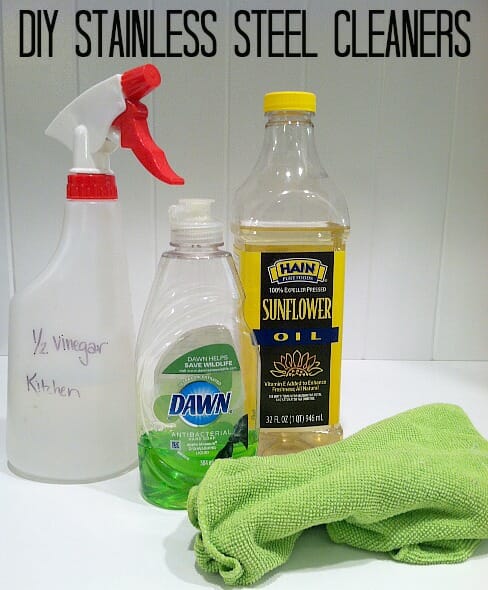 .
7. Drain Cleaner
I've been using this method of cleaning my drains for years and years — even before I had my own house. It's so fast and effective, and really really frugal compared to the expensive (and super smelly) drain cleaners you can buy in the stores.
Here's the basic recipe:

Pour 1/2 c. of baking soda and salt into the drain
Pour 1 cup of vinegar into the drain (it will bubble and foam up)
Slowly pour an entire kettle of boiling water into the drain
Use a plunger to push water through if necessary
Read more details about this cleaning method here.
.
8. Garbage Disposal Cleaner
If you're looking for a great way to clean your garbage disposal, sharpen the blades, and put some of your citrus rinds to good use, I've got JUST the recipe for you!
Here's the basic recipe:

chop citrus peels (or whole citrus fruits) into small chunks
place chunks into ice cube trays or mini muffin tins
pour vinegar over peels until compartments are full
place trays in the freezer until completely frozen
store tabs in trays or in a zip-top bag in freezer until you're ready to use
Read more about this simple way to clean and freshen your disposal.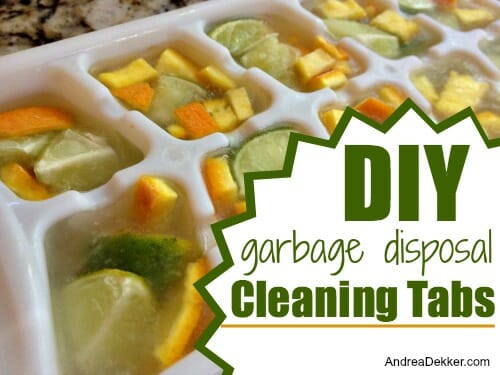 .
9. Fabric Softener
Our house gets very dry in the winter months, so since we purchased our home in December, I immediately realized that I needed to find a solution to our SERIOUS static cling problem — because fabric softener and dryer sheets just weren't cutting it.
Thankfully, with a little research, I found 10 different ideas that all work really well!
Read my 10 DIY methods of reducing static cling here.
.
10. Laundry Detergent
I never ever thought I would make my own laundry detergent — there was no way I was going to boil soap and store a gloppy mess of liquid in 5 gallon buckets in my tiny little laundry room. I was satisfied to find good deals on laundry detergent at the stores.
But then I came across a recipe for powdered DIY laundry detergent — and I've been happily using it ever since.
It only takes me a few minutes to make over 230 loads worth of detergent, and I think I figured out that it costs less than $0.10 cents per load!
Here's the basic recipe

one 76 oz. box Borax powder
one 55 oz. box Washing Soda
one 16 oz. box Baking Soda
3 pounds OxiClean (the only reason I bought 2 smaller containers is because I had 2 coupons so it was cheaper this way)
one 28 oz. container Purex Crystals (optional)
three bars Fels-Naptha soap; grated
large, clean bucket or other container with a lid

Directions:

Dump all powder/crystal ingredients into a large bucket (I used a 5 gallon bucket with a lid)
Grate the Fels-Napths soap bars over the bucket (I used a microplane fine grater so the particles we really small)
Place lid on bucket and shake (or mix with a large spoon)
Store in the covered bucket or in smaller containers with lids (I put some of mine right back in the OxyClean and Purex containers)
Read more about this fabulous laundry detergent here.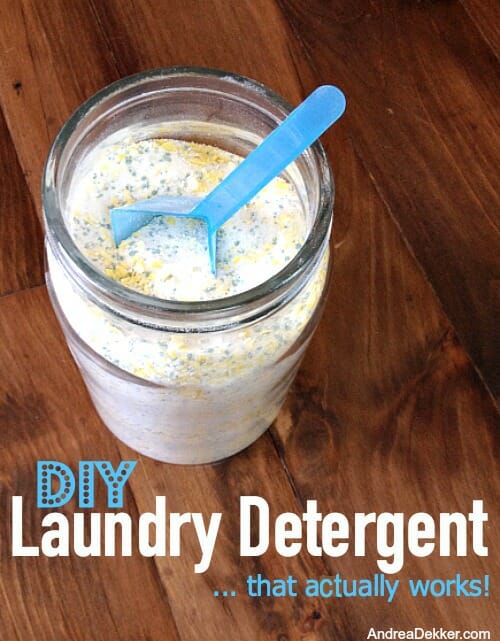 .
11. Foaming Hand Soap
If you have little children, foaming hand soap makes it SO much easier for them to wash their hands without getting globs of soap stuck to the bottom of your sink. Plus, it's a lot more fun for them to "play" with the foam!
With just a few squirts of regular soap and a bunch of water, you can refill your foaming hand soap pumps again and again for pennies!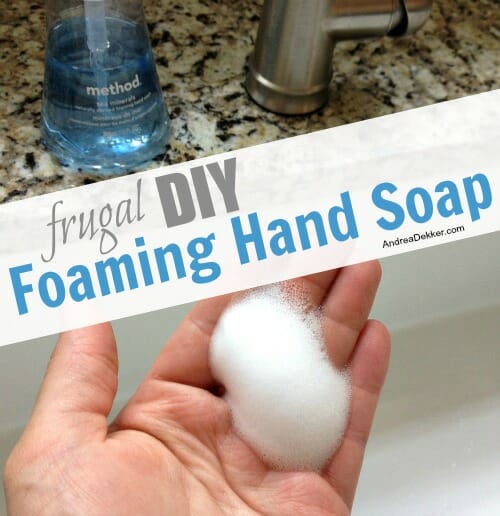 .
12. Makeup Brush Cleaner
If you can't remember the last time you cleaned your makeup brushes, it's probably time to do it! Luckily, the process I use is super quick and easy, and it just uses 2 ingredients!
Here's the basic recipe

In a large bowl or small sink, mix hot water and vinegar
Swirl brushes around in the mixture until they come clean
Gently squeeze out excess water
Reshape brushes and let dry on a clean towel
Read more about this simple cleaning tip here.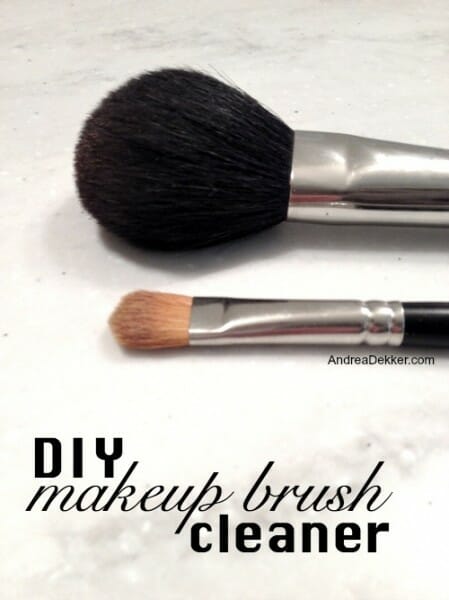 .
I realize there are tons of DIY cleaning products out there today — but in my opinion, some of them are WAY too much work when you look at how little money is saved. I've also tried a few that just don't clean well at all (and who wants to clean with products that don't work?)
All the DIY cleaners referenced above are ones I've personally been using for years and would highly recommend. They are simple, frugal, quick to mix up, and they really do work!
A few more cleaning resources:
These are my FAVORITE microfiber cleaning cloths, and they are SO inexpensive (only $10.95 for 5 cloths). We've been using them for 4 years now and I just order a bunch at a time to save on shipping.
For those of you who don't want to spend money on rags — try my DIY t-shirt rags. They're super soft, they're free, and they don't leave any lint behind! I often use these for really grubby jobs, and then toss the rags when I'm finished.
Here's a link to my favorite cleaning-related posts.
Here's the link to ALL my cleaning posts from the past 6 years of blogging!
I mentioned that I loved using vinegar to clean… so if you're looking for more uses for vinegar, here are 101 different ideas!
What are your favorite DIY cleaners?