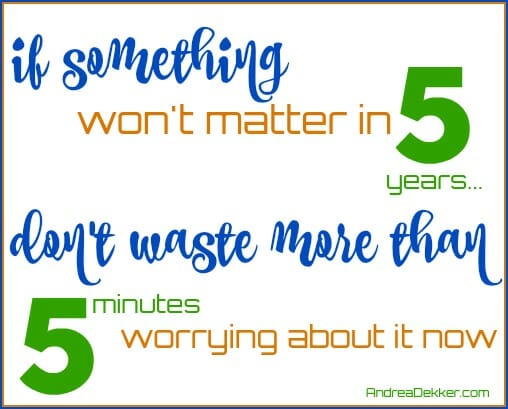 Several years ago, I heard the following phrase…
"If something won't matter in 5 years, don't waste more than 5 minutes worrying about it now."
I know it might sound overly-simple (potentially a little naive too) but it's one of those phrases that has really stuck with me over the years.
In general, I'm not a huge worrier; however, there are still times when I feel overwhelmed or get decision fatigue because I waste time wondering and worrying about silly things that really don't matter in the big scheme of life.
Things that definitely won't matter in 5 years.
I know I'm not the only one either!
In my quest to simplify all aspects of my life, I have mentally replayed this phrase countless times over the past several years. And although it doesn't always help me to immediately stop worrying or stressing, it DOES often help me to take a small step back, put things into perspective, take a deep breath, and realize the thing I'm currently worrying and stressing about probably won't be all that big of a deal in the grand scheme of my life.
It's amazing how worked up we can get over something JUST IN OUR HEADS — potentially something that might not even happen in our real lives.
All that thinking and worrying and stressing takes time and energy away from other activities we could be (and probably should be) doing instead.
And when we neglect the things we should be doing, we feel more stressed because we're behind, and start to worry about how we will find the time to do everything we need to do.
It's a vicious cycle, and one that's not necessarily super easy to break (especially if you're prone to worrying).
However, you CAN get better!
I know it won't work every time or in every situation, but the next time you start to worry or feel stressed out, make yourself stop for 20 seconds and simply consider if what you're worrying about will actually matter in 5 years.
If it WON'T matter, then force yourself to stop worrying about it.
If it WILL matter, sit down and come up with 1 or 2 things you can do today to move towards solving your problem, alleviating some of the stress or worry around the issue, or even just learning more about the issue or problem at hand.
The issue or problem probably won't go away immediately, but your thoughts will be clearer and you'll be able to focus on all the other things you could be doing instead of worrying about something that might not even matter.
I know my life has been drastically simplified because of this one little phrase — I hope it might do the same for you too!