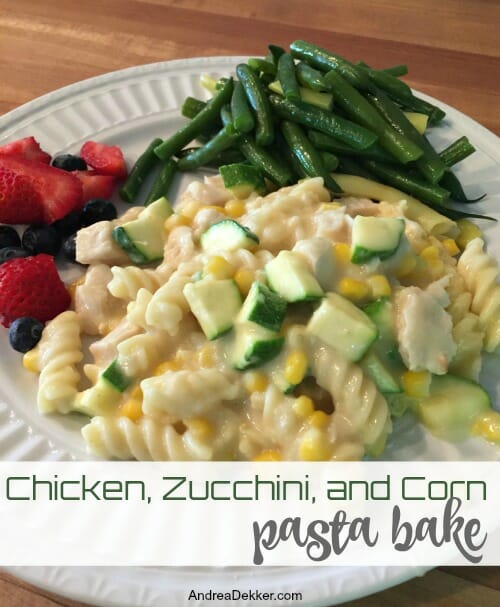 It's August — which means some sort of zucchini-based recipe is bound to show up on my menu plan each week!
This time of year, zucchini squash are EVERYWHERE in Michigan, to the point where so many people with gardens are begging others to take a few extra zucchini off their hands.
And if you don't know anyone with a garden, zucchini squash are usually extremely on sale at the local grocery stores.
Today's recipe is one our family loves — especially me since it's so quick and easy, and it gets a few extra veggies into my kids' meal.
If you're looking for a great way to use up a few extra zucchini, give this yummy pasta bake a try!
Recipe for Chicken, Zucchini, and Corn Pasta Bake
serves 8
INGREDIENTS:
8 oz. pasta (I like to use smaller noodles for this dish)
1 T. butter
1 T. minced garlic
2/3 c. flour
3 c. chicken broth or water
1 c. milk or cream
2 c. chicken; cooked and diced
1.5 c. fresh or frozen corn kernels
2-3 small zucchini; diced
salt, pepper, or any other seasonings to taste (I honestly don't use anything for this dish)
1 ½ c. shredded Italian cheese
¼ c. grated Parmesan cheese
DIRECTIONS:
Preheat oven to 350ºF and grease your favorite casserole dish.
Fill a medium saucepan half full with water and bring to a boil. Cook noodles according to package directions, drain, and set aside.
While water and noodles boil, melt butter in a large, rimmed pan.
Sauteé garlic for 1 minute, then whisk in flour, broth, and milk. Whisk over medium heat until thick and smooth (around 5-8 minutes).
Add cooked chicken, corn, zucchini and HALF the Italian cheese to the sauce. Stir until combined.
The noodles and sauce should finish around the same time. Add drained noodles into sauce mixture and dump into prepared pan.
Top with remaining Italian cheese and Parmesan cheese.
Bake in preheated oven for 15-20 minutes — or until cheese is melted.
The consistency of the sauce almost reminds me of homemade mac and cheese — but not nearly as cheesy. However, my kids eat this meal just as well as they eat mac and cheese (and that's a huge compliment to the chef because they LOVE mac and cheese!)
Of course, the added veggies make me feel like I one-upped the kids because Nora and James both claim they don't like zucchini, but they gobbled this up without a single complaint. 🙂
I put most of our leftovers into individual serving containers for Dave to eventually take in his school lunches (he was thrilled!) I think the zucchini will be slightly mushy after he defrosts the frozen leftovers, but he assured me he wouldn't care.
This is such a quick and easy meal to whip up — I can literally have it in the oven within 15-20 minutes. Then, while the cheese melts in the oven, I whip up a few simple side dishes, set the table, pour the drinks, and we're ready to eat.
It's a great way to use up some delicious late-summer veggies in a comfort food sort of dish the whole family will enjoy.
A few more of MY favorite zucchini recipes:
What are your favorite zucchini recipes?
Visit my virtual recipe box for more simple, delicious, family friendly recipes!