Everything You Need to Start Your Own Important Information Binder!
posted by Andrea | 08/21/2018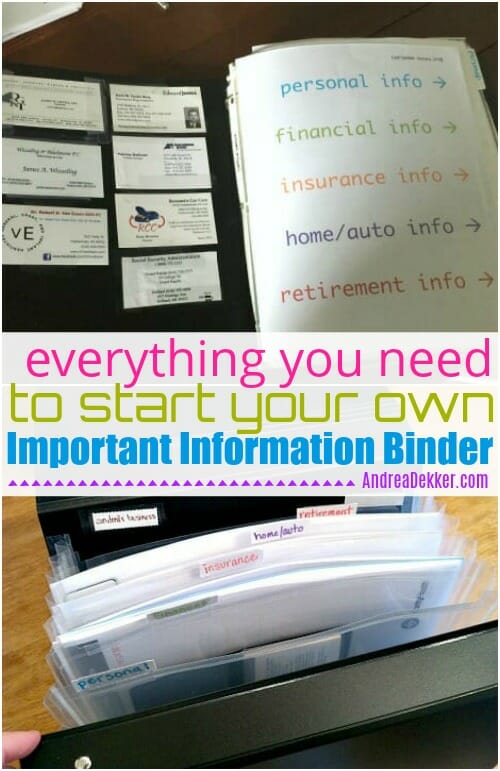 As part of my summer blogging break, I was planning to share 1 week of re-posts in June, July, and August… however, I'm switching things up for the month of August.

Instead of sharing a week of reposts, I'm sharing a week of "compilation posts" where I compile all the information I've shared on a specific topic into one post for easy reference.
Today, I'm sharing everything I've written over the past 8 years regarding our Important Information Binder!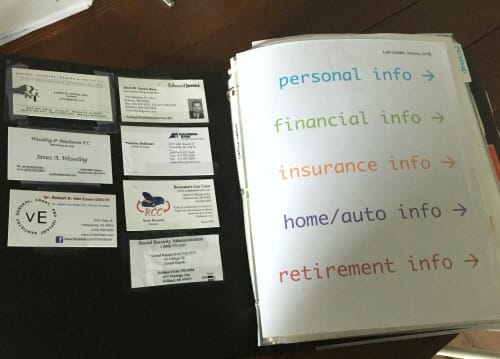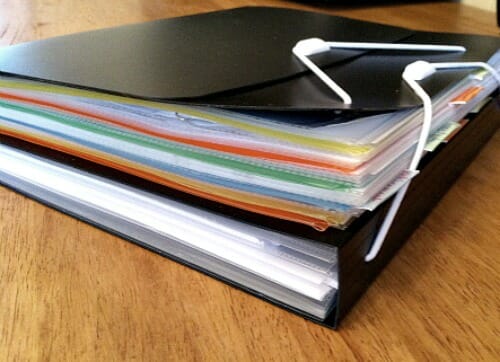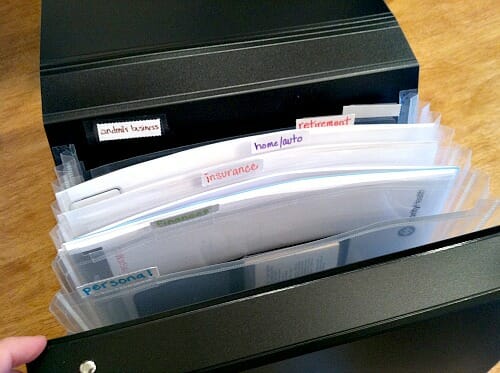 Our Important Information Binder is exactly like it sounds — a simple accordion folder/binder where we store all the documents and information that is very important for us, our family, our home, our finances, etc.
Sometimes we make photo copies of important documents for this binder and keep the originals in our fire-proof safe, but most of the time, the originals are in this binder.
I update the binder at the beginning of every calendar year, and also if we have a major life-change (new home/address, changing insurance companies, new baby with new SSN, etc.)
It gives me such a huge sense of relief to know that all of this information is neatly organized (and up-to-date) in the event that something would ever happen to me or Dave or both of us.
It might take you a bit of time to set up your own binder (especially if you need to get your hands on various legal documents), but once you do, you'll have  such a huge sense of peace knowing that your affairs are in order and someone else could step in to run your life if need be.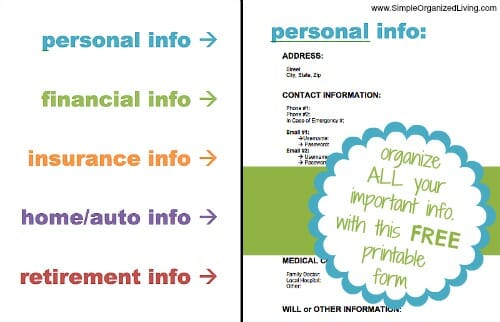 .
My Posts About Our Important Information Binder
Instead of re-typing or copying and pasting all the information, I'm sharing the links below so you may pick and choose what information you'd like to read and when.
How I Store and Organize My Important Information
A More Detailed Look at How We Store Our Important Information
Why I feel it's so important for every household to have an Important Information Binder
Are YOU Organized for the Unexpected (a little motivation to get your important information organized!)
BONUS POST: 
If you're struggling with paper clutter in general, here's a post that details exactly how we store all the paper clutter in our home.
.
Resources:
Here's the Amazon link to the exact same binder we use — however, feel free to use a binder you already have in the house!

These are the exact same printables we use for our binder — they are simply Word documents, and 100% editable (nothing fancy but they work!) All I ask is that you don't republish them on your own site or try to sell them!

Download the Word document

Download the Word 97-2004 document
.
I know the summer and fall months aren't typically a time we think to organize our paperwork… but wouldn't it be so fantastic to have this binder finished by the end of the year?!?! Sort of a little Christmas gift for yourself!