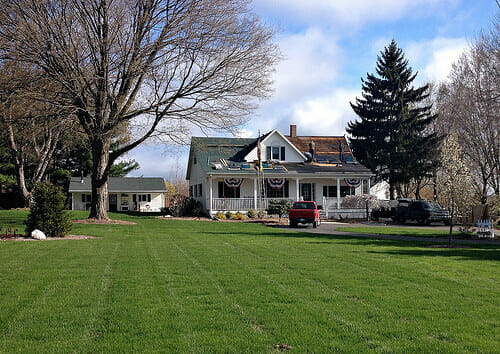 Whew, the last 2 weeks have been a crazy whirlwind of hustle and bustle around the Dekker house as we have officially kicked off our 2015 "project season".
It's a bit earlier than we normally start working on projects, but with a new baby due around the end of June / early July, we felt the need to start early (even though Dave is still in school yet) so we can cross off a few big items before the baby arrives.
Here are the projects on our list for this spring/summer:
Get a new roof for our house
Remove 9 ugly, dying pine trees and have stumps ground out
Potentially remove 11 more dying pine trees (later this fall)
Finish the last section of our fence (we couldn't do this until the last line of trees and stumps were removed)
Partially gut our upstairs bathroom to replace the standing shower with a tub/shower combo
Completely gut our 2nd main floor bathroom for a total renovation (this might have to wait until later in the summer as well)
Power wash our house, garage, and extra garage
Finish the landscaping along the East side of our house and along the new fence area
Level a bunch of dirt behind our driveway in preparation for a vegetable garden
Transplant a bunch of plants to different areas of our yard
Install a new mailbox and then landscape around mailbox area
Plan out a future vegetable garden and build raised beds (most likely not until Fall in preparation for a garden next spring)
Now, I know that sounds like a lot for a big pregnant lady and her end-of-the-year-super-busy-teacher husband to tackle in 8 weeks… but as I noted above, a few of the projects will most likely wait until later summer or early fall. And also, we're paying professionals to do a large chunk of the work for us this year (hallelujah!)
Part of the reason we're "paying the pros" is because we do not have the skills, know-how, or tools to do many of the projects listed above (like the roof and much of the bathroom work). Another reason is because we just aren't willing to make the time right now.
If I'm working on a project, it has to be while Simon is sleeping and Nora is either playing outside with me, doing a craft inside, or watching TV — and obviously, that's not a lot of time for me to work and focus (plus, I still have all my blogging and VA work to do, and my time to do that is also when the kids are sleeping).
Dave's schedule is jam-packed with end-of-the-year activities, meetings, events, AP tests and study sessions, Prom, etc. etc. so he's been gone several nights during the week — making it almost impossible for us to tackle big, noisy projects because the only time we're both home together is late at night when the kids are both sleeping (and no project is worth waking up my sleeping kids!)
So rest-assured, Dave is not climbing up on our roof at 10pm, and I'm not chopping down trees while Simon is napping and Nora is standing as my "spotter"… but we are making solid progress and have already crossed off many of these to-dos in the last 2 weeks!
Here's the progress we've made so far:
NEW ROOF:
This is totally finished — and it looks amazing.
Well, actually, it doesn't look any different than the old roof, but the new roof doesn't leak!
Apparently, the old roof (while still in good shape) wasn't installed correctly so there were a few small leaks that manifested into bigger leaks over the past year and caused some damage in our bedroom and in an attic space (which we thankfully caught before it damaged our BRAND NEW KITCHEN right below the attic space!
This project was not something we had planned to tackle only 4 years after moving here, but it had to be done — and we're glad to have a solid, non-leaking roof over our heads now!
For anyone local, we hired Ron Kleinjans Construction, LLC. The owner is my aunt's cousin and we were very happy with their work (we did not get any type of discount or deal for mentioning this on my blog).
TREE REMOVAL:
This is also finished — well at least the first 9 trees along the driveway.
Our tree removal is always a work in progress because it's so dang expensive! We've had MULTIPLE trees removed every single year we've lived here because there were just SO many dead, dying, and diseased trees on our property.
This year, the plan was to have 9 trees along our driveway removed so we could finish our privacy fence. Then next year, we have 11 more dying pine trees in the back corner by our kid's play area that will be removed.
However, if it's in the budget, we MIGHT have the other 11 trees removed later this fall (like October) so we don't have to deal with more mess next spring. We'll see 🙂
For anyone local, we hired All You Need Tree and Emergency Services. We have worked with them for the past couple years and feel their prices are extremely competitive (a.k.a. low!) compared to other companies in the area. We have been very happy with their work, and again, we did not get any type of discount or deal for mentioning this on my blog.
(one of the tree guys cutting down a tree last year)
(Simon couldn't get enough of the tree guys!)
FENCING:
As Simon might say, "all done!"
Dave is a rockstar — seriously! He has been working on our fence for the last 3 springs and has dug more posts than I care to think about, chopped through more roots, and drilled thousands and thousands of screws… but it looks amazing!
We opted to build our fence board by board (versus pre-made sections) so it would look more "custom", so that we could more-easily work around various landscaping issues (roots, trees, hills, etc), and so that we could go at our own pace.
Our fence is a "shadow box" style (boards on both sides) using 6″ dog-eared pickets. We purchased all our materials from Lowes' and are SOOOO happy with how it turned out!
BEFORE
DURING
DONE — but we still need landscaping
UPSTAIRS BATHROOM:
We are not to the point where we are ready to fully renovate this bathroom because it will be the "kids' bathroom" and we want to know how many kids will be using it before we put a bunch of time, effort, and money into it.
We have a bunch of cool ideas, but our ideas keep changing as we add more kids of different genders to the mix.
Anyway, we're planning to tackle the FULL bathroom renovation in a couple years… but for now, we do know where we want the bathtub/shower to go. And since we currently have 2.75 kiddos and 0 bathtubs to wash them in, we figured it was time to finally get a bathtub somewhere in our house.
Thankfully, we only had to gut a small part of our upstairs bathroom and could leave the the sink and toilet area alone for now.
We met with the plumber last week, we have our tub ordered, we've talked with the tile guy, and hopefully this bathroom project will be crossed off our list in the next couple of weeks!
MAIN FLOOR BATHROOM:
This was originally the #1 project on our to-do list this spring… we thought we might even get started this winter.
However, we kept going back and forth on ideas and just couldn't come up with our "ah-ha" moment in which we know it's time to start demo and get to work.
Ever since we purchased our house, we've been planning to remove the standing shower (that we've never used) and put in a clawfoot tub. It's always been my dream to have a clawfoot tub, and this bathroom would be the PERFECT place for it.
However, as I've gotten older, wiser, more practical, and have added more children to my home, I started to slightly second-guess my clawfoot tub decision — mainly because I know how much kids splash in the tub!
Right now, our current plan is to completely remove the standing shower all together and turn the full bath into a half bath with a much larger mirror and counter area with tons of storage below.
I realize many of you might think this is a horrible idea for resale purposes (and it's not 100% set in stone yet) but keep in mind that I refuse to do ANYTHING in my house with the goal of "resale" in mind. We plan to live here for a very long time, and we also have plans to add another bathroom to the basement area. Plus, it will be a LONG time (if ever) before we really NEED 3 showers, and by then, we might have the full bathroom in the basement already.
I'm certain I'll be doing more blog posts about this project as we move forward — but we're not super optimistic this project will be finished before the baby arrives. It might be an early Fall project if we feel up to it!
POWERWASHING:
Since our house is WHITE, it shows the dirt very easily. So every couple of years, we have our entire house, garage, extra garage, etc. professionally power washed. We do have our own power washer that we use for various projects throughout the year — but it's a HUGE project to clean the entire exterior of all 3 buildings.
Dave doesn't have the time to do this right now, so we have it scheduled for the end of May — and I'm so excited to have everything nice and clean again.
I'll have a little bit of touchup paint to do after the power washing… but it shouldn't be too bad — mostly just the spindles and steps to the front porch.
For anyone local, we hired Byron Window Cleaning — which is who we always work with for our power washing. He does windows, gutters, power washing, deck staining, etc.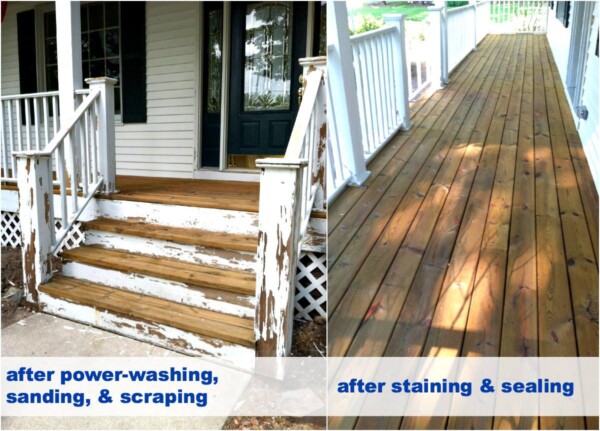 (a photo after power washing 2 years ago)
LANDSCAPING:
This pretty much encompasses everything else on our list for the summer — because it's ALL yard projects!
As many of you know, we've been doing some massive landscape renovations for the past 2 summers (read about Summer #1 and Summer #2). This is our 3rd summer — and we're REALLY hoping to be finished with the big project stuff after this year.
We had my cousin come to level out a bunch of dirt for our future vegetable garden, I transplanted a bunch of plants, and we're working to implement the landscaping designs we got from our landscapers a couple years ago (that company is currently not in business anymore, otherwise I'd share their information).
We also need to re-dig the hole for our mailbox and get new mailboxes for us and our neighbors (we want them to be matching). This will hopefully just be a "quick" Saturday project we can tackle once school is out for Dave.
Then, later this fall, we have plans to build a few raised bed veggie gardens in the area behind our garage where we had all those trees cut down. This area gets FULL sun pretty much all day and is on it's own zone for sprinkling, so it should work out well for the garden. As for this year, we'll most likely just plant a few beans and tomatoes.
(some of our plants!)
(future vegetable garden area)
(the area that needs to be landscaped along the side of our house)
(this is HALF of the mulch we'll be spreading over the next couple of weeks!)
So that's what we've been up to the past few weeks — and all the other things we have on our to-do-before-baby list.
It's nice that we have lots of "helpers" this spring, especially since progress moves A LOT faster!
I can't wait to share the "after" photos with you later this Summer (or Fall), when all the flowers are blooming and the plants have had another season to grow.
I know there will ALWAYS be more house and yard projects on our list — it's part of the territory of owning a 125 year old house — but it sure does feel good to be making progress on some of these bigger projects that have been looming over us for a couple years already!
What house and yard projects are on your list this summer?