My Favorite Low-Maintenance Perennials for Sun & Shade
posted by Andrea | 04/24/2012
During our Spring Break Staycation, Dave and I did tons of yard work — it was SO much fun!
Yes, I'm weird and think yard work is fun…
Surprisingly, I never really did any yard work until after we were married, and almost everything I've learned about plants and gardening is a result of lots and lots of trial and error — which is often the most effective way for me to learn.
We tore out all the landscaping in our first home and transformed our yard from THIS…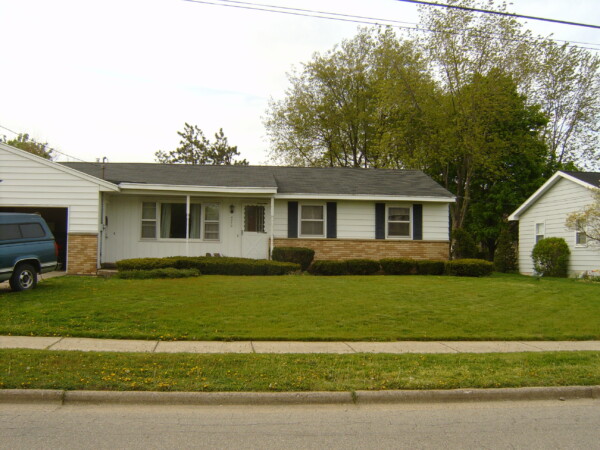 TO THIS! 
 And from THIS…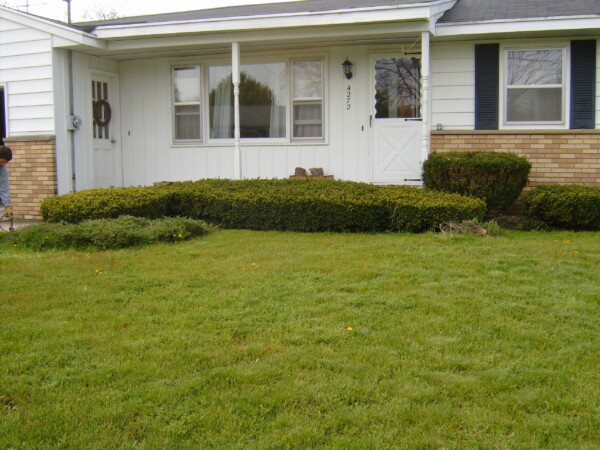 TO THIS!! 
I learned so much during the 4 years we gardened at our old house. And now that we're in our new house — with tons more land area — I've been itching to start doing a bunch of yard work.
However, since I've learned quite a bit about plants these past few years, I know that while I love planting, I don't love all the maintenance involved in taking care of my plants — especially now with a baby and all the other projects we're working on INSIDE our home.
Because of that, I'm focusing most of my planting efforts this year on perennials.
Why Perennials?
I love perennials because they come back year after year with little to no effort on my part. I also love that after a couple of years, they are usually big enough to split — which means I quickly get double and triple the number of plants for a very small initial investment.
If you are interested in starting a low-maintenance garden this spring/summer, here are some of my favorite low-maintenance perennials.
Here are five of my favorite low-maintenance SUN-loving perennials:
1. Lilies
Lilies have got to be the easiest plant to grow… ever! I've even tried to kill lilies in the past, but they just keep on growing. Plus, they multiply like crazy so it's really easy to cover a large planting bed with these lovely blooms.
2. Sedum

I went a little crazy with Sedum at our old house… and recently introduced it around the mailbox at our new house. There are just so many different varieties, sizes, and colors of sedum — it's hard NOT to go crazy. Especially since it needs very little water, it grows quickly, and its dried "flowers" look great all winter long too.
If you are unfamiliar with Sedum, you can see lots more pictures here.
3. Iris
I absolutely loved growing Iris at our old house (and was really sad to leave all my plant behind). They are excellent flowers for cut arrangements and they just look so beautiful — especially in large clumps.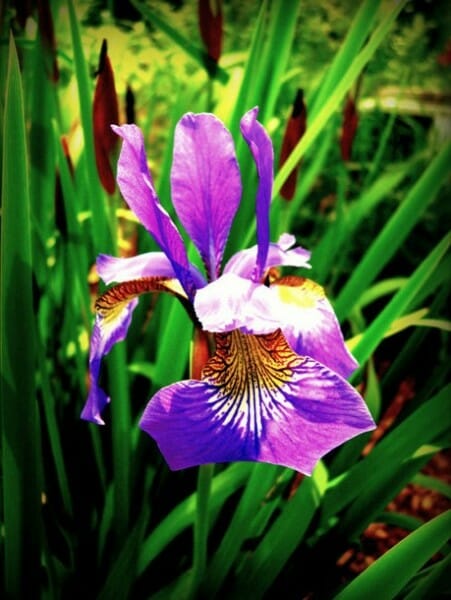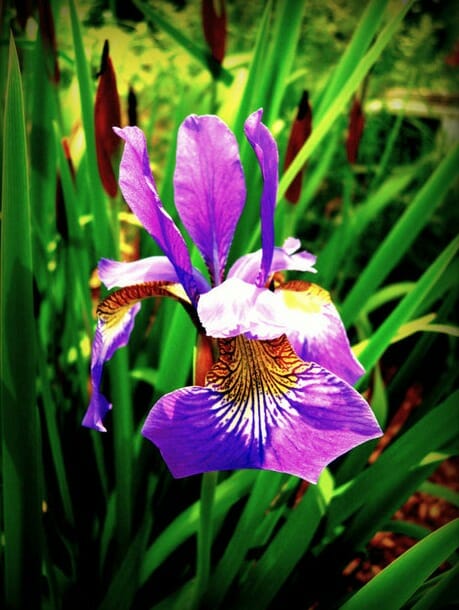 4. Peonies
So many people told me peonies were hard to grow… but I've always had great success with hardly any effort. Plus the blooms look and smell fantastic!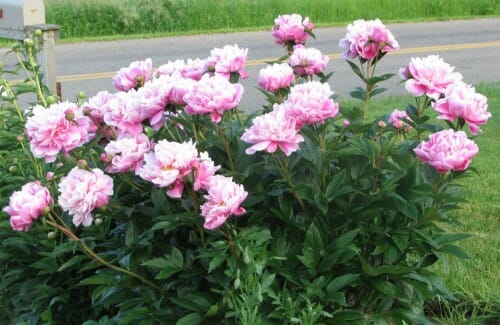 5. Black-Eyed Susans
Personally, I feel like Black-Eyed Susans just scream "country farmhouse" to me — which is probably why I love them. I remember purchasing 3 small pots of these sweet yellow flowers from a greenhouse the first spring in our old house. Four years later, I had already split them several times to fill a large corner of our yard.
Here are five of my favorite low-maintenance SHADE-tolerant perennials:
1. Hostas
Hostas are probably the easiest type of shade perennial to grow — at least in my experience. They don't get a great flower, but they have fantastic green/white/blueish foliage from early spring through late fall which makes them a great "filler plant" for your perennial beds.
2. Ferns
I LOVE ferns! We had a bunch at our old house but only 3 little "stray" ferns here at our new house. Again, they don't have a flower, but their bright green foliage is so pretty, I don't even miss the flower!
3. Hydrangeas
Hands down, hydrangeas are my all-time favorite flower… and we actually have a bunch on the North side of our house. I can't wait to plant more!
So far, the only maintenance they've required is to trim the "old wood" and to cut off any dried blooms in the spring — but they usually don't have many dried blooms left because I decorated with them during the winter.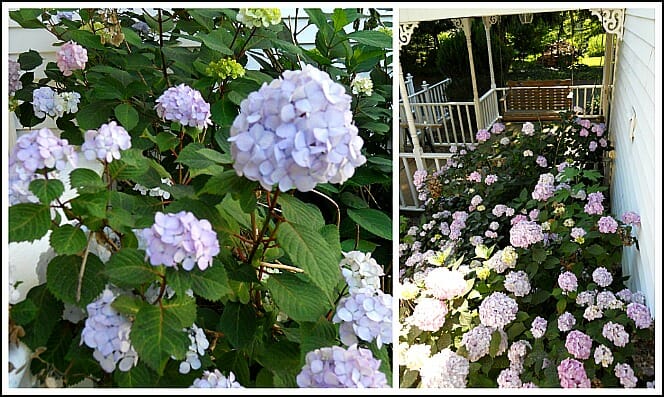 4. Rhododendrons
We have two HUGE Rhododendron bushes outside our bedroom window and our nursery window so they are literally the first thing I see when I open our blinds every morning. They are in full bloom right now and absolutely stunning!
5. Columbine
Columbine was the very first "plant gift" I ever got. After we moved into our old house, a plant-savvy neighbor stopped by and gave me a small Columbine plant. I was amazed by how pretty it was when it bloomed and knew I wanted to incorporate more Columbine into our landscaping. I can't wait to introduce it here at our new house!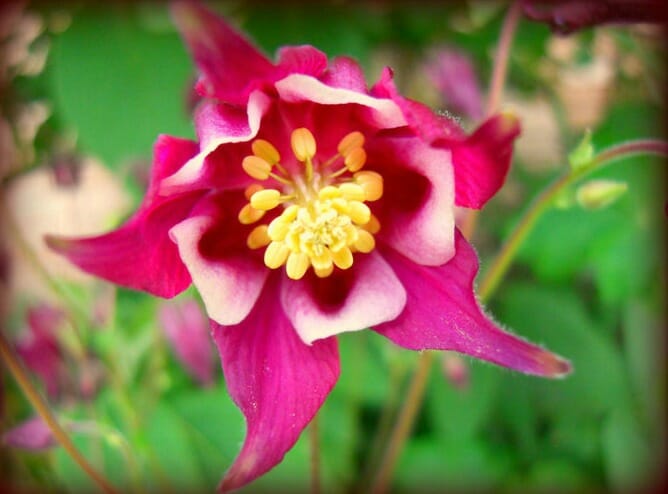 So if you're like me and love the LOOK of beautiful flowers without all the maintenance, try a few of  these perennials the next time you're at the greenhouse!
What are your favorite low-maintenance perennials?