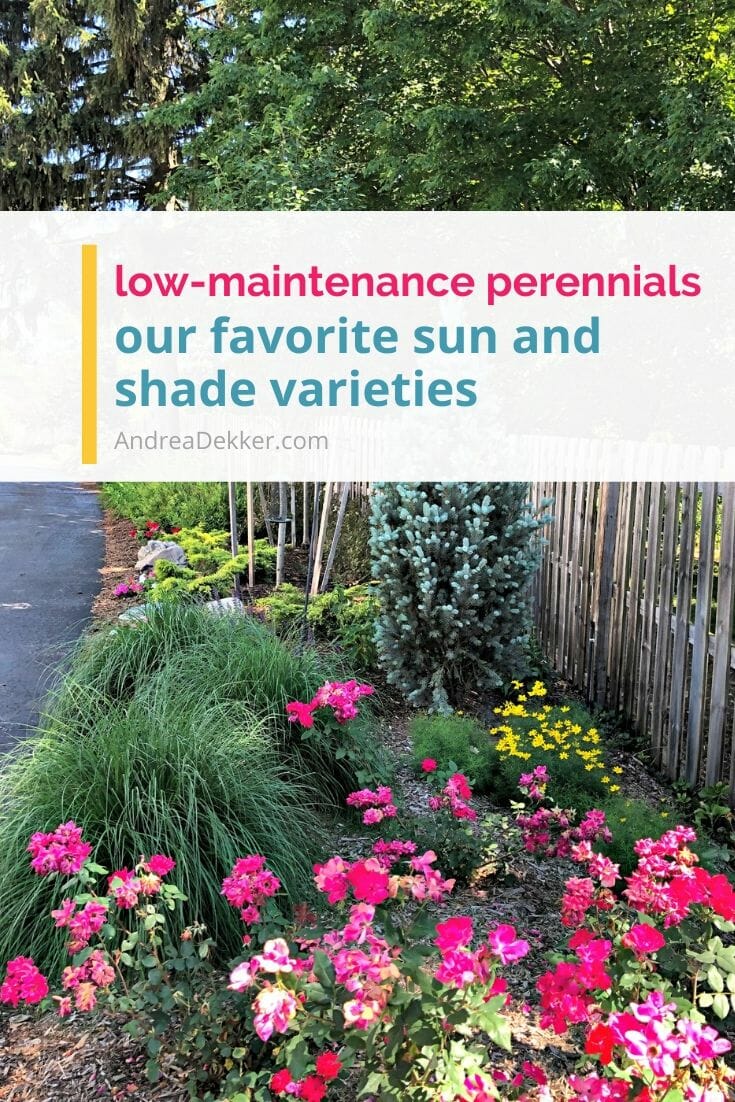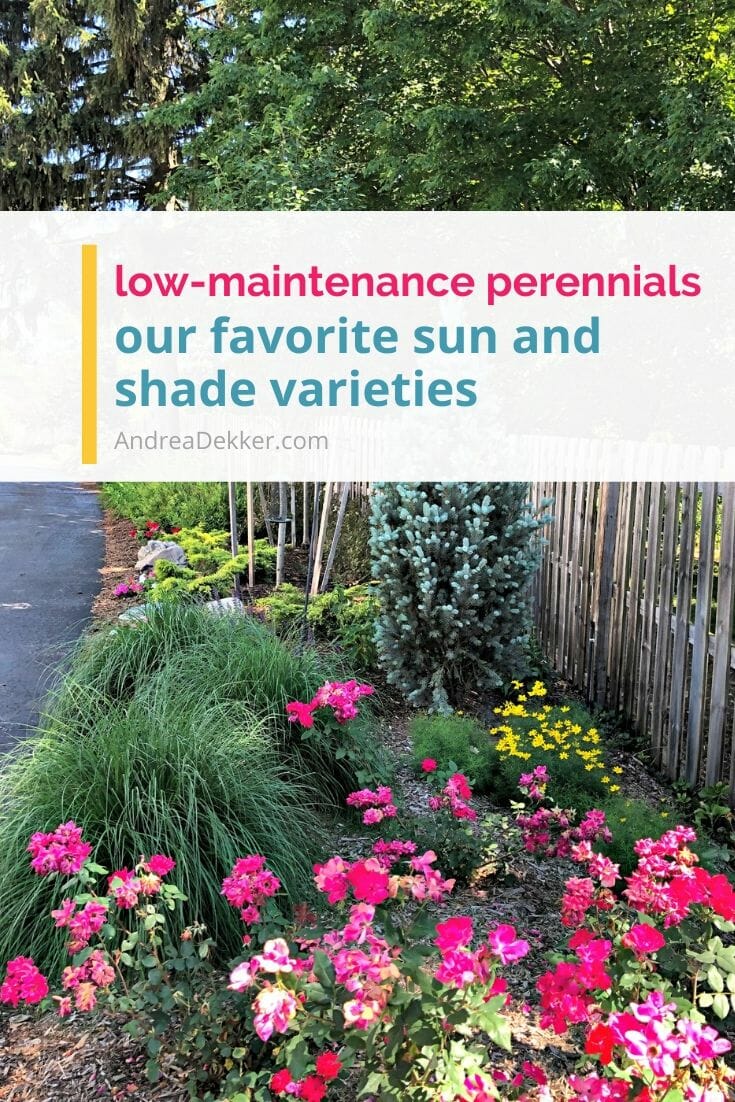 Low-maintenance perennials are a busy gardener's best friend!
For starter, perennials come back year after year (as opposed to annuals that only survive one season). And these low-maintenance varieties require very little attention to THRIVE — especially once they are established.
I also love that after a few years, perennials are usually big enough to split, which means I quickly get double and triple the number of plants for a smaller initial investment.
I've saved myself loads of time and money by focusing on low-maintenance perennials, with a few higher-maintenance pops of color throughout.
And our yard looks fantastic all season long!
If you're interested in starting a low-maintenance garden this year, here are some of my favorite low-maintenance perennials for sun and shade.
My favorite low-maintenance perennials for sun:
1. Double Blooming Knockout Roses
I know, you probably don't think Roses are "low maintenance" but I'm here to tell you THEY ARE!
We have roughly 40 Double Blooming Knockout Rose bushes around our property and the ONLY thing we need to do to maintain them is to hack them back in the fall.
That's it!
They bloom CONTINUOUSLY from May through October and look gorgeous all spring, summer, and fall.
2. Sedum

Sedum is quite possibly the easiest perennial to grow (at least where we live).
It's similar to a succulent, so it's practically drought-tolerant.
Sedum also has fabulous year-round appeal because the "blooms" dry out and look great all winter long. I often cut some of the bright green stems for spring bouquets and then use the darker dried blooms for fall and winter bouquets.
One of my favorite varieties is Sedum Autumn Joy — it turns sort of crimson red in the fall. SO pretty!
3. Iris
I absolutely love Bearded Iris — specifically the miniature purple flowers (although my sister has tons of yellow and they are pretty too!)
Iris are very easy to grow, they look amazing in large clusters or in small bunches as accents, and they are fantastic as cut flowers to bring inside!
4. Dianthus
Dianthus are low-growing, almost ground-cover-like perennials and produce cascading "carpets" of tiny flowers.
Our Firewitch Dianthus perennials are the very first flowers we see in the spring. They continue blooming throughout the spring and then again in the fall.
If you need the perfect pop of color, give Dianthus a try!
5. Black-Eyed Susans
Personally, I feel like Black-Eyed Susans just scream "country farmhouse" to me!
I've always loved these bright yellow flowers, and have made a point to plant them in several places throughout our landscape (including a big patch right by our front door).
Black-eyed Susans do spread quickly — so keep that in mind if you want to plant them in a very contained area.
My favorite low-maintenance perennials for shade:
1. Hostas
Hostas are probably the easiest shade perennial to grow — it's almost impossible to kill them!
They don't get a great flower, but they have fantastic green/white/blueish foliage from early spring through late fall, which makes them a great "filler plant" for your perennial beds.
Many varieties will tolerate a fair amount of sun, but the leaves stay darker green in the shade.
If you're looking for hostas, search Craigslist or Facebook Marketplace first — people are ALWAYS getting rid of sections of Hostas they split off.
2. Ferns
I LOVE ferns!
They do spread quickly, but I personally use them mainly for "filler" or foundation plantings to cover fence lines or the base of buildings.
Of course, Boston Ferns make great hanging baskets… and Asparagus Ferns are SO fun (just make sure you keep them in a pot as they spread like crazy!)
3. Hydrangeas
Hands down, hydrangeas are my all-time favorite flower… ever!
We may have gone a bit crazy with them — I think we planted close to 50 over the past 6 years. They just look SO fantastic all year long!
Plus, I love using the dried blooms to decorate with during the winter months.
If you want a hydrangea that can tolerate quite a bit of sun, try the Limelight Hydrangea.
4. Purple Coneflower
The Purple Coneflower is another perennial that just oozes country charm.
Similar to the sun-loving Black-Eyed Susan, the Purple Coneflower spreads quickly, so it's great for large areas.
It's also an excellent cut flower to add bright pops of color to any bouquet.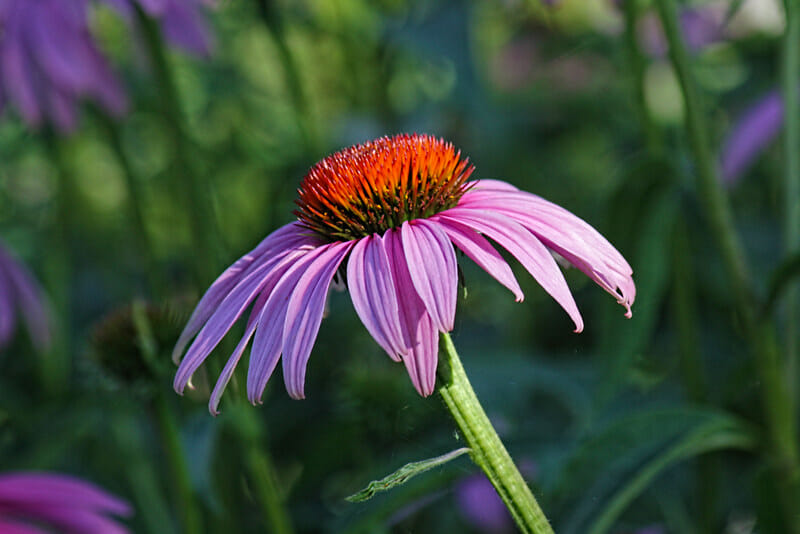 5. Bleeding Hearts
Bleeding Hearts were the very first "plant gift" I ever got.
After we moved into our old house, a plant-savvy neighbor stopped by and gave me a small Bleeding Heart plant.
I was amazed by how pretty it was when it bloomed and knew I wanted to incorporate more into our landscaping.
Fast-forward 15 years, and we now have several clumps of Bleeding Hearts tucked away in various shady planting beds.
They are the very first shade-loving perennials to bloom in the spring… and they are the first plant I need to cut back in the fall. Other than cutting them back in the fall, they require no other maintenance!
If you're like me and love the LOOK of beautiful flowers without all the maintenance, pick up a few of these low-maintenance perennials the next time you're at the greenhouse!
Related Reading:
What are your favorite low-maintenance perennials?