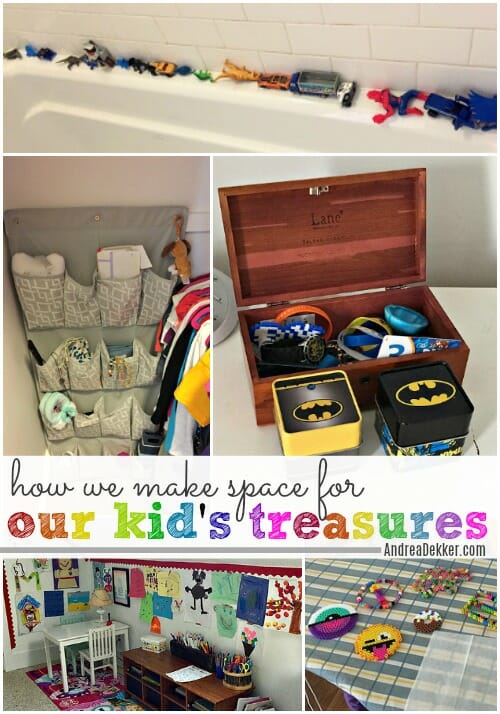 Even before having children of my own, I was smart enough to realize they would come with a lot of "baggage" (literally and figuratively!)
I had organized for enough families to know "children" = "lots more stuff to clean, organize, store, etc".
However, I was adamant that I could have BOTH a large(ish) family AND a clean home without spending hours every day picking up after people.
So far, I've been able to keep our house neat and organized enough for my standards with minimal effort — all while letting my children display, collect, save, cherish, and sometimes "hoard" their most favorite trinkets, treasures, and other things I would most likely consider trash!
MY SOLUTION = each child has designated spaces for their "treasures" and as long as they put their treasures away, they may keep their treasures.
As I've mentioned many times before, if we create a space for all our things (and then put our things in their space) we will not have clutter sitting out… and since I REALLY dislike visible clutter, this simple system has worked well for our family for the past several years.
Let me SHOW you what this looks like for us:
The cabinet in our landing area holds toys on the bottom and art supplies in the drawer and on the top. The very top shelf is currently used as a LEGO display area. They can display all their small LEGO creations without worrying someone will accidentally knock them over or that Clara will put pieces in her mouth.
We have another "LEGO display area" on top of our play kitchen in the toy bedroom. This is for larger projects, which we currently don't have.
If these display areas get too crowded, we know it's time to pack up the LEGOs for a while and make more space.
Also, I should mention, we ONLY get the small LEGOs out when Dave has a break from school (Christmas break, Spring Break, a full week of snow days, etc.) We play with them for several days in a row (during Clara's nap time); then we display our creations and put the big bin of LEGOs away for a while.
We have a ginormous set of Mega Blocks that we have out all the time. The kids LOVE playing with them — a solid $4 investment from the thrift store!
We have a couple different "display areas" for their artwork too — in the play bedroom, on the side of the refrigerator, on the magnet board in my office, and in their game cabinet under the stairs.
And again, when the spaces get too full, we trash a bunch of their old artwork.
They know we can't keep things forever, and they are almost always willing to purge old artwork to make space for the new stuff.
We also use lots of their artwork to make cards, gift tags, gift wrapping, etc.
When it comes to all their other little trinkets and treasures, we have a few different designated spots for those.
They each have a small wooden box (I think they are from my parents' house) to keep random small things in. These boxes work wonderfully well because nothing gets lost inside, but they fill up quickly, so we are continually reevaluating the amount of stuff we should keep or purge.
We also hung a shoe organizer in the kids' closet. They can use this for larger items — everything is off the floor and out of my sight!
And… they keep several items in their beds!
I don't know what it is about keeping special things in their beds, but all 3 of the older kids have loads of animals, small toys, flashlights, chapstick, tissues, little trinkets, papers, etc. in their bed and under their pillow.
We periodically make them clear out some of the "junk" but for the most part, as long as it's under their covers when they make their beds, I don't care!
Yes, my kids might have lots of stuff (a.k.a. beloved treasures) shoved into their beds, their wooden boxes, and their closet shoe organizer, BUT they do truly seem to love, want, and use their treasures.
So I've decided that as long as they keep their treasures confined to the designated places, I stay out of their business and let them hoard (I mean store) whatever they want.
.
WHEN WE PURGE:
We purge toys and clothing on a regular basis (especially around the holidays and after each child's birthday). However, when it comes to their beloved treasures, I have a more hands-off approach.
I basically let them keep whatever they want for as long as they want… AS LONG AS THEY PUT IT AWAY.
When I start finding their treasures left out in the living room, on the floor in their bedroom, on the kitchen counters, etc. then I know it's probably time to purge some of their things to make room for more.
I let them have a day or so to think about it, then we purge together. If they are unwilling to purge, then they know I will do it for them at an unannounced time in the near future!
This method has worked well for us so far.
NOTE: The picture above was taken after I asked the kids to pick up the toys in the living room (carpeted floor). These toys are technically in the office (wood floor) so they were left behind.
I had a good chuckle over that one!
THE BOTTOM LINE:

If I simply give my children special places for their special things and make it clear they need to keep their special things in the special places when they aren't using them, everyone is happier.

They get to keep their treasures, and I don't have to constantly pick them up, trip over them, put them away, or feel annoyed by them.

They are happy. I'm happy. It's a win-win situation.

If only all parenting could be this easy!
.
RELATED POSTS:
My system might be overly simplistic for some of you… but I'd love to know:
How do you (or did you) store your kids' treasures?