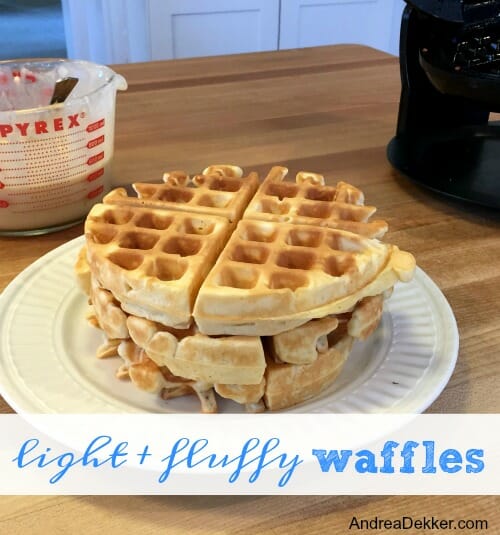 Several months ago, I share my recipe for make-ahead Belgian waffles. They have been our favorite waffles for many years… but after I published that post, a reader shared a new recipe with me and told me they would be so 'light and fluffy'.
Ironically, I was just telling Dave that I should look for a 2nd waffle recipe that was lighter since my make-ahead Belgian waffles are quite heavy and dense (I can't even eat a whole waffle).
I literally broke out our waffle maker the same day I got the email (at 9:00pm) and made Dave and I a yummy bedtime snack of waffles!
And she was right… these waffles are SO light and fluffy. Dave can easily eat 2 or 3 depending on what time of day it is and what side dishes we have with the meal.
I still love our old recipe, but having another completely different recipe is nice for a change too.
So since our family has been thoroughly enjoying these light, fluffy waffles for several months now, I figured it was time to share the recipe here as well!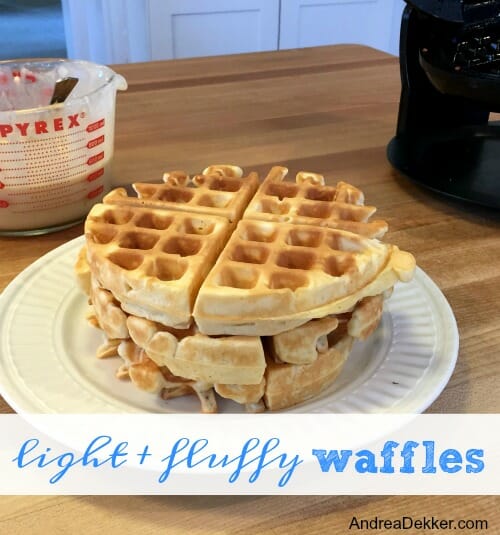 Recipe for Light Fluffy Waffles
makes 4 cups of batter, or roughly 8 waffles on our waffle iron
INGREDIENTS:
1 3/4 c. all purpose flour
1/4 c. cornstarch*
2 T. granulated sugar
1 T. baking powder
a pinch of salt
2 eggs
1.5 c. milk
1/2 c. vegetable oil or melted butter
2 t. vanilla extract
1 t. ground cinnamon
* I think the cornstarch is part of what makes these waffles lighter, but if you don't have it or don't want to use it, you can easily substitute 2 full cups of flour and they will come out just fine.
DIRECTIONS:
Plug in your waffle iron to start heating up.
In a medium bowl (or a 4 c. measuring cup) mix all ingredients until well combined.
Pour roughly 1/2 c. of batter onto the waffle iron for each waffle.
Eat and enjoy.
Refrigerate leftover batter and use within 2-3 days.
The touch of cinnamon and vanilla really seem to add a lot to these waffles — in fact, I've even added in a bit of nutmeg at times with positive reviews from the kiddos!
If I add chocolate chips, then I omit the cinnamon as I'm not a fan of chocolate + cinnamon.
Either ways, these waffles are a big his with our family!
I especially love that I can mix up the batter at night and let Dave make his own waffle when he wakes up, and then I can make more waffles for the kids as they wake up.
What are your favorite easy breakfast recipes?
Visit my virtual recipe box for more simple, delicious, family friendly recipes!