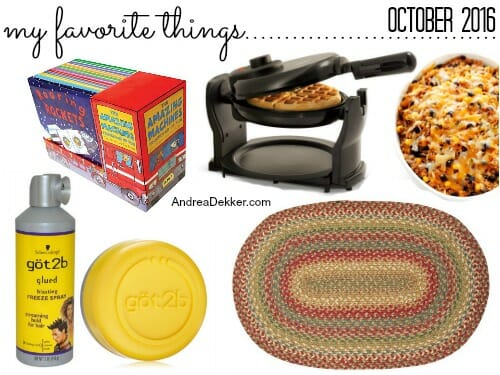 Happy Fall!
I feel like October is the official start of Fall for me. I got out a few of our favorite Fall decorations this past weekend, we enjoyed our favorite pumpkin pie dessert, and we made our favorite candy corn mix (my kids have been begging me to make this for weeks already!)
I'm back with a few more of my favorite things today — and as always, be sure to check out some of my favorite things from past months and share your favorite things in the comments!
DISCLOSURE: None of these products are sponsored; however, some of the links below are affiliate links — which means that at no cost to you, I may get a small commission. Please know that I use these products daily in my own home and life. Read my full disclosure policy for more information.
Got2b Hair Products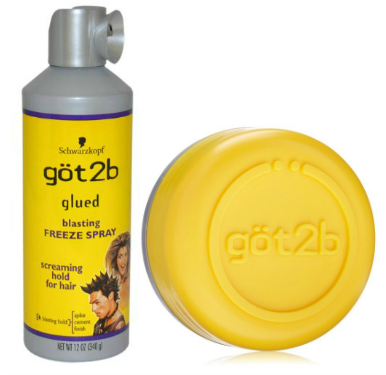 For a VERY long time, I used whatever hair products I could find free after rebate or something that was extremely on sale. However, a couple years ago, I happened to get the Got2b Glued Spiking Wax for free after rebate… and I instantly fell in love!
This wax is the perfect texture and amount of "hold" for my short hair. I can style it how I want and know it will hold all day — but it doesn't feel sticky or "hard" like some hair products do.
Since then, I have also started using the Got2b Glued Blasting Freeze Spray. It might sound horrible — but it really works fabulously for my short hair.
I definitely think those of you with longer hair would go with different products, but Got2b has a huge line of products with different amounts of hold and flexibility for whatever style you are going for.
I have been very impressed with the Got2b products and have stuck with them for the last few years. I actually did try using something else last year, but ended up throwing it away and buying the Got2b spiking wax again because I liked it SO much better.
And for the record, the Got2b products are very affordable. They are usually around $5 to $10 FULL price — so you can easily find them on sale for less. I usually wait until they go buy-one-get-one free at our local store and then buy 2 of each product. That will last me a full year — so definitely worth it in my opinion!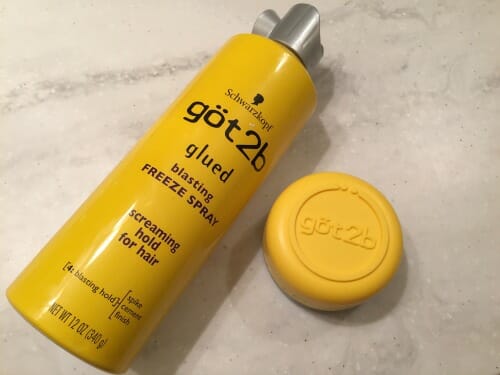 .
Simon's Truck Books
Last month, I shared how Nora and I are loving the American Girl Collection of books (we're finished with Kit and onto Kaya) and some of you asked about favorite books for Simon.
Although Simon won't sit and listen to long chapter books yet (he is ONLY 2!), he loves sitting with us to read his favorite Amazing Machines books by Tony Mitton.
This set of 10 (soon to be 11) books all have fabulous graphics, silly animal characters, catchy rhyming lyrics, and fun alliterative titles. Plus, each book has a colorful diagram of the vehicle in the back.
Simon is to the point where he knows what words are coming next so he sort of reads the books along with me… it's very cute!
So far, we've just been checking these books out from our library on a rotating basis, but I actually found a really great deal on Amazon for the full set of 10 books (only $14.12). They are the mini hardcover books and come in a cute semi-truck holder. I just ordered them last week with plans to give them to Simon for Christmas or his birthday in March!
.
.
Belgian Waffle Iron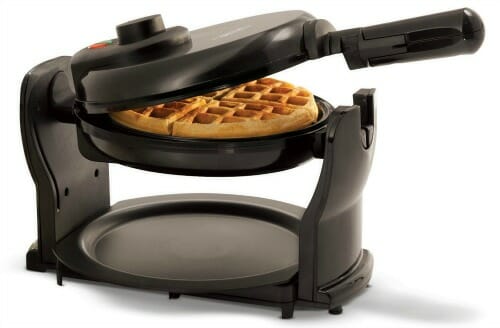 I shared my simple recipe for make-ahead Belgian waffle mix a couple months ago; and after sharing that recipe, I was asked about our waffle iron several times.
We use this Bella Rotating Belgian Waffle maker. I'm certain it's not the fanciest, but it has worked well for us for about 5 years now — and it was only $5 after rebate from a Kohl's promotion!
It is extremely non-stick (we don't even spray anything on it) and very easy to wipe up after making waffles.
Plus, I LOVE that the handle folds down so it takes up less space in our cabinets!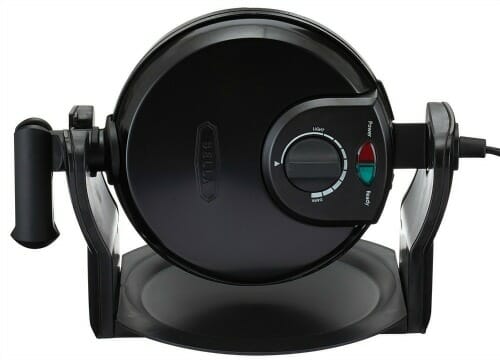 .
Braided Rugs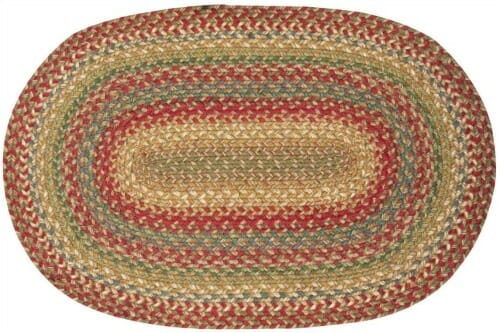 I know they might seem a little old-fashioned — but I'm a big fan of braided rugs. I think they give our house a little extra farmhouse charm!
We have purchased all our braided rugs from RugsUSA.com (this is the exact color/pattern we have) and we ALWAYS get compliments on our rugs from people who haven't been to our house before.
We've had our rugs for 4 years now and they have all held up VERY well. We have them by each door (front door, back door, mudroom door) and in the kitchen. I've thought about getting a large oval to go under the dining room table — but our kids are too messy for that right now!
RugsUSA.com has a HUGE selection of rugs — all different types, styles, textures, patterns, and prices — and speaking of prices, I have found them to be very reasonable when it comes to pricing. I think I signed up for an email to get a coupon code each time I ordered.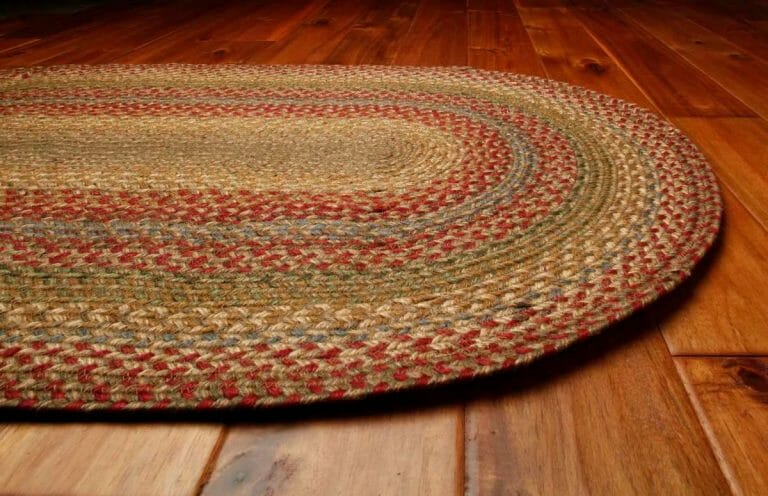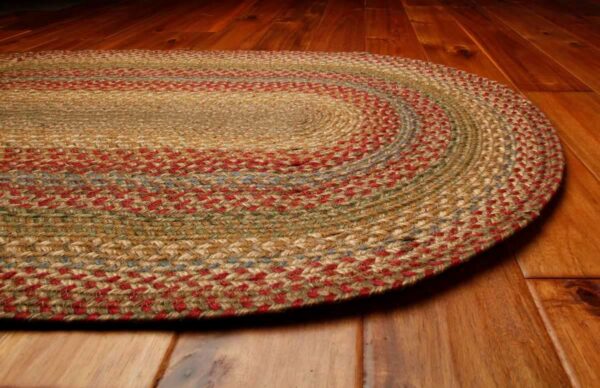 UPDATE: I have gotten a crazy number of emails and questions about how I clean these rugs. I just shake them out and vacuum them on a regular basis. If they get a stain (which mine never have) I would have them professionally cleaned when our carpet cleaner is here. They are NOT machine washable as they are quite large.
.
Make-Ahead, One-Dish Meals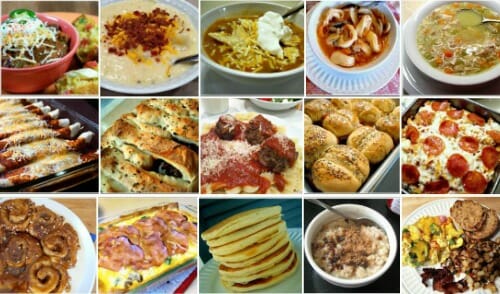 Ever since school started, I have tried to make as many one-dish casserole-type meals as I can — things I can make ahead (either the night before or during nap time) and just shove in the oven 30 minutes before it's time to eat.
Bonus points if that meal includes meat, veggies, and rice or potatoes, because that means I don't even need to bother with any extra side dishes. Just some fresh fruit, applesauce, and/or bread and we're good to go.
Some of my personal favorite make-ahead one-dish meals are:
All of these recipes can easily be made the night before and sit in the fridge until it's time to put them in the oven (or heat them on the stove top) — and my kids love all of them! Oh, and they are all delicious as leftovers for lunch the next day!
These meals save my sanity on a daily basis and are most definitely some of my FAVORITE things!
.
That's all for me this month.
Make sure you check out my previous month's favorite things — and feel free to share some of YOUR favorite things in the comments below!