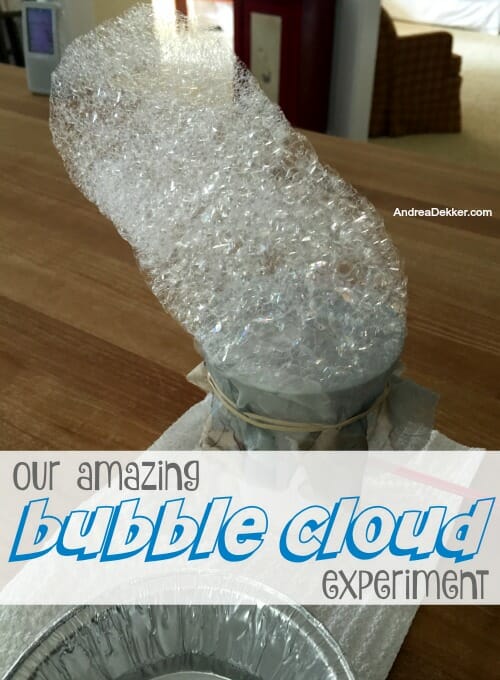 Bubbles have ALWAYS been a big hit with all our kids… for as long as I can remember. Even as infants, they have all been mesmerized by bubbles.
Since I have a really simple DIY homemade bubble recipe, we always have lots and lots and lots of bubbles in the house — and we break out the bubbles several times a week.
Recently, Nora came home from the library with a fun bubble blowing experiment to try at home…. I was initially skeptical that it would work, but I think we were both amazed how cool it was.
Over the last 3 weeks, Nora and Simon have enjoyed blowing fun "bubble clouds" (as we have been calling them). They seem equally excited every single time… and they can't wait to break out our bubble cups any time grandparents, aunts, uncles, neighbors, friends, and any other visitors stop by!
This is currently one of our favorite "crafts" or "experiments" — and it's SOOOOOOOO simple to set up. If you're looking for a quick activity for younger children with very little set up and not much mess, you'll love our Amazing Bubble Cloud Experiment!
Our Amazing Bubble Cloud Experiment:
SUPPLIES:
Bubbles (here's a recipe to make your own)
Shallow dish or bowl
Paper or plastic cup (plastic holds up better)
Scissors
Small piece of fabric or cloth
Rubber band
Drinking straw
INSTRUCTIONS:
Pour a small amount of bubble solutions into the shallow dish or bowl. Set aside.
Use scissors to cut a small hole towards the bottom of the plastic cup.
Use rubber band to attach fabric piece to the opening of the cup (it needs to be pretty tight)
Dip fabric top of cup into bubble solution and the turn cup right-side up.
Insert straw, blow, and watch your bubble cloud appear!
I originally envisioned this experiment making a BIG HUGE mess all over my kitchen counter — but it was surprisingly quite mess-free. In fact, one small sheet of paper towel contained all the mess from the bubbles dripping down the side of the cup.
Of course, it could be a great outside activity as well.
How tall will your bubble cloud be?