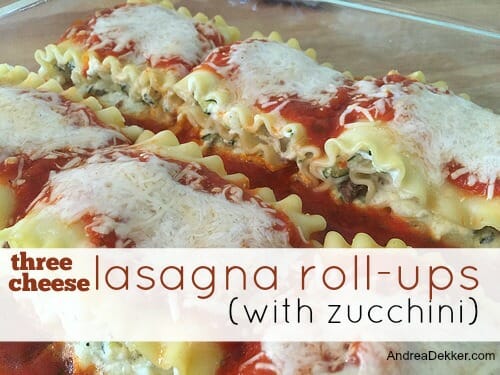 This time of year, I'm ALWAYS looking for ways to incorporate zucchini into anything and everything!
Although I only planted 2 zucchini plants, I already have an overabundance of zucchini — to the point where I've given a bunch to neighbors, family members, and friends… and I still feel like we're eating it at almost every meal and building up our shredded zucchini stockpile in the freezer!
Zucchini bread is obviously one of my go-to recipes (because EVERYONE loves it) but I recently starting putting shredded cooked zucchini into many of our main dishes — and the kids don't even know it's in there 🙂
(the photo above is from LAST summer — but it's one of my favorites!)
These three cheese lasagna roll-ups are one of my trickiest hiding places for shredded zucchini, and although they look fancy, they are fairly quick and easy to make. Plus, they are a great make-ahead meal that I can whip up in the morning and pop in the oven about 30 minutes before we're ready to eat.
The leftover are fabulous (with a little extra sauce) and you can easily leave out the meat for a really hearty vegetarian meal that should satisfy almost any meat-lover in your home.
Dave said it was delicious, Nora named me "the best cooker ever", and Simon gave me two thumbs up (while licking his lips) — I think it's safe to say this recipe is a winner in our house!
Recipe for Three Cheese Lasagna Roll-ups (with zucchini)
serves 8
INGREDIENTS:
8 lasagna noodles (I only had 7 noodles left when I made this the last time)
1 T. oil or butter
1 T. minced garlic
2 c. shredded zucchini (drained)
salt and pepper to taste
1.5 c. Ricotta cheese
1 c. shredded cheese (I used Italian)
1 egg
1 c. cooked crumbled sausage (optional)
1 jar (32 oz) pasta sauce
1 c. parmesan cheese
DIRECTIONS:
Before I start making this recipe, I usually drain my zucchini by putting it in a strainer (after I shred it) and pressing on it to remove extra liquid (you will probably be amazed how much liquid drains off!)
Preheat oven to 350ºF
In a large pan, boil lasagna noodles according to package directions
While noodles boil, melt butter or oil in a medium frying pan and saute garlic and zucchini for about 5 minutes, or until zucchini is soft. Sprinkle salt and pepper over zucchini to taste.
In a medium bowl, mix ricotta cheese, shredded cheese, egg and cooked zucchini mixture.
Pour 1 c. of pasta sauce in the bottom of a 9″ x 13″ baking pan; set aside.
When noodles are soft and flexible, lay one noodle on a plate and spread with cheese mixture. Top with crumbled sausage or hamburger if desired.
Roll up the noodle and place in the pan over the sauce.
Repeat with remaining noodles and cheese mixture.
Pour remaining sauce over rolled-up noodles and sprinkle with Parmesan cheese.
Cover with aluminum foil and bake in preheated oven for 30 minutes or until hot and bubbly.
Eight roll-ups seem to fit perfectly in a 9″ x 13″ pan — but if you rolled them tighter or squeezed them closer together, you could potentially fit more. And of course, if you're only cooking for one or two, you can easily half or quarter this recipe and make it in a 9″ x 9″ in pan or even in a bread loaf pan.
I served our lasagna with sauteed veggies, applesauce, and crusty bread — all our plates were licked clean!
If you're looking for one more way to use up extra zucchini, I would definitely suggest this yummy 3 cheese lasagna roll-up recipe (especially if you're trying to sneak the zucchini past picky eaters!)
Want MORE zucchini recipes?
Here are a few of my favorite:
Double chocolate zucchini bread
Zucchini crisp (it tastes EXACTLY like apple crisp!)
What are your favorite zucchini recipes?
Visit my virtual recipe box for more simple, delicious, family friendly recipes!