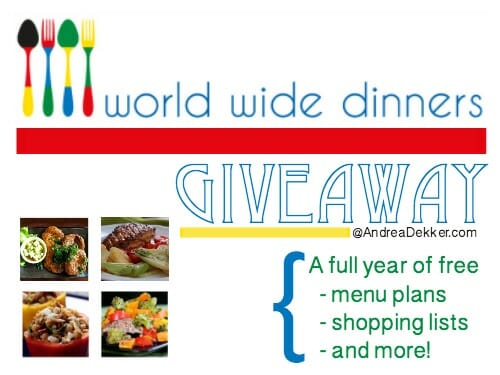 The back-to-school time of year is SOOOOOOO busy isn't it?
Have you started to feel burnt out with all the lunch packing, meal planning, and grocery shopping yet?
I know many of you have struggled with meal planning, grocery shopping, and nailing down your system. You've asked me for help — and although I've done countless blog posts on meal planning (including how I avoid meal planing burnout), there's just no way I would have the time, energy, or skill to actually craft perfect menus and shoppings lists for all of you. Sorry!
Thankfully, World Wide Dinners has come to our rescue, offering simple, healthy meal planning options (complete with grocery lists, pantry staples, and LOTS of amazing recipes).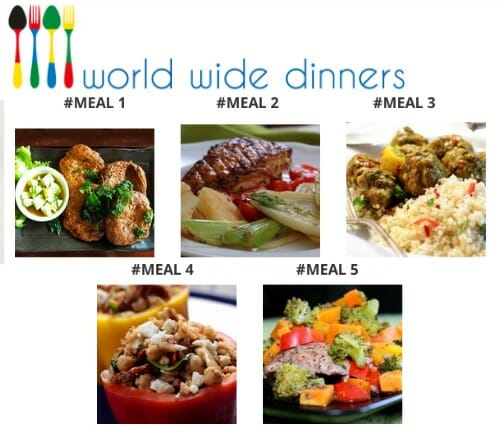 Here's how it works:
Every Friday, World Wide Dinners provides you with a fresh meal plan and a complete shopping list. Each meal plan includes 5 SIMPLE and HEALTHY dinner recipes inspired by worldwide cuisines (based around a four-person households.)
With your shopping list in hand (printed or via a smartphone), you can then hit the store without worrying if you're forgetting anything.The shopping lists are organized by aisles and outlines all the food you'll need for the whole week — leaving little waste at the end and saving you money.
Each recipe comes with a step-by-step preparation guide to help you make delicious, healthy food for every meal; all without having to worry about what, how, or when. Also, everything is preservative free and nothing is processed.
Sound good to you?
Well guess what, not only is World Wide Dinners partnering with me to offer 3 full-year subscriptions (see below for the giveaway) they also have a free, no-obligation 14-day trial for any of you who would like to test out their services.
There's just no excuse not to give it a try — and give yourself a 2-week meal-planning break!
If you love it, there are 3 different subscription options so you can customize this menu planning service to fit the needs of you and your family.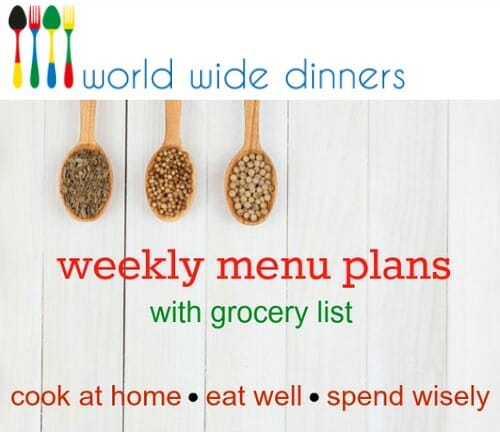 More About World Wide Dinners:
World Wide Dinners was started by Orsi, a wife and mother of 4 living in Ireland. Her goal was originally to help herself get out of the rut of cooking the same foods over and over again.
Now, with the help of her online meal planning services, she is able to help families across the world avoid the stress of menu planning, stop wasting time, learn new cooking techniques, explore new flavors, and (most importantly) serve more balanced, healthy meals on a regular basis.
World Wide Dinners helps you prepare nutritious meals for your family even after a busy day of work so you can focus your time on your family not your kitchen!
Visit World Wide Dinners on the web:
Website: www.worldwidedinners.com
Facebook: WorldWideDinners
Pinterest: WorldWideDinners

View their Recipe Index
Start your FREE 14-day trial membership here!
Enter To Win This Giveaway!
Today, THREE lucky readers will win the annual meal plan subscription from World Wide Dinners (their most premium package with service for an entire year!)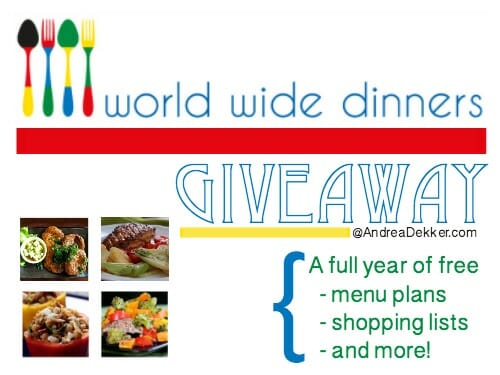 To enter, simply use the Rafflecopter widget below (it might take a second to load).
a Rafflecopter giveaway

This giveaways ends at 11:59 pm EST, Sunday, 9/21/2014 and is open WORLDWIDE to anyone 18 years or older. The winner will be randomly selected via Rafflecopter and notified via email. I received compensation in exchange for hosting this giveaway — all opinions are 100% my own. Please see my full disclosure policy and contact me with any questions you have. Good luck!