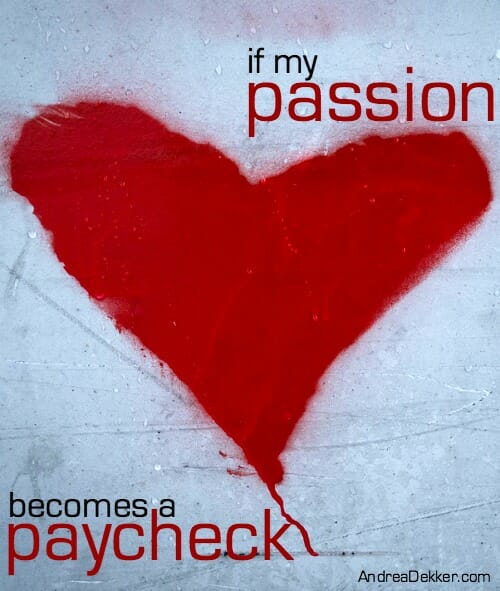 The idea for this blog post has actually been on my mind for 3 years now! Since right before Nora was born — which is also right about the time people started telling me I would never be able to keep working as much as I was working AND take care of a child.
In some ways, those people were right. I couldn't keep doing everything I was doing — but I soon realized that I COULD keep doing everything that was important to me and everything I was passionate about doing.
Then, I started getting similar comments and questions right before Simon was born — people asking if I would still try to "do it all" even after 2 kids.
I would usually respond by saying something like, "We'll just see how it goes after he's here and how much time and energy I have."
It was an easy answer that satisfied their curiosity (no, I wasn't annoyed by the questions) and gave me plenty of wiggle room in case I felt like I just couldn't do it all anymore.
Thankfully, I have been able to find time to squeeze it all in (read this post for my latest Work + Life Updates) because I truly do love what I do.
.
Yes, there are days when I simply go through the motions — answering emails, taking pictures, drafting blog posts, responding to comments, and doing my various VA work.
There are days I take working from home for granted and secretly envy my friends who "get to" send their kids to daycare a couple days a week and go hang out with grown-ups instead of cleaning up 18,000 crumbs off the kitchen floor after every single (lukewarm) meal I eat.
There are stressful days, overly-busy days, not-enough-sleep days, and days when I question whether it is really possible for me to make this all work…
But even on the busiest, most stressful, didn't-sleep-at-all-last-night days, I KNOW how perfect this job is for me and how incredibly lucky I am to make money doing the one thing I have more passion, drive, and determination to do than almost anything else.
My family still comes first, but right now, I would be willing to sacrifice A LOT to give myself the luxury of doing what I love and sharing my passion with you.
.
However, I also know there might come a time when I can't make it all work — or when I simply don't want to make it all work.
I don't foresee this happening anytime in the near future — don't worry! However, since I'm often asked (both by readers and other bloggers) how I'll know when, if ever, it's time to hang up my keyboard, close down the blog, and move on with my life, I thought I'd share my super simple answer — especially as this is something I've regularly thought about over the past 3 years.
.
I'll stop if my passion becomes a paycheck.
.
For as long as I can possibly remember, I have loved organization — even as a very small child, my parents can tell you crazy stories of how I would organize my Smarties by color before I would eat them or how my mom could "tell the time by when I cried as a baby" because I was SO scheduled from day one.
Organization and simplification is what I DO, it's how I choose to LIVE, and it's also what I LOVE more than almost anything.
I would do it whether I was paid or not because that's just how my brain works and it's how I function best.
It's my "One Thing" and I hope you can feel that passion and energy when you read my posts each day.
That said, if I ever get to the point where the spark has fizzled out and I'm feeling like I'm only working for a paycheck, I will not feel badly about moving on. It would be a very sad day for me, and it would not be a decision I made lightly. But I simply can't sell out my passion and love for organization just to earn a paycheck. I could find MUCH easier ways to earn a paycheck if that's all I needed to do.
.
So how do I make sure I still feel that passion?
1. For starters, I say "no" to a lot.
I have turned down 3 very lucrative book deals as I have absolutely no desire to write a book right now. That whole process sounds extremely exhausting to me and not something I'd be interested in doing with small children around. This is not to say I would never write a book… but I won't do it unless it's something I feel extremely passionate about doing.
I regularly turn down paid product review and giveaway requests that don't fit with the content of my blog… and I've turned down many sponsorship requests for companies whose values, products, or services don't line up with what I want for my business.
I have said "no" to many sponsored trips, well-paid speaking engagements, blogging conferences, meetings, and more because there is just not enough time in the day to do that plus everything I love doing (and I secretively hate to travel!)
I have passed up all of these things because I know that if I said "yes", I'd be selling my passion for a paycheck and I won't be happy in the end.
2. I pick and choose how I invest my time on Social Media.
Social media is a HUGE money-maker when it comes to the online world. However it's also a HUGE time-suck.
I could literally have a full-time job keeping up with all the various social media profiles, posting 20+ times a day to keep Facebook loving me, following and commenting and liking and posting and tweeting and pinning and instagraming, etc. etc.
There was a short period of time when I first started my blog that I tried REALLY hard to be ever-present on social media… but it wore me out faster than I realized. I hated it and it was so overwhelming for me.
So now, I stick to Facebook and Facebook alone. I love using Facebook to interact with readers and friends. I love sharing my posts, my thoughts, cute pictures of my kids, links to other resources I've found helpful, and anything else I think my Facebook followers might enjoy and benefit from.
I set my Facebook posts to automatically publish to Twitter, but I can't tell you the last time I've ever actually used Twitter.
I have a Pinterest and Google+ account simply so people who want to follow me can do so — but it's been over a year since I logged into Pinterest and I don't think I've ever posted one thing to Google+.
This is not because I'm lazy or because I don't realize the effects social media can have on growing an online business. I get it — believe me, I do. However, I also know that it wouldn't take long for my passion to dwindle if I put so much emphasis on social media promotion instead of simply writing content I'm passionate about here on my blog.
3. I've tried to think of my blog as a "personal outlet" more than a "business".
Yes, it really is a business, but there's a lot that goes into my business besides just my blog.
My blog is the most personal part of my business (and my favorite part) so for me, it's been important to view the blogging part of my business as simply a "personal outlet" to share my life and my intense passion for simplifying and organizing with whoever wants to read it.
If I make money doing that, great. If not, I have other sources of income — and Dave still carries the benefits for our family.
I don't get hung up on SEO (search engine optimization) or spend any amount of time crafting my posts or images so Google will love me more than other organizing and simplifying blogs. I just write about what I want to write about in the best way I know how to write.
Don't get me wrong, I still put a considerable amount of time and effort into my blog posts each week (an average posts takes between 1-4 hours to pull together) but I do it because I love it — not because I'm trying to get a certain click-through rate, improve my Google Page Rank, or set a recored for the number of Facebook shares.
4. I don't check my stats or push blog subscriptions.
Yes, I know my blog stats — but that's only because almost every sponsor and advertiser requests that information. However, if it wasn't for those people asking me for my stats, I wouldn't even know what they were. I never look at them, I never check my email subscriptions or facebook "likes", and never push subscriptions or offer bonuses for those who subscribe.
If you want to read my posts, great… read them. If you want them coming to your inbox, then subscribe. If not, feel free to just casually drop in a few times a year to see what I've been up to 🙂
I don't think it's a bad idea to do these things (it's actually really smart) it's just not how I want to run my blog.
If I start micro-managing every last detail, I get sucked into all the busywork and forget the big picture of "simplifying and organizing life". That's what I'm passionate about and that's what I'm here to do — whether I have 20 people reading every day or 20,000.
5. I almost never seek out advertisers or sponsors.
I did this in the beginning — just to get my name out there — but it's not something I do anymore because it's not something I particularly enjoy doing.
I've decided that at the current time, it's better for me and for my blog to use Ad Networks for the majority of my ads and only accept private ads and sponsorships if they find me (so long as they fit with my style, mission, values, etc.)
I realize many bloggers probably think I'm crazy right now (don't worry, I totally understand!) however, I've noticed that sometimes, I'm actually more desirable to companies because I don't throw myself at them or pad my stats to get them interested in me.
6. I do everything myself.
Aside from a handful of guests posts, every word you've ever read on my blog, on my Facebook page, from Twitter, or in an email for the last 4+ years has come directly from my finger tips.
I have never hired anyone to do anything for me besides the very technical behind-the-scene website creation and maintenance (and of course, Dave edits my posts for free!)
I take the pictures, I write the words, I work directly with the sponsors, I update the sidebar, I place the ads, I answer every email and every comment — and that's how I like it (at least for now). Yes, I could probably grow and expand if I were willing to hire more help, but I don't really want to grow and expand because that doesn't seem as simple for me — and simple is what I want right now.
I don't want an empire — although I am very grateful there are other "empire blogs" that have hired me to work for them 🙂 I just want my small slice of the internet to be 100% ME.
.
To some, this might seem like a VERY lazy and unprofessional "business plan". I totally understand that; I would even agree with parts of that statement.
However, to me, it's actually a pretty strategic plan that I'm hoping will prevent burnout and keep me passionate about my blog and my business for a long LONG time.
And I think we will all benefit from that… right? 🙂
For the record, I have absolutely nothing against working strictly for a paycheck. Dave and I have both had jobs like that before, and there's nothing to be ashamed of for doing what you need to do to provide for your family.

The point I'm trying to make is that there would be MANY much easier, less stressful, less "working 24/7" ways for me to make a decent paycheck if that's all I was interested in.

If I was only running my blog for the paycheck, it would not be worth the amount of time, energy, and effort I put into it each week. However, since it is something I'm very passionate about and love doing — it's 100% worth it.

I just need to keep that passion alive!