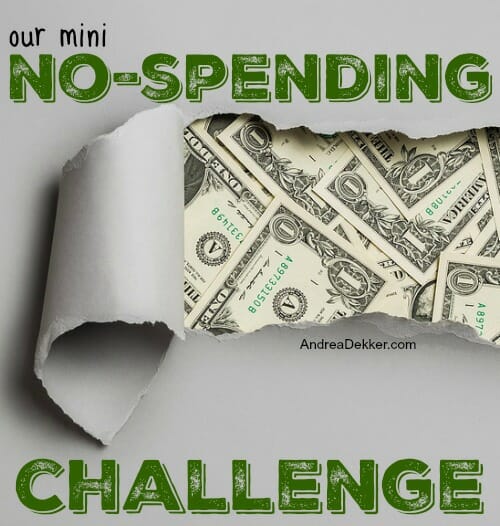 Five years ago, I shared the self-inflicted no-spending challenge Dave and I did during the month of May — aside from paying our utility bills and buying groceries, we essentially went an entire month without spending anything.
It was a great experience for us, and we learned a lot!
I realize a full-blown no-spending challenge won't work for every family or every lifestyle, but if you're up for the challenge, it's an excellent way to force yourself to think about how you're spending each month, and to catch yourself if you feel like you're falling into a trap of over-spending in certain areas.
Since our first no-spending challenge back in 2013, Dave and I have done several smaller no-spending challenges — most recently, a no-spending challenge for fast food and restaurants (which is what I'm sharing more about today!)
Over the past year or 2, I feel like we've slowly been spending more and more on pizza, fast food, and car-side-to-go options at local restaurants. Now, to be clear, "spending more and more" on restaurant food for us is most likely still considerably less than the average American — but it was still a lot more than we spent in the first 8-10 years of our marriage.
Add to that the fact that I wanted to finally lose the last of my baby weight, and I figured it might be good timing for a no-spending challenge specifically related to buying fast food, pizza, and restaurant food.
And we actually did it for TWO months!
We went all the way through February and March without buying any food outside the grocery store… with a couple small exceptions!
We got Culver's one night for Simon's birthday (we had BOGO coupons and gift cards)
We used Nora's BookIt coupons to get a her free personal pan pizzas from Pizza Hut
Other than that, all meals were made and lunches packed by me.
Honestly, it was harder than I thought it would be!
I'm almost positive that 3-5 years ago, it would have been SUPER easy for us to go several months without ever paying for pizza, fast food, or restaurant food — but now, it was much more of a challenge.
Apparently we've started to rely on and enjoy the convenience of ordering food a little too much — this no-spending challenge helped me realize that!
.
I want to reiterate (once again) that I realize a full-blown no-spending challenge probably won't work for every family… BUT, if you feel like your budget is extra tight in one area, or if you keep over-spending in another area, a mini no-spending challenge might be a way to get back on track.
Even if you only do it for a week or two (not the whole month), I think you will still benefit from this type of challenge.
And if you have to quit part-way through, there's really no harm — just pick it up again the next month if you want to.
The important things is that you are actually focusing on your spending, paying more careful attention to where your money is going, and thinking through ways you can save more (all good habits to build!)
.
With Spring Break starting today, I'll be happy to enjoy a little fast food (maybe even a restaurant if we feel really daring!) But I'm definitely happy we made it through our mini no-spending challenge!
Have you ever done a no-spending challenge? If so, what did you learn?
.
top photo source: CafeCredit.com