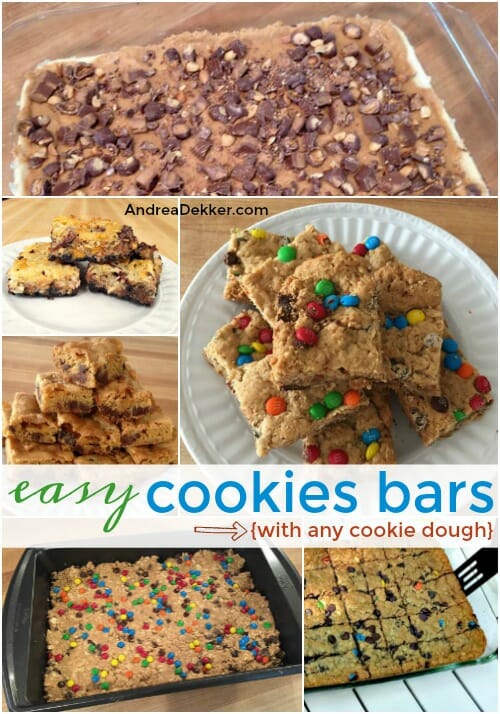 As you probably know by now, our family loves cookies (and brownies, and really all things sweet) so I bake very regularly.
I always have an assortment of cookie dough (and cookie dough balls) in the freezer, so it's really not that much work to pull out a dozen cookie dough balls and pop them in the oven.
However, when I'm short on time, or when we're feeding a crowd, I almost always make "cookie bars" instead — a.k.a. cookie dough pressed into a rimmed baking pan instead of scooped into balls on a cookie sheet.
In my opinion, making cookie bars is SOOOOOOO much faster and easier than making individual cookies because I don't need to scoop or roll cookie dough into balls, and I don't have to worry about placing the dough balls too close together and then having a mess of cookies all stuck together.
Plus, I can fit SIX 9″ x 13″ (or similarly-sized) pans in my oven (versus only 3 cookie sheets), so I can really plow through the cookie dough this way!
We cut our bars really small as they are thicker than traditional cookies, so I can usually get 40 cookie bars in one 9″ x 13″ pan meaning one pan of bars will stretch much further than one pan of cookies.
Are you hungry yet!?!?
Cookies bars are SO easy to make — I'd almost say you don't need a recipe. In fact, I've never used a formal recipe — I just press cookie dough in whatever pan I want to use, filling the pan roughly 1/3 to 1/2 full of dough (similar to how full the pan is for a batch of brownies).
However, based on the insane number of emails, comments, and questions I've gotten asking for "the recipe for those cookie bars", I figured I should formally share my "recipe" for this family favorite!
Easy Cookie Bars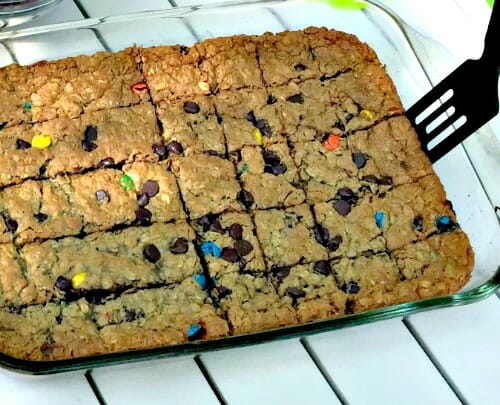 Cookie bars are a quick and easy way to bake your favorite cookie dough -- they feed a crowd if you cut them small!
Ingredients
3-6 cups of your favorite homemade or store bought cookie dough (see notes below)
some sort of rimmed baking pan
Instructions
Preheat oven to 350ºF.
Grease the bottoms and sides of whatever pan you want to use.
Make or buy your favorite cookie dough (or defrost cookie dough from the freezer)
Press cookie dough into greased pan, filling roughly 1/3 to 1/2 full.
Bake in preheated oven for 20 minutes (for a 9" x 13" pan), or until the edges are slightly browned.
Cool completely before cutting into bars.
Notes
The center of the dough will seem giggly when you remove it from the oven -- this is OK, they should set up nicely as your cookie bars cool.
If the center is fully set when you remove the pan from the oven, your cookie bars will most likely be crumbly and dry. If this happens, you can crumble them fully and use this recipe to make cookie crumb truffles (they are AMAZING and perfect for over-baked cookies)
NOTES on Pan Size and amount of dough to use:
9 " x 13" pan = 4-5 cups of dough
9" x 9" pan = 3-4 cups of dough
9" glass pie pan = 3 cups of dough
Pizza pan = 6+ cups of dough
Keep in mind this all depends on how thick you want your bars, how your oven bakes, and what type of pan you're using.
If you want very thin bars, use less dough and bake for a shorter amount of time.
If you want super thick bars, use more dough and bake longer. You might also want to reduce the baking temp to 325 and cover with foil for the last 10 minutes or so, to prevent browning.
If your oven bakes "slow" or "fast", watch your bars the first few times and adjust the baking time accordingly.
If you use glass pans you'll need to bake the bars for a few minutes longer than if you use non-stick or coated pans.
Personally, I just use my best judgement (I never actually measure the dough). I fill the pans roughly 1/3 to 1/2 full -- similar to what I would do for making brownies. Then I keep an eye on them for the last few minutes of baking time, and I never have any issues!
Pretty yummy!!!
And SO easy!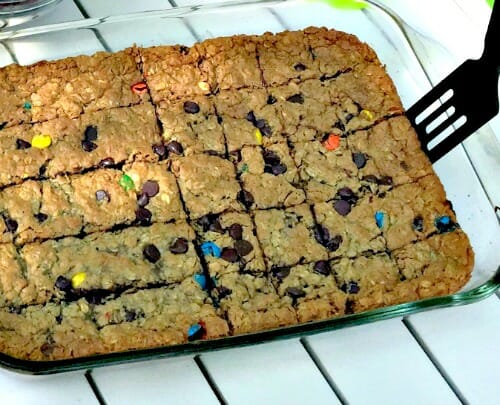 Think outside the 9″ x 13″ pan…
I usually make my cookie bars in a 9″ x 13″ or 9″ x 9″ pan because I have several pans in those sizes, many of which have tight-fitting lids (so it's convenient). HOWEVER, you can make cookie bars in ANY size pan.
If you have more dough, use a jellyroll pan and add a few minutes onto the baking time.
If you want "cookie loaves" or if you only have a small amount of dough, bake it in a bread loaf pan — don't fill more than 1/3 of the way full otherwise the middle probably won't set well.
If you want a "cookie cake", use a cheesecake pan, a round cake pan, a glass pie pan, or even a rimmed pizza pan for a huge "cookie cake". Dave's mom has done this for the kids a few times and apparently, eating cookies that are cut into wedges like pizza (with frosting) makes it that much better!
Here are some of my favorite "bar" recipes.
And here are some of my favorite cookie dough recipes (all of which can be made as bars).
OK, I think that should be enough inspiration to get you into the kitchen!!!
What is your most favorite cookie dough? Have you ever made that dough into bars?