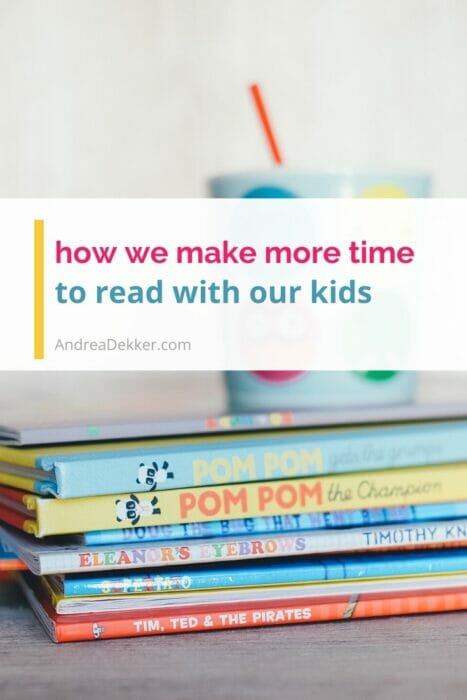 Dave has always been a big reader, and it seems our children have picked up on his love for books — especially Nora, now that she can read so well on her own!
They love looking at books, they love listening to us read to them, and they love going to the library every week to choose their own books (the boys always ask "can we buy this book?" and then get super excited when I say 'sure, that's fine'!)
We usually read for short pockets of time throughout the day — more often in the winter when we're stuck inside — and we ALWAYS read for about 20 minutes before bed every night.
Our "routine" has been that Dave reads to the boys and I read with Nora. However, that is starting to change a bit as Nora sometimes likes to read on her own and Clara is now old enough to read with me.
How We "Stumbled Upon" A Way to Make More Reading Time
Last winter, I started looking for ways to fit more reading time in with the kids — mainly because we were getting SO many books from the library each week that it was sometimes tricky to find time to read them all, especially since the older kids often like longer chapter books.
Nora mentioned one of her favorite things about school was when her teacher read to them during their lunch time… which got me thinking I could do the same thing at home.
I decided I would start reading to the boys (and Clara) during/after lunch each day. They are such slow eaters, so I could easily make everyone's lunch, eat my lunch, and then read for 10-15 minutes while they finished lunch.
This worked PERFECTLY for our chapter books with fewer pictures as the boys didn't need to sit right next to me to "see" the pages. It was also convenient as they were already sitting down and fairly quiet/still while they ate — to my surprise, they were even quieter and more focused on eating when I read!
.
Over the summer (with Dave home all day), we have started reading to the kids after EVERY meal — even when we eat outside.
We're working our way through The National Parks Mystery Series by Mary Morgan (a local author). The books are so well suited for our kids' ages — especially Nora and Simon — and the kids all look forward to reading together after each meal. Even Clara sits fairly quietly to listen.
We also have 3 different devotional books we read at least once a day — sometimes one at each meal.
Our Daily Bread for Kids (the main one we're reading this year)
Since Dave and I almost always finish eating before the kids, he usually reads one devotional and then a few chapters of our mystery book while I start cleaning up the kitchen and the kids finish eating. Then we eat dessert together.
We keep the books in the little wooden caddy on our table so they are easily accessible (and fairly safe from spills!)
Of course, I realize most families are not able to read together after every meal — we won't be able to do this once everyone starts school again in the Fall; however I DO hope we are able to continue reading after dinner each night for at least a couple more years (assuming we stick with very few extra curricular activities!)
I'm SO thrilled with our post-meal reading times!
It's a fun activity we can all do together — even with the different comprehension levels of the kids.
It has made meal times more enjoyable due to less noise and movement at the table.
It has been exciting for the kids to anticipate this reading time so they "know what's happening next" in the books.
It's just a great way to fit in significantly more reading every day (we read for roughly 10-15 minutes after each meal — which adds up day after day!)
.
We're almost finished with the last National Parks Mystery book, so we'll be looking for a new series of chapter books to read in another week or so.
I'd love some good suggestions from you!
Preferably books that are "gender-neutral" with shorter chapters, few pictures, and suitable for ages 4-8.