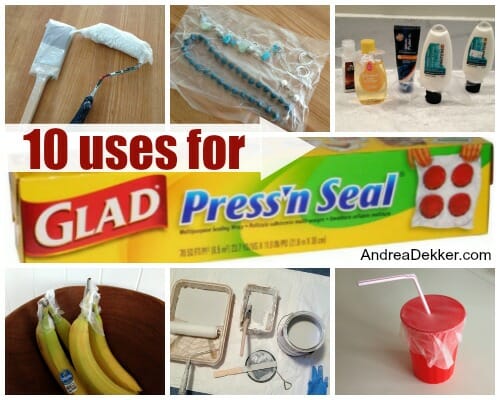 We always have at least 2 or 3 rolls of plastic wrap in our house as it comes in handy SO often (and not just in the kitchen).
My favorite type of plastic wrap is Glad Press 'N Seal (which I included in my list of Favorite Things several summers ago because we use it so often!)

This stuff is amazing, and although it's more expensive than traditional plastic wrap, I ALWAYS keep it in the house and I regularly come up with different uses for it. I'm sharing a few of my favorite uses in today's post.
NOTE: this post is NOT sponsored… I just really REALLY like Glad Press 'n Seal! 🙂
1. A Cover for Paint Brushes and Rollers
I do a lot of painting — walls, trim, cabinets, furniture, picture frames, etc. — so I'm often "in the middle" of a painting project.
Since I almost only paint when the kids are sleeping, it usually takes me a couple of nights to finish a project. In between painting sessions, I cover my brushes, rollers, and any other painting supplies with Press 'n Seal wrap and they stay good for days.
This means I only need to wash out my brushes and clean up one time instead of every single time I finish for the day. I've been using this tip for YEARS and it's a huge time and money saver!
2. Line Paint Trays so You Can Reuse Them
Paint trays are usually $5-$10 depending on what kind you buy. Then, the liners are usually around $1-$2 each. This might not seem like that much, but when you paint a lot with many different colors, that cost can add up.
Plus, for some reason, I seem to ALWAYS buy the wrong size liner for my paint trays!
Thankfully, I solved that problem about 8 years ago when I realized that Press 'n Seal wrap was the PERFECT alternative to paint tray liners — and it only costs a few pennies per tray!
Simply line your paint tray with Press n' Seal (pressing it down very firmly), pour your paint in, and you're ready to go. When you're finished, just pull up the Press 'n Seal and toss it in the trash.
3. Keep Your Jewelry Tangle-Free
Whether you're traveling for the summer or just bringing a change of clothes for an event after work, you can keep any jewelry you're bringing along completely tangle-free, neat, and organized by laying it on a piece of Press 'n Seal wrap and then putting another piece over top.
Simply press all around the edges of each jewelry item, then roll it up and place it in your bag.
Even though I don't wear much jewelry (and I don't travel all that much these days) this is an awesome trick that I've used a handful of times over the years!
4. Keep Refrigerator Drawers and Shelves Clean
If you are constantly battling sticky, dirty, grimy refrigerator shelves and drawers, try lining them with Press 'n Seal wrap first. Then the next time you spill, simply pull up the plastic wrap and put another layer down.
Another refrigerator tip (while we're on the subject) is to line produce drawers with a thin cloth or a layer of paper towels to soak up any juices from the produce. These can easily be washed or tossed (and replaced) after a few weeks to keep the drawers clean.
.
5. Prevent Ice Cream Freezer Burn
We often have multiple varieties of ice cream in the house. We usually store it downstairs in our deep freezer as the deep freezer is better to prevent freezer burn, but once we open a container, we bring it up to the "kitchen freezer" as the kids call it!
When we do this, we often cover the surface of the ice cream with Press 'n Seal wrap and then put the cover on. In my experience, this extends the life of our ice cream and prevents freezer burn. Plus, it only takes 5 seconds, so it's totally worth it!
I also use this same method to keep avocados fresher longer. I cover any cut side of an avocado with Press 'n Seal wrap and put it back in the fridge. It will stay fresh and green for a few days!
.
6. Cover a Glass for a Small Child
For those of you trying to transition your kids from a sippy cup to a regular glass, this tip is genius (especially if you're out and about or at a guest's house where you don't want them to spill).
Simply cover any drinking glass with Press 'n Seal wrap and poke a straw hole through the center. They can sip away while you enjoy your time without constantly worry about them spilling.
7. Prevent Spills When Traveling
Have you ever packed sunscreen, lotion, or any other liquid item for vacation… only to discover the item leaked all over your suitcase?
If so, the next time you travel, take a few minutes to wrap the tops of your liquid items in Press 'n Seal wrap and THEN screw on the top. You shouldn't have any issues with spills.
8. Cover Seedlings to Keep Moisture In
There was a time, before we had kids, when I grew many of my flowers and vegetables from seeds. I would put them on heating blankets in our living room, cover them with Press 'n Seal wrap, and put them by a sunny, south-facing window. It worked like a charm — and SO much better than any other frugal method I tried.
Someday, I'll try this again — but it will definitely need to wait until we don't have busy toddlers and curious babies around to play in the dirt!
.
9. Cover your Smart Phone to Keep it Dry and Clean
When I'm painting, gardening, or going for a walk when it might rain, I'll often wrap my phone in Press 'n Seal wrap to prevent it from getting dirty, messy, or wet.
I can still use the touch screen even with the plastic wrap on top — and I like the extra layer of protection!
.
10. Keep Your Bananas From Ripening Too Quickly
I read this tip a long time ago and although I don't do it all the time (because we eat bananas so quickly) I will say that it DOES work.
If your bananas are going bad too quickly, give this a try. Or, you could always just toss them in the freezer for banana bread or smoothies!
There you have it, 10 of my favorite non-traditional ways to use Glad Press 'n Seal wrap.
Although I try to use reusable products whenever I can, Glad Press 'n Seal wrap is one disposable product I'm not willing to part with. I'm certain I use it at some point almost every single day because it's just SO handy… and at roughly $3 a roll, it's a pretty frugal "fix" for so many daily household needs!
Do you have any other clever uses for Press 'n Seal?