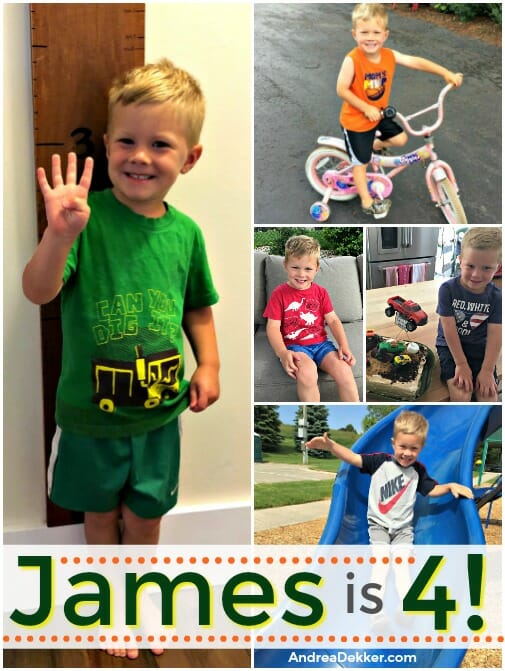 James celebrated his 4th birthday on Sunday!
Although we weren't actually home to celebrate (and he didn't get any gifts) we have had fun celebrating his upcoming special day for the last full week — starting with a super simple Monster Truck birthday party last week Sunday afternoon.
The other kids all sat at a reasonable distance (despite wanting to "help" James open his gifts). However, when the bucket of candy was opened, they couldn't resist getting nice and close!
We had the perfect day for his outdoor party — it had stormed the night before so the humidity was gone, and there was a nice breeze to keep everyone cool in the shade.
I was able to make all the food in the morning (thanks to waking up nice and early) and I set the oven to preheat while we were at church, so all I had to do was pop the huge pan of pizza sliders in the oven when we got home and the party started just a few minutes later!
THE PARTY MENU:
Pizza Sliders (James wanted pizza — this was our compromise!)
Potato Chips
Raw peas and watermelon (James' favorites)
Lemonade and water
10 layer ice cream cake (with a few extra layers and added "decorations"!)
The party was a big hit, James got lots of fabulous Monster Trucks, Hot Wheels, candy, a monster-size cookie, Paw Patrol goods, squirt guns, sports gear, and some new clothes that he's super excited about.
We've all enjoyed playing with his new things — and for the most part, he's really great about sharing.
James' smile and laugh are infectious — but our close friends and family are often the only ones who really get to see his super silly personality shine through. He is by-far the most shy of all our kids, often even refusing to look at grownups he doesn't know all that well.
We were greeters at church the Sunday of his birthday party and he literally sat on a chair 3-4 feet behind the rest of our family, refusing to shake hands (or even make eye contact) with anyone coming through the door. It was somewhat humorous for Dave and me since we get to see his CRAZY, loud, energetic, and silly side every single day at home!
James will start preschool in the fall – and he is VERY excited!
I have no doubt he will do well in a school setting — once he warms up to his teachers and classmates. I'm SO excited to see how much he enjoys school!
He is very athletic too — probably the most coordinated of all our kids (at least right now). He's ambidextrous with most activities — easily switching from left to right handed… which means I was one of those parents who had to check the box "undecided" next to the question of if he was right or left handed!
James is SUCH a wonderful brother!
He willingly plays along with all of Nora's eccentric plots and plans for elaborate games, he and Simon are THE BEST OF FRIENDS, and he is so patient and gentle with Clara — often hanging back with her when the older 2 rush off to do something together.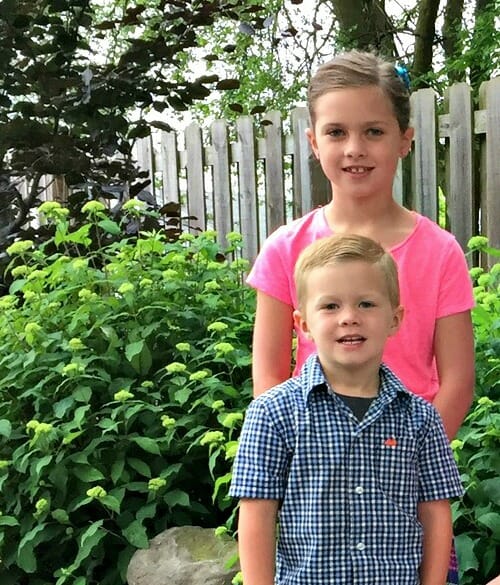 I regularly catch myself just smiling as I watch him because he's just so sweet. He regularly hums and sings while he plays or rides his bike — and he ALWAYS sings while he goes to the bathroom!
As with all 4 year olds, he has his "moments" but for the most part, he is such a sweet boy with an amazing imagination and fun personality.
Happy Birthday James!
We love you!