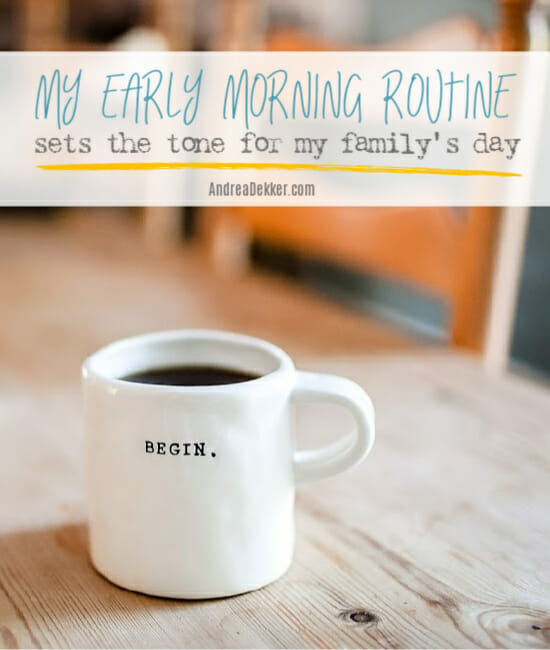 For as long as I can remember, I've utilized an early morning routine to my advantage — even in high school and college when I got most of my homework done before anyone else was awake!
I LOVE waking up early, getting ready for my day, and accomplishing half my to-do list before the rest of the world wakes up.
Yes, there have been periods of my life when babies have kept me up all night and early mornings were not doable, but for the most part, my early morning routine sets an extremely positive tone for myself and my entire family, so I plan to continue waking up early for the foreseeable future.
Here's a look at my current early morning routine and how it helps to simplify busy mornings and set a positive tone for our day.
Dave and I wake up at 4 am every day (often closer to 5 on the weekends).
After I'm up, my mornings go as follows…
Get dressed and ready:
Everything I listed above takes about 15 minutes total — so as long as I'm awake at least 15 minutes before the kids, I can be fully ready for the day before they're up and running around.
Cross Off A Few To-Dos:
After I'm physically dressed and ready, I head to my computer to cross off a few of my to-dos.
Weed through all my emails — delete, file, and respond to everything I can.
Send out any necessary emails or messages.
Respond to any blog comments and social media posts from the previous day.
Re-read my blog post for that morning.
Look over my to-do list and get started on a shorter project if time allows.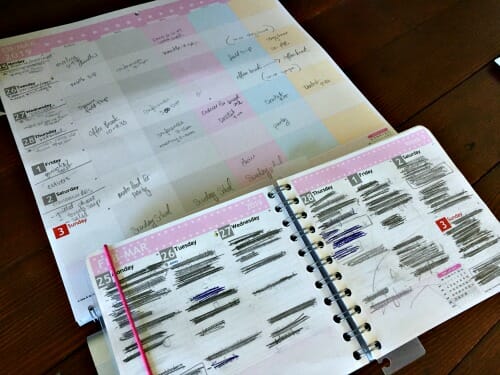 Breakfast:
Around 5:15, I take a break from my to-do list and head to the kitchen to make breakfast for Dave and me.
Sometimes I eat breakfast with the kids, but most of the time I eat with Dave around 5:30 am. Yes, this means I often make 2 breakfasts on weekday mornings. I suppose it's not very efficient of me, but my family appreciates hot breakfasts each morning so it's something I choose to do for now.
I also use this time to prep for dinner.
Back to work:
After a little time in the kitchen, I get back to work on my to-do list.
Start laundry
Clean bathrooms
Write a blog post
Sweep floors
Work on my digital photo albums
Wrap gifts or write cards
I don't have a specific list of things I do at this point — just whatever I feel fits for this time of day and something I can do quietly since the kids are sleeping.
I keep working on my list until I wake the kids up.
Get the Kids up and Fed:
On school morning, I wake the kids up at 6:30 and they make their beds and get ready while I finish their breakfast.
On Saturdays, they stay in bed until 7:00 and then get to watch a bit of TV while I make breakfast for the whole family.
Prepare for the day:
While the kids eat breakfast, I finish "preparing for the day".
Open all the curtains and blinds
Switch the laundry (if I'm doing laundry)
Check backpacks, lunches, homework, library books, etc.
More dinner prep if necessary
Pack the car, library bag, diaper bag, or anything else we need to take with us
Clean up the kitchen, help the kids do their hair, and get them on the bus
.
I know many of you can relate to busy mornings with many children at home — and honestly, there are some days when I feel like I've run a marathon by the time the older kids get on the bus!
I'm honestly not sure how I'd do it all if I didn't follow my early mornings routine each day.
Even though I am definitely a "natural morning person", there are many times when sleeping in sounds glorious. However, I know from personal experience that whenever I sleep longer than I should, the rest of the day is off-kilter.
The mornings are rushed, the kids are late for the bus, I end up in my pajamas until lunch, I'm crankier, which makes the kids crankier, which makes being together that much more hectic and unpleasant.

When I don't get much done in the morning, I usually stay up way too late, which makes it harder to get up on time the following morning, and it's just a huge domino effect that continues to spiral out of control.
This can all be prevented if I stick to my early morning routine!
.
Of course, every day doesn't always go as planned — and even on the days when I get up on time, there are hundreds of other variables that could cause a not-so-pleasant day, but those variables are usually out of my control.
The time I wake up IS in my control!
And, as I mentioned above, waking up on time and starting my day off on the right foot makes a drastic difference in how the rest of our day flows and the mood for my entire family.
I know our morning routine will continue to morph and change as the needs of our children change, but for now, I'm thrilled to have a very consistent and early morning routine!
Have you ever tried to implement an early morning routine?
Do you wake up before your kids?
Do you find that the day runs smoother when you wake up earlier?
Join my FREE 20-Day Challenge to Simplify Your Life for more motivation and inspiration to simplify your mornings, evenings, and everything in between!