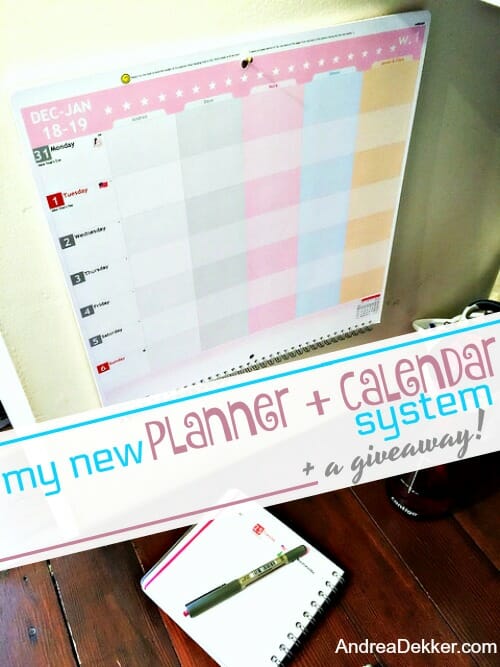 It's already the end of November… which means it's probably time to order another planner and/or calendar for next year.
I know so many of you use digital calendars and planners (which is fantastic). However, I know there are many others (myself included) who really truly need a paper planner to get and stay organized.
For me, the simple act of physically writing down my to-dos and daily tasks, meetings, appointments, meal plans, etc. is key to helping me remember. I don't remember nearly as well if I simply type something into my phone.
Also, I really like being able to quickly glance at an entire week (or month) to see what's coming up — I haven't found a great way to do this easily on my phone.
Anyway, my brand new Personal Planner recently arrived in the mail… and I'm so excited to share it with you today!!
As you can see by the photos above, I opted for a smaller square planner this year… I'm changing things up after years and years of using a larger size!
I've been a die-hard A5 size planner lover until this past year…
Apparently planning for a family of 6 people (and 2 kids in school) on top of everything I do for work, church, etc. is too much for the A5 size (roughly 6″ x 8″)!
I considered ordering the much larger A4 size (8″ x 11″), but then realized it might actually be smarter to order a large wall calendar to keep track of our meal plan and everyone's individual daily and weekly commitments and use a smaller planner for my own daily to-dos.
And that's what I did!
I even ordered a matching set with my signature bright pink accent color!
NOTE: it's called "PERSONAL planner" for a reason — you can personalize SO many details of these planners and calendars.
I even have all our family's birthdays, anniversaries, and special dates programmed in, and they automatically transfer over to my new planners and calendars every year!
The wall calendar is a whopping 12″ x 12″ — plenty big enough (at least for now!) The planner is roughly 5.5″ x 5.5″ and can easily fit in a pocket of our diaper bag or my crossbody bag.
Although I haven't actually used my calendar yet, I can already see how much better this system is going to work for our family next year.
I have separate columns for myself, Dave, Nora, and Simon… and a shared column for James and Clara at the end (they don't really need their own column quite yet!)
Now I have a large space to keep track of all 3 different school schedules (High School, Elementary School, PreSchool) as well as Dave's evening commitments, Nora and Simon's extracurricular activities, various church, school, and community activities, and family commitments for each different person.
I'm planning to use the extra space under the date to write my meal plan for breakfast and dinner each day; and the large empty space at the bottom will be for reminders, weekly to-do items, or things that need to transfer over to the next week.
I'm SO excited to put this new-to-me system into practice and see if/how it helps me streamline my days, working from home and caring for my family.
I've already transferred over all the upcoming dates, appointments, and long-term commitments from my current planner, and although I don't want to rush through this next month, I really am pretty excited to see how the wall calendar + tiny planner work for me!
I'm planning a follow-up post in a few months where I'll detail exactly how I'm utilizing this new system, the pros and cons (if any) of using a planner + calendar, and any other tweaks I've made in our system.
However, since I know so many of you want to order your planners, calendars, notebooks, and accessories NOW, I wanted to make sure I took the time to share what I ordered for myself, why I changed up my system this year, AND (most importantly) offer a fun giveaway and discount code!!
I've been using the Personal Planner for so many years now, and I truly can't speak highly enough about it. The quality is fantastic, their customer service is top-notch, and the customizable options always allow me to choose what works for me and for my family in every season of life!
If you're looking for a new or different planner, journal or wall calendar, of if you're finally considering trying a planner for the very first time, I would highly encourage you to create your own Personal Planner (don't forget to use the discount code below)!!
Enter To Win This Giveaway!
Today, ONE lucky reader will win a Personal Planner voucher for any planner or calendar of your choice!
Also, all Andrea Dekker readers will get 15% off using code: DEKKER15OFF from now through February 27, 2019.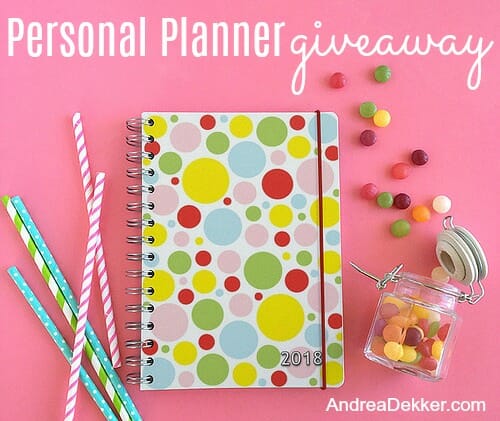 To enter, simply use the Rafflecopter widget below (it might take a second to load).
This giveaway ends at 11:59 pm EST, Monday, 12/03/2018 and is open to ANYONE, 18 years or older. The winners will be randomly selected via Rafflecopter and notified via email. I received a duplicate prize package in exchange for hosting this giveaway — but all opinions are 100% my own. Please see my full disclosure policy and contact me with any questions you have. Good luck!