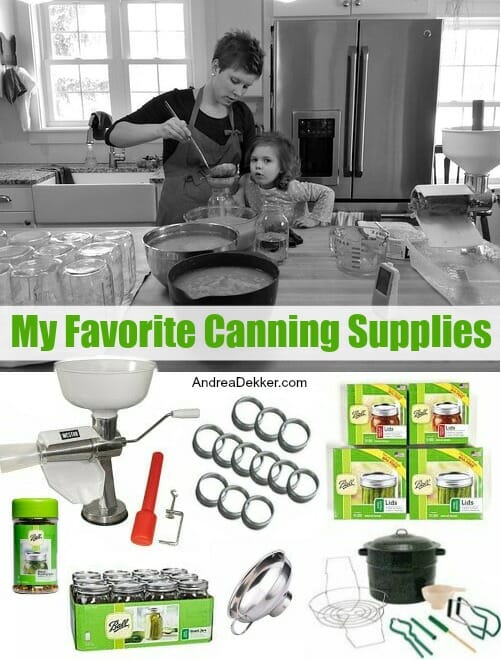 I grew up watching my mom and grandma preserve all sorts of goodies every single year — peaches, pears, applesauce, salsa, jams, tomatoes, grape juice, and more! So when Dave and I got married, I just sort of assumed canning would be part of my kitchen duties.
For the most part, canning and preserving local fruits and veggies has been very enjoyable for me.
It IS a lot of work, but that's only because I'm essentially preparing a year's worth of a specific food at one time — sort of like a massive freezer-cooking day that I won't need to do again for a full year.
However, even if I didn't enjoy it, I probably would still preserve many of our own fruits and vegetables because it TASTES SO MUCH BETTER than any canned or frozen food from the store.
As our children get older, as our vegetable garden gets larger, and as I have more "free time" for activities I enjoy, I hope to increase the types and quantities of food I preserve each year.
This year, I'll be doing a bunch of jam (strawberry rhubarb, strawberry, raspberry, triple berry), tomatoes, tomato sauce, pickles, pepper relish, maybe some salsa, and lots of applesauce.
Since we're entering the time of year when canning and preserving are becoming hot topics of conversation again, I thought it might be perfect timing to share some of MY favorite canning resources (the ones I've used year after year for as long as I can remember).
Of course, before you go out and buy a whole bunch of supplies, it might be worth asking a friend or relative if you can borrow anything first. And also make sure you scope out local thrift stores as they might have just what you need!
Years ago, I inherited one of my canners from my mom's friend, and LOTS of extra jars and rings from my mom and grandma. So my initial investment was fairly minimal — I basically just had to purchase lids and produce (and I was already growing much of my own produce in our vegetable garden!)
It might seem like a lot of extra stuff to buy when you're just getting started, but keep in mind I've been using the same canner, jars, rings, food mill, etc. for 13 years now — it's a small investment upfront, but you can reuse almost everything!
My Favorite Canning Supplies
A great list of my favorite canning supplies for anyone interested in canning and preserving (especially those just getting started).
Photo Credit: www.amazon.com
A simple enamel canner is all you need to get started. Make sure it's at least 21 quarts so you can fit 7 quart jars inside.
The smaller enamel canners are great for smaller jars, but you CAN process smaller jars in a larger canner.
Photo Credit: www.amazon.com
Quart jars are the preferred size for larger fruits, tomatoes, applesauce, and pickles! I'd suggest starting with at least 21 quart jars as a canner can hold 7 jars in each batch. The sets that come with rings and lids are great for newbies. Otherwise, keep an eye out at thrift stores for used jars (but don't pay more than $1 per jar)You'll want to pay attention to if you get regular mouth or wide mouth jars as you'll eventually need specific lids and rings for each type. I personally prefer regular mouth for applesauce, but like wide mouth for everything else as it's easier to get my hand or a utensil inside.
Photo Credit: www.amazon.com
The lids are the one thing you'll need to purchase new each time you can food.
Take note whether you need wide mouth or regular lids based on whatever jars you're using.
Photo Credit: www.amazon.com
These metal rings can be reused each time you can. I like to keep both regular and wide mouth rings on hand as I use both types of jars.
Make sure the rings are very dry before putting them into storage as they can rust over time.
I always keep lots of extra rings in the house as I put rings on any jars I'm gifting (just in case the recipient doesn't have rings).
Photo Credit: www.amazon.com
These plastic lids are my absolute favorite to use AFTER we open a jar of canned food. They are easy to wash, don't rust, and are really durable.
I use them for my pantry storage as well -- perfect for all my different grains.
I keep several wide mouth and regular mouth lids in my kitchen at all times!
Photo Credit: www.amazon.com
I use a variety of funnels in my kitchen, but a wide mouth funnel is ideal for filling canning jars.
I should mention that even though it says "wide mouth funnel" it will work for both regular and wide mouth canning jars!
Photo Credit: www.amazon.com
Fruit pectin is what I use to help thicken and set my jam.
I buy in bulk as it's cheaper than individual packets.
Photo Credit: www.amazon.com
Packages of pickling spices are our favorite quick and easy way to make pickles!
We also like using Mrs. Wages refrigerator pickle spices that come in smaller packets.
Photo Credit: www.amazon.com
This food mill is IDEAL for making applesauce, tomato sauce, salsa, baby foods, or any other puree as it separates the skin and seeds from the flesh with ease!
It takes a little bit of practice to set it up and take it down, but it saves SO much time!
Also, make sure you wash AND dry it really well otherwise the mesh screens will rust and you'll need to buy new screens.
If you're ready to hit the ground running, here are a bunch of my favorite recipes and resources.
As I mentioned above, it might be worth trying to borrow a few supplies first, then buy later once you're sure you are willing to put in the time to can delicious seasonal produce (and then clean up afterward!)
What are your favorite home-canned goodies (or what would you like to learn to can)?