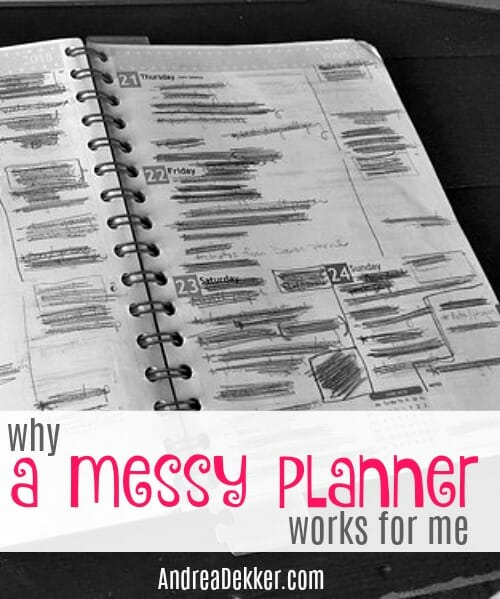 A couple weeks ago, I shared my new 2019 planner and calendar — along with the reasons why I'm using BOTH a calendar and a planner next year.
Whenever I share my planners, I always get lots of questions regarding why I use certain styles of planners or certain layouts, how I write everything in my planners, what types of pens, markers, highlighters, or stickers I use in my planners, and the list goes on.
Yes, the last 2 weeks have been full of planner questions for me!
I know planners are super personal and everyone has to do what works for them, their family, their jobs, their organizational systems, etc… so while I have happily shared what works for ME, I try to make it very clear that my systems will NOT work for everyone or every situation.
That's why I love the Personal Planner so much (it's the planner I've used for the last several years).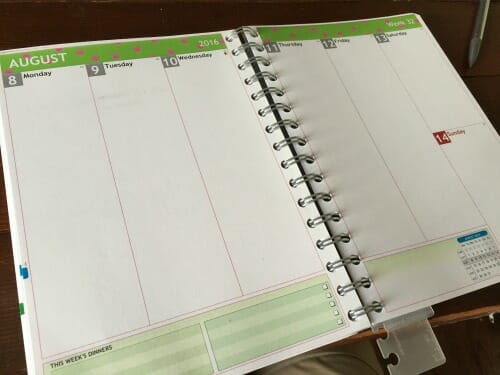 More recently, due to the craze in Bullet Journaling, I've gotten so many questions about any stickers, color-coded systems, or embellishments I add to my planner.
Surprisingly (or maybe not) I don't add anything to my planner…
It's true! I have yet to see the benefit of using any type of stickers or color-coded system. I am not artistic, I don't have nice handwriting, and I don't have patience for any sort of doodling!
To top it all off, my planner gets really, really messy by the end of the week!
Spending any amount of time trying make my planner "pretty" with stickers, scrolling designs, fancy fonts, and color-coded systems is just not a good use of my time or space in my planner!
If you don't believe me, take a look at the photos below… now that the year is almost finished, pretty much every page in my 2018 planner looks like this (or worse)!
Every page is messy, smudged, spilled on, crossed out, checked off, scribbled out, and rewritten (only to be crossed off again.)
If the pages get too messy, I simply cover them with sticky notes or tape a larger piece of paper over top so I can make more lists on top of the ones I already have.
I don't use any stickers or washi tape, I don't use specific colored pens or highlighters, I don't use labels or headers or special fonts.
I generally tend to write in pencil, but there are plenty of times I write in pen as well — whatever writing implement is closest at the time, I suppose!
Basically, all I need my planner to do is help me stay organized and increase my productivity – both of which it can do without any extra "bells and whistles"!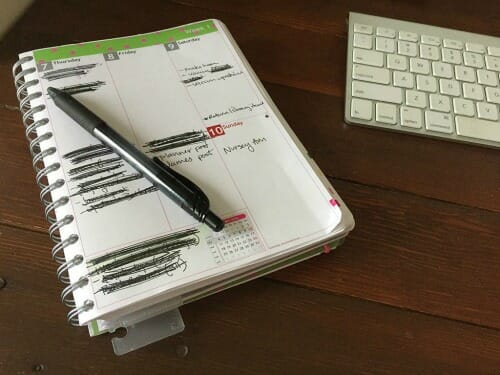 Of course, I realize some of you just enjoy adding all those pretty things to your planners and bullet journals — THAT IS TOTALLY FINE!
If you are the creative type who gets joy from a pretty planner, if you have nice handwriting and an eye for color and detail, then go right ahead and add as many details and embellishments as you'd like.
However, if the desire for a pretty planner inhibits you from fully utilizing your planner (you don't want it to look messy or cluttered) then you might want to re-think your system — or maybe even find a new system (going digital).
A planner is a tool that should SERVE YOU, not cause stress or anxiety because you're fixated on making it look nice or trying to keep up with the trend of pretty planners.
Don't stress if your planner is really messy – mine is too and I'm one of the most consistently productive people I know!
Just for conversational purposes (and because I get SO many questions regarding planners)… I'd love to know if you use a planner, a bullet journal, sticky notes, a wall calendar, a digital calendar, or even the back of various envelopes.
Also, do you use any extra stickers, highlighters, or color-coded systems? If so, what are the benefits for you?