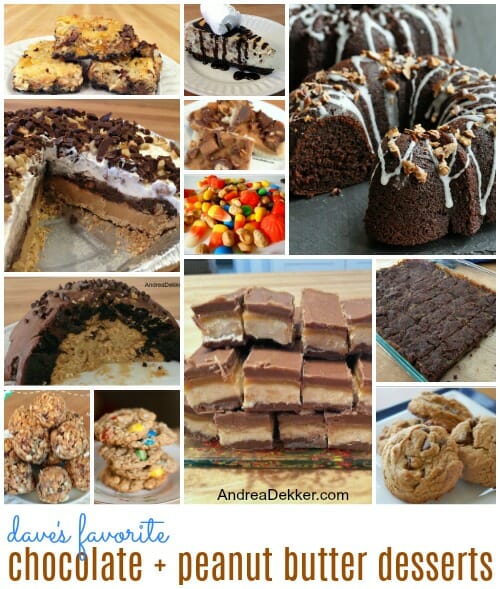 Today is a special day for my most favorite person!
It's Dave's Birthday!
I've already written so many words about Dave over the past few years… but in case you're a new reader, let me just tell you how lucky I am.
This man is PATIENT with a capital 'P'!
He is quick to listen, slow to speak or pass judgment, quick to praise, slow to criticize.
He is a fantastic teacher, a devoted friend, a loving father, a patient spouse, and in general, he's just a fun guy to be around!
I'm positive Dave knows how much he is loved, valued, and appreciated by our family.
In honor of his birthday (which perfectly coincides with the holiday baking season) I'm sharing a bunch of Dave's most favorite Chocolate + Peanut Butter Desserts.
This man LOVES anything and everything with any combination of chocolate + peanut butter.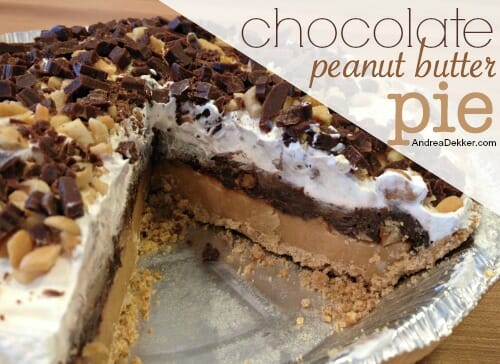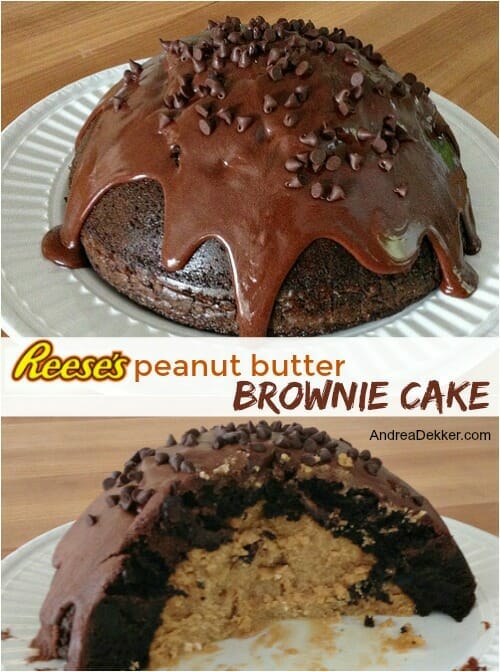 I swear the Culver's closest to us has caught on to Dave's chocolate + peanut butter obsession and regularly features his most favorite Flavor Of The Day (Really Reese's) at least twice a month. It's rare for the same flavor to run twice each month, but Really Reese's appears on a very regular basis.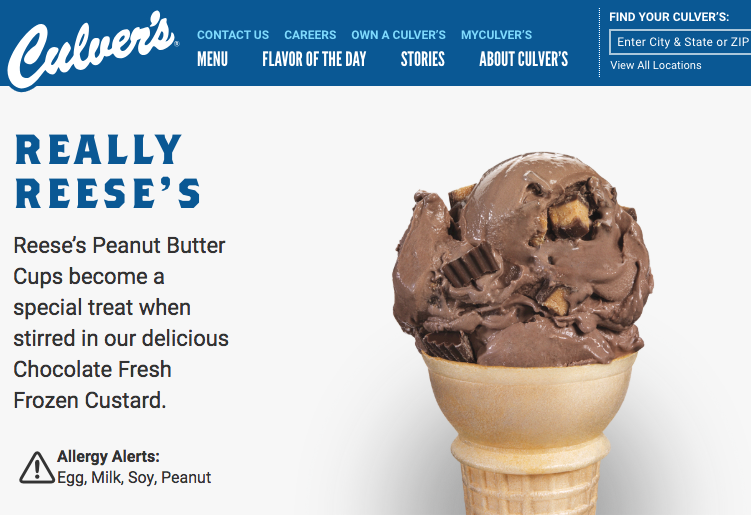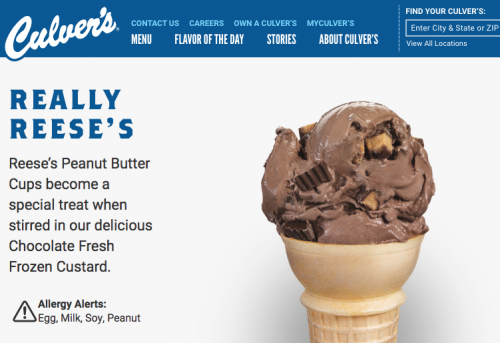 To give you an idea of how rich Really Reese's is… it's chocolate custard mixed with chopped Reese's peanut butter cups, peanut butter swirls, and chocolate… and when Dave orders a Concrete Mixer, he orders Really Reese's with EXTRA Reese's Peanut Butter Cups and chocolate brownie bites.
SO MUCH CHOCOLATE AND PEANUT BUTTER!
If I ever want to surprise him with a special treat, I hide a Reese's Peanut Butter Cup in his lunch or make him a little mix of Peanut Butter M&M's, peanuts, and Dark Chocolate M&M's.
Over the spring and summer, Aldi had an amazing trail mix with all sorts of nuts, dried cherries, AND teeny tiny Reese's Peanut Butter Cups — I think the kids each gave Dave a bag for Father's Day and he was pleased as punch!
After we were married, it didn't take me long to realize that the age-old saying, "The way to a man's heart is through his stomach", could not be more true for Dave — especially if his stomach was filled with chocolate and peanut butter!
As is evident by the LOOOOOONG list of Chocolate + Peanut Butter desserts below, I have made him very happy with all the chocolatey, peanut-buttery goodness that has come out of my oven!
If you're on a diet, you might want to stop reading now… otherwise, try out a few of my recipes below and enjoy these mouth-watering goodies along with our family this holiday season!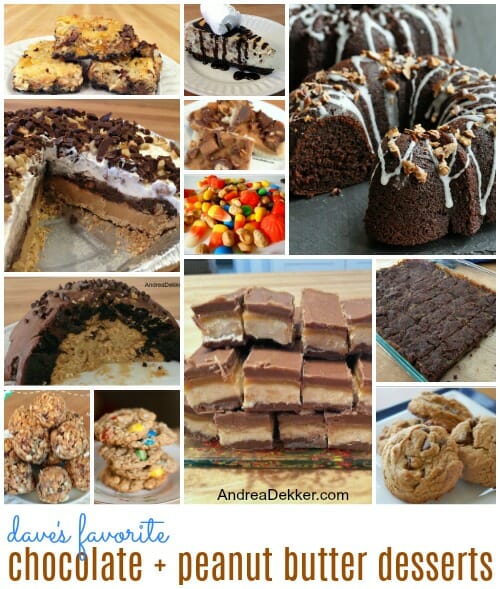 My recipes are divided up into categories below — just click on the dessert name to hop over to a detailed post with more pictures and the complete recipes.
Cookies and Candies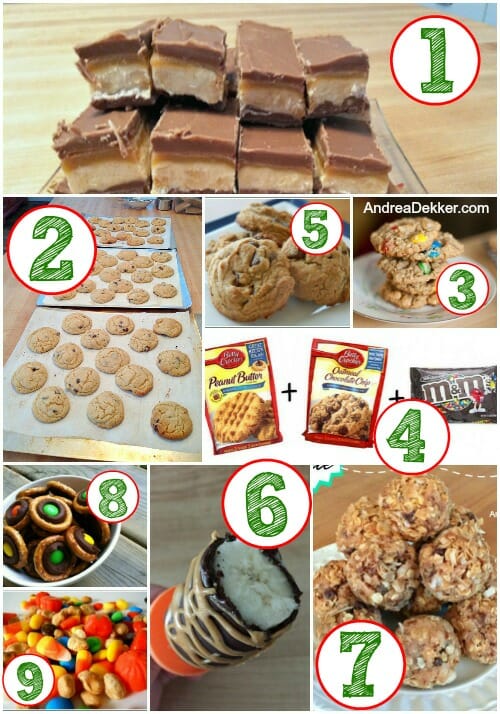 .
Brownies and Bars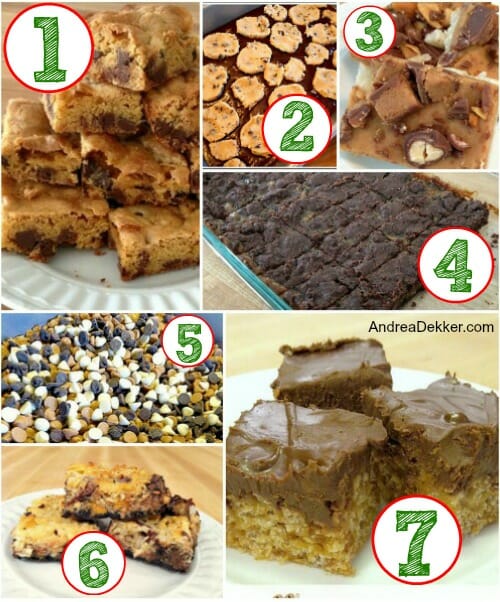 .
Cakes and Pies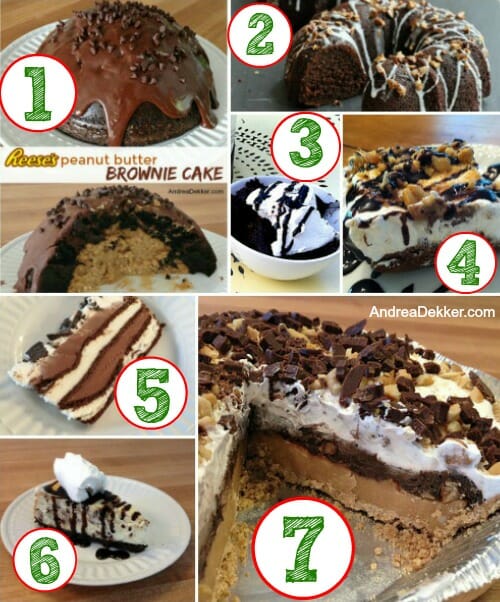 .
Are you drooling yet?
I'm certain I will continue to share more chocolate + peanut butter recipes in the months and years to come — but for now, Dave has requested that anyone with additional chocolate + peanut butter recipes please share them in the comments.
I have all Christmas break to try out new recipes, and if it's this easy to keep my husband happy, why wouldn't I keep baking!?!
Happy Birthday Dave! We love you!