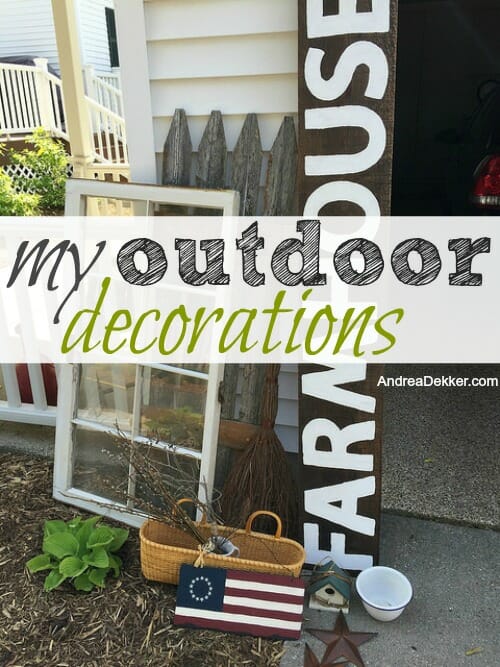 Over the past 3 summers, Dave and I have spent countless hours tearing apart (and then putting back together) our entire 1-acre yard.
We knew it would be a huge project so we intentionally spread it out over 3 years. Even still, I think we both underestimated the amount of time, energy, and resources our 3 summers of landscaping would require.
BUT… we're done!
Ok, so we'll never actually be "done" for good… but we ARE done with all the big stuff!
Now it's just deadheading, pulling a few weeds, and maintaining everything we've put into place over the last 3 summers.
And just because I love working outside, I will continue tweaking planting beds, rearranging and splitting plants, planting annuals for a little extra color, and "putzing" around outside as long as the weather allows.
Dave and I have some fun ideas to spruce up our kid's play area, we'd like to add some plants to the area around our mailbox, we have ideas for a small berry patch next year, and I don't think we'll ever stop thinking about a pool 🙂
We are finally starting to fully enjoy the fruits of our labor — we play outside for hours every day, we've already hosted several outside gatherings this spring, and we have many more outside parties, get-togethers, bridal showers, and BBQ's on our calendars for the rest of the summer.
Yup, I'm excited!
.
Now that we essentially have our yard set up the way we want, and our planting beds arranged accordingly, the next thing on my "to do someday list" was to add a bunch of decorative elements to our landscaping.
I realize it might sound a little crazy to "decorate a landscape" but as you'll hopefully see by the pictures below, a few decorative non-plant elements really add A LOT to the look and feel of our outdoor spaces.
Of course, I'm still not 100% finished yet (it's always a work in progress and I move things around constantly) but I think you get the idea!
Also, our maple trees were dropping helicopter seeds like crazy when I took these pictures, so things look a little messier than I would have liked.
I have a few more places I'd like to add something unique… but I haven't found what I'm looking for yet 🙂
I'm specifically looking for:
An antique water pump
A tall, skinny trellis or arbor
A smaller old-looking wheelbarrow
A smaller farm-style windmill or weathervane
An adult-size rustic-looking bench
Another chunk of wood fencing
I'll just keep my eye out on Craigslist and hopefully I'll find what I'm looking for this summer! In the meantime, I'm thrilled with how things are coming together right now!
I can't wait to share more "before and after" pictures later this summer when all the flowers are blooming!
.
A Few Notes:
Many of the decorative items were things I already had around the house (chairs, baskets, planters, wreaths, flags, etc.)
We built the outhouse shed 2 years ago (read about it here)
We built the larger shed this past fall and I haven't blogged about it yet — I will eventually!
I built a few of the fence structures myself using wood we already had.
I used FAKE FLOWERS for many of the flower arrangements on our porch, in window boxes, in the watering cans, and more.
I purchased all the annuals and "real" planters from Countryside Greenhouse.
Anything I didn't already have or make myself was purchased at local junk yards and antique stores — so I can't tell you exactly where to get something just like mine 🙂
.
Although it might look like a lot of work, I have really enjoyed spending a little extra time being creative, hunting for just the right finishing touches, and "decorating our landscape"!
Plus, I have a couple of really great helpers!