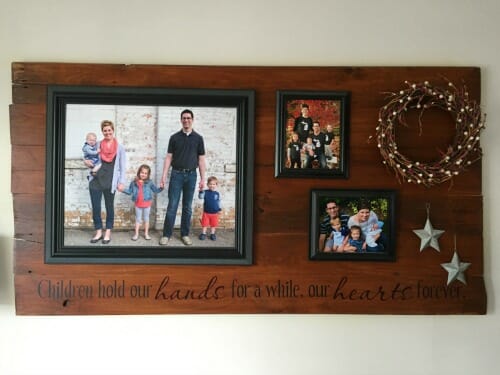 Last week seemed to FLY by — in a really good way.
It started out with a 3-day weekend for Memorial Day. We enjoyed an extra day home together and attended a local parade with my family. We also spent some time with a few of Dave's out-of-town-relatives who came to visit.
My main "project" this week was planting annuals. I planted a couple flats of annuals about a month ago, but I wait until AFTER Memorial Day to plant the rest because we have a little roadside stand a few miles away that sells extremely discounted flowers the week after Memorial Day… so I bought 8 more flats and Nora helped me plant almost 400 flowers!
The flowers are looking fabulous… and our vegetable garden is doing REALLY well too!
Some of you might remember the very small, VERY neglected vegetable gardens we planted the past 2 years. They were better than nothing at all, and we got enough veggies to make it worth our while… but this year is "the year" I'm getting serious about our vegetable garden.
It's been 6 summers since we had a good vegetable garden, and while it's fine that we took a few years off to renovate our home, completely relandscape our yard, and have 3 babies, I kind of forgot how much I love it!
Although our current garden still isn't my "ideal" vegetable garden (and the pictures don't really do it justice), it is the biggest and nicest garden we've ever had, and it has the potential to produce an insane amount of veggies for us!
This year we're growing:
Bib lettuce
Mixed leaf lettuce
Peas (2 kinds)
Beans (2 kinds)
Heirloom carrots
Radishes
Cherry tomatoes (red and orange)
Roma tomatoes
Full size tomatoes (2 kinds)
Peppers (red, yellow, green, orange, and jalepeño)
Cucumbers
Pickles
Zucchini (green and yellow)
Summer squash
Corn (2 kinds)
Basil, oregano, chives, dill
Sunflowers
Zinnias
The only reason I planted radishes is because they grow SO quickly and I knew they would be fun for the kids to pick. I wasn't sure if we'd eat them — but Dave and I have been enjoying them in salads and in vegetable stir fries for the past couple of weeks.
I doubt I'll ever buy radishes from the store, but the kids sure are having fun picking them!
We have a bunch of lettuce that is almost ready to be picked (we should have planted it earlier but didn't have our garden quite ready) and we've been picking little bits of basil, oregano, chives, and dill to add to our meals.
Also, our first planting of peas and carrots should be ready to harvest in another week or so — I cannot wait for the kids to pull up the carrots! Nora is convinced they will be purple, but I wasn't able to find purple carrot seeds, so I hope she's not too disappointed when they come up orange.
In case you can't tell, I'm just a little bit excited about our garden! 🙂
.
Another thing I'm excited about is getting our newest family pictures printed and up on the walls!
Here's the post that shares how I made the wooden wall hanging over the couch… and since I know someone will ask, I should mention that my children NEVER mess with the frames in the hallway, even though they are so low.
.
Over the past weeks, I have spent countless hours listening to Nora and Simon tell completely ridiculous knock-knock jokes that they think are hilarious. Neither one of them understands the point of knock-knock jokes — and although they get old REALLY fast, they are so silly that I can't help but laugh.
Here's a video Dave took of them telling their really funny jokes at dinner last week 🙂
And speaking of videos — I got a really cute one of James playing Peek-a-Boo (which is his new favorite game ever). He just keeps going and going and going, laughing every single time like he didn't know we were going to say "peek-a-boo".
.
The weather here has been unseasonably warm (sometimes too hot for my taste) but we've definitely been enjoying the warm weather and spending as much time outside as we can.
Nora and Simon are pretty good at playing outside by themselves for short periods when I'm making lunch, putting James down for a nap, or switching out the laundry — it's amazing how much they've grown up since last summer (when I would have NEVER let them be outside for even 2 minutes without an adult around!)
James is also enjoying his time outside — and I'm anxious for him to start walking so he won't get SO dirty crawling around on our asphalt driveway. He can stand on his own for a few seconds, and he has taken 1 or 2 steps on his own, but then he falls. Soon!
What I'm Watching:
I haven't watched one single thing on TV or the internet since my last Peek Into Our Week post. I have 3 episodes of Call the Midwife waiting for whenever I make the time to sit down again — but since I've been happily working outside until 9:30 or later most nights, I don't have much time for TV right now!
Our Meal Plan
SUNDAY:
MONDAY:
Breakfast with my family before the Memorial Day parade
Pizza dinner with Dave's family
TUESDAY:
Grilled Chicken
Mashed potatoes
Stir fried veggies
Fresh fruit
Rolls
WEDNESDAY:
Chicken Caesar Salad (with leftover grilled chicken)
French Fries
Fresh fruit
THURSDAY:
Fruit Pizza (recipe coming later this week)
FRIDAY:
Beef Roast (in the slow cooker
Beans
Broccoli and Cauliflower
Fruit
Applesauce
SATURDAY:
Quesadillas
Chips and Salsa
.
Just 4 exams for Dave this week and then our summer break officially starts (not that I'm counting down the days or anything!)