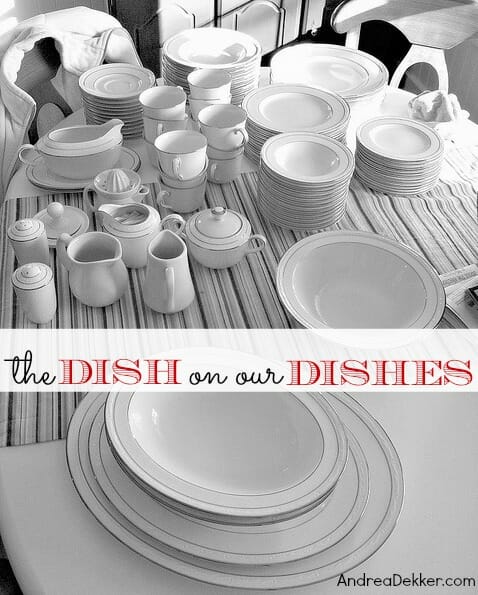 Over the last few years, I've received numerous emails with questions about our dishes, serving pieces, tablecloths, etc. and how I store all these items in our kitchen.
A few of the more recent questions asked:
How many sets and types of dishes do you have and where do you store them? I see you have some of your dishes in a drawer, but just wondering where you store other dishes and serving pieces.
I know you like to purge, but you also like to entertain… so when you entertain, do you find yourself using your basic everyday dishes or do you have "special occasion dishes" such as appetizer plates, sherbet bowls, bar-ware, etc.?
How do you store your tablecloths, napkins, place-mats, and other "special occasion" pieces? Also, how many of these pieces do you have and how often do you use them?
These are all really good questions, and I responded to each of the emails individually — however, I started thinking that this topic might be a really good blog post too. After all, kitchens are a huge source of "what if I need it" clutter… and one of the main areas I'm asked about when working with clients.
Even in my own kitchen, it's a constant maintenance game to prevent excess clutter from making it's way into our space — I'm sure you can relate! So I've shared my answers to these questions below, but if you have more questions, leave them in the comments and I'll do my best to answer 🙂
.
DISHES
I have 3 full sets of dishes (each of them is service for 12). I realize that might sound like a lot — but I really love dishes!
SET #1 = Every Day Dishes
Our every day dishes are completely white (big shocker) with a nice detail around the edge.
I purchased this set from JCPenny's about 5 years ago — and I think the entire set (3 different size plates, 3 different size bowls, and coffee cups) was less than $50.
We LOVE theses dishes and they work well for any occasion because I can easily pair them with different colored napkins or other festive pieces for a totally different look. They also stack really nicely.
We keep our every day dishes in our "dish drawer" which is conveniently located right next to the dishwasher, right across from the refrigerator and sink, under the island within 3 steps of the kitchen table.
SET #2 = China
Our China was a wedding gift from my grandma. She wanted to give every grandchild a full set of China, crystal stemware, and sterling silver flatware.
So before we got married, I picked out the pattern I wanted (Noritake Stoneleigh) which is also plain white with a thin silver rim. I have all the serving pieces and "extras" and these pieces have really come in handy since I don't have any serving pieces with our every day dishes.
I store our China in my red hutch — the white really pops against the red background — and I LOVE that we have this special gift from my grandma, who has since passed away.
We honestly don't use our China that often, but it's definitely nice to have 2 sets of dishes for larger parties — or just when we want to make the table look a little fancier 🙂 I don't think white China can go out of style so someday, I hope to pass them down to my children or grandchildren.
SET #3 = Christmas Dishes
You'll never believe where I got my Christmas dishes… or how much I paid for them!!
I got them 6 years ago, the week after Christmas, from Walgreens, for a grand total of $9.00 (for the entire 12 place settings!) They are simple white dishes with green/red Holly Berries around the rim.
I really like them, but I've contemplated just selling them because we really don't need Christmas dishes. Even though we do a fair amount of entertaining around the holidays, my plain white every day dishes and plain white china look extremely festive if I pair them with a red table cloth and holiday napkins.
For now, we store our Christmas dishes in a paper box in the back corner of one of our kitchen cabinets. It's easy enough to access when we want to haul the dishes out for the season, but not in the way the rest of the year.
We'll see how long I hang onto them — but at the time, I just couldn't resist the price!
.
SERVING PIECES
As I mentioned above, I don't have any special serving pieces with our every day dishes or my Christmas dishes, but we do have several larger bowls and platters with our China — and since everything is white, we just use those if we need serving dishes.
When it's just Dave and I, we don't use serving pieces anyway (just scoop straight from the pan)! I also have a bunch of mixing bowls that I use daily for different kitchen tasks. Since some of them are quite colorful; I use these bowls if I need to bring food to a potluck or other group function. This way, I get 2 uses out of the same pieces!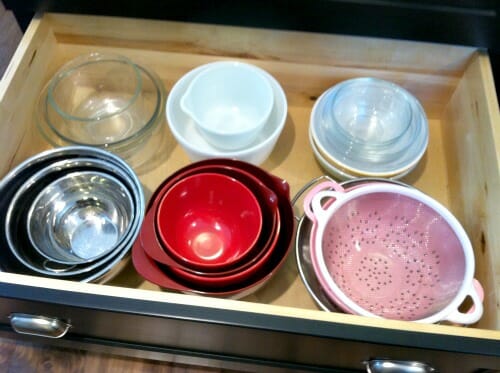 I have 3 cake stands, a punch bowl, and about 5 decorative serving platters that I keep on the top shelf of our pantry (the punch bowl is in the basement right now). I honestly don't use them very often, but since we don't need that space for anything else right now, I'm just keeping them up there.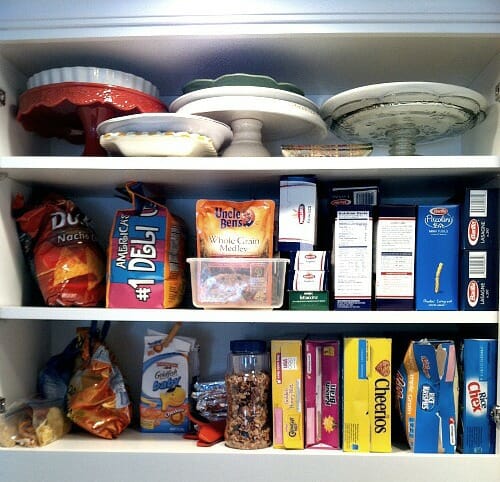 Other than this, we really don't have much in the line of "serving pieces" because I can usually make do with something else if need be.
We also don't have special "bar ware". We do have a set of really nice wine glasses (from my Grandma for our wedding gift) but that's it. We're not big into fancy alcoholic drinks, and we've never had anyone complain about drinking something out of our every day glasses (or a plastic cup!)
.
TABLECLOTHS, NAPKINS, PLACE MATS, etc.
This is one area I used to struggle with — big time!
I was gifted a whole bunch of REALLY nice and really expensive tablecloths from a friend, just about a year after we were married. They were lovely, just my style, but way too big for our farm table (and still way too big for our current table).
I kept them and tried to use them numerous times, but they looked awful on our too-small table, and Dave doesn't really like eating with a tablecloth anyway 🙂
I eventually sold or gave away almost all of them, keeping just a few of the smaller tablecloths. I have one for Christmas, and 2 more for "every day" but that's it. I also got rid of all our place mats because we never, ever used them.
As for napkins, we almost always use cloth napkins (except when we're eating something really messy).
We keep the cloth napkins in a wicker basket on top of the red hutch right next to our table. I also keep the table cloths in the top drawer of that cabinet.
OK, so I think that's everything — at least for those commonly asked questions.
Thanks to a hefty 5-month-long kitchen renovation last year, we have a TON of extra storage space in our kitchen and dining area… so I've been able to justify keeping a few additional items, even if we don't use them all the time. However, in our previous (and much smaller) kitchens, I was much more ruthless because we just didn't have the space.
There's nothing wrong with keeping things, as long as you have a place to put them — so keep that in mind as you decide what should and should not take up the prime real estate in your kitchen!
Do you have any other questions about our dishes, how we store kitchen items, or anything else in our kitchen? Leave them in the comments and I'll answer as many as I can.