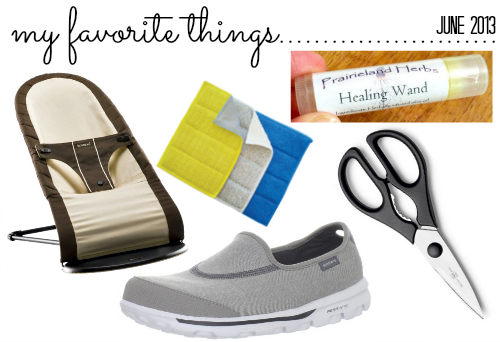 It's June — which means the end of our no-spending challenge, an 11-week summer break for Dave, my 28th birthday, Father's Day, the official start of summer, our 7th anniversary, and LOTS of yard work! It's going to be a busy month — but I'm so excited!
I'm also excited to share a few more of my favorite things with you (click here to see more of my favorite things).
DISCLOSURE: None of these products are sponsored in any way; however, some of the links below are affiliate links — which means I may get a VERY small percentage of the sale if you make a purchase through my links. However, I hope you know that I'm only promoting the products below because I use them EVERY SINGLE DAY in my own home and life! Read my full disclosure policy for more information.
Prairieland Herbs Healing Wand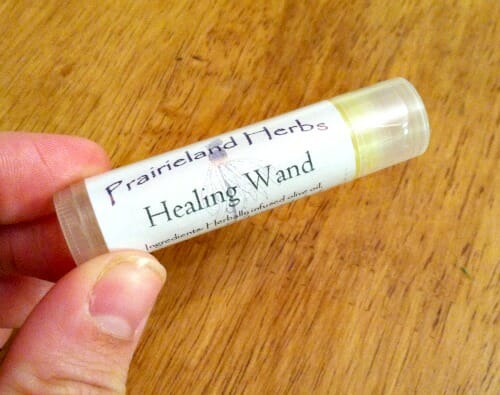 This "healing wand" looks like a tube of chapstick, but it's not.
It's an awesome natural remedy for cuts, scrapes, bug bites, burns, etc. etc.
I've been using the same tube for 2 years now and still have plenty left. Even Nora already knows that whenever she gets a cut/scratch (a.k.a. 'scat') we need to use this tube!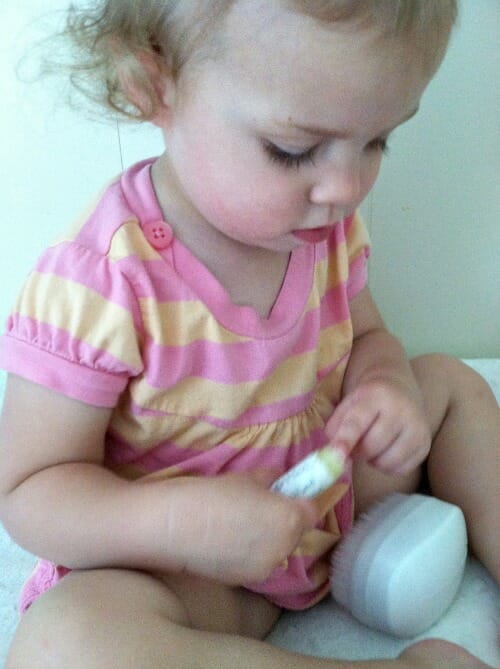 Here's the website description: (click here and scroll down to buy this item)
A salve containing the herbal healing powers of St. John's Wort, calendula, lavender and tea tree, in a base of olive oil, vitamin E oil, and locally produced beeswax. Great to use on cuts, burns, rashes, sunburns, or scrapes. Works on animals too. Our customers have successfully used it on the following conditions: diaper rash, athlete's foot, nettle/poison ivy irritation, sunburn, welding burns, insect bites, and more. (contains only essential oils)
It's so small you can keep one in your purse, one in your car, one in the diaper bag, one at work, one in every bathroom, etc. It works wonderfully — and did I mention it's only $3.00 per tube! Can't beat that price!
.
Sketchers Go Walk Shoes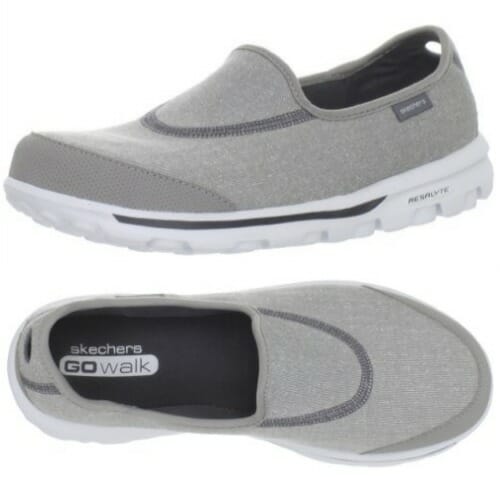 I have to admit, when I saw the Sketcher's commercials for their Go Walk shoes, I was immediately turned off by the super skinny teen girls wearing SUPER short shorts and prancing around in their pink and purple shoes — like they could really do any amount of walking/running/exercising in those shoes!
But then, I saw them on sale at Kohl's. I had a 30% off coupon AND a gift card… and I really needed a comfortable pair of shoes that I could wear out and about on a daily basis. I wanted shoes that would look good with shorts, capris, skirts, and pants — and these shoes seemed like they might be a good fit.
I tried them on, took about 5 steps down the shoe isle at Kohl's… and then walked straight to the checkout lane!
These shoes are by far the MOST comfortable shoes I've had in a really really long time. They are super light weight, extremely flexible, and machine washable. They have an "antimicrobial sockliner" that wicks away moisture and odor — making these the perfect shoes to wear without socks. Oh, and they're really cute 🙂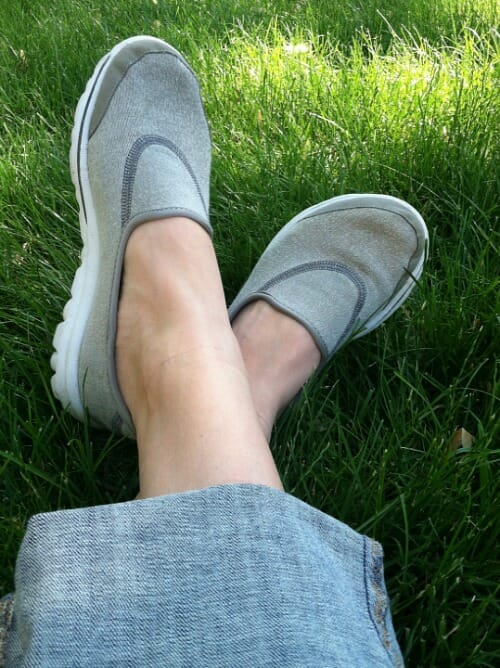 I actually have 2 pairs now (grey and corral) and have literally worn them at some point every day since I purchased them — on long walks with Nora, doing yard work, just walking around the house, running errands, etc.
Seriously, they are awesome!
.
Unger Washable Sponges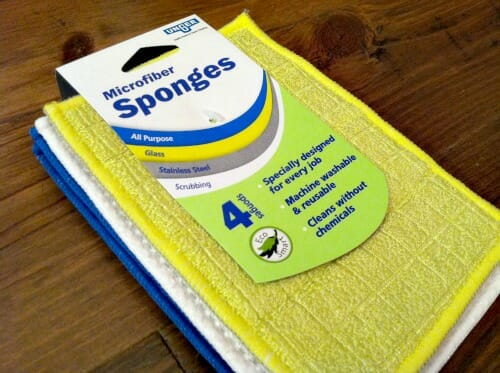 We use sponges to clean many things around our house — and I get really grossed out thinking of the germs that are lurking in the sponges. Yes, there are some simple ways to sanitize sponges — but sometimes, it's just easier to throw them out when they turn into hard little "hockey pucks".
However, about a year ago, I found the Unger washable microfiber sponges (available at Home Depot), and I absolutely love them. They come in 4-packs, are just a little thicker than a microfiber cloth, and offer lots of heavy-duty scrubbing power. They mold to your hand, easily get into small corners and crevasses, and dry really quickly!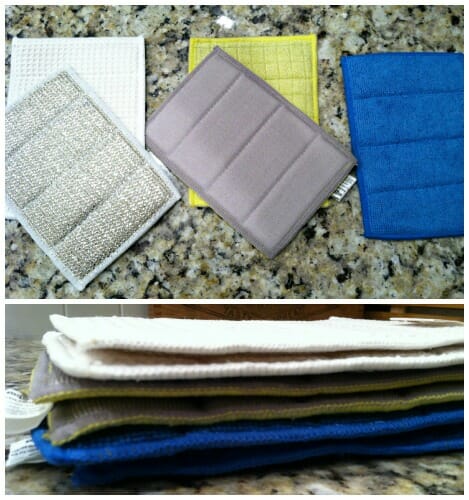 The 4-pack of sponges includes:
2 Blue: All-purpose cleaning
1 Silver/White: Scrubbing & wiping
1 Yellow/Gray: Windows & stainless steal
We use and wash our sponges over and over again, and they are still in fabulous condition. Definitely more sanitary than regular sponges and more economical than tossing out regular sponges after a few uses.
.
Wüsthof Kitchen Scissors
I have 3 pairs of Wüsthof kitchen scissors – and they are JUST for cutting food items. I keep them in the front of our silverware drawer and it's not uncommon for all 3 pairs to be in the dishwasher at the end of the day.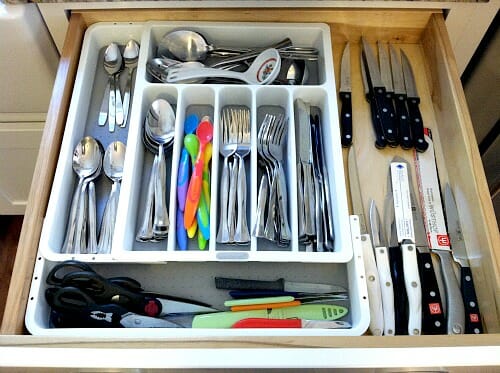 I use kitchen scissors for all sorts of tasks — chopping up food for Nora, shredding/chopping cooked chicken, removing fat from raw meat, cutting raw meat into smaller pieces, chopping cooked pasta into bite-size pieces, chopping veggies (carrots, celery, and pepper sticks), chopping fresh spinach and herbs, cutting pastry (like pie crusts), cutting pizza into slices, etc. etc.
So many uses!
I realize I could use a knife for pretty much every task I listed above, but I personally feel like I have more control with a scissors. I'm faster, more precise, and I don't have to worry about cutting my other hand 🙂
If you've never tried using a kitchen scissors before, do it!
.
Baby Bjorn Bouncer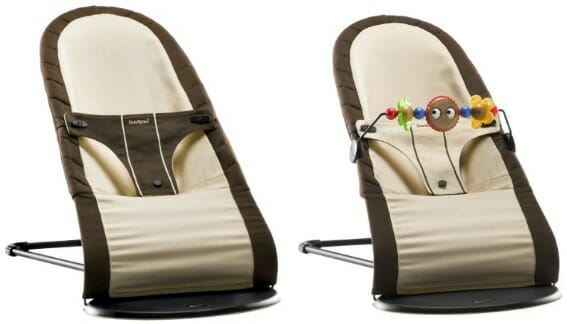 Obviously all babies/toddlers are different — and I know not all babies like bouncy seats — but I honestly don't know what we'd do without our Baby Bjorn bouncy seat. This was one thing I KNEW I wanted for our baby, but I just couldn't get over how expensive they were (usually around $150)!!
I scoured Craigslist and Ebay for months and finally found one (in the exact brown/tan color I wanted) for only $40 — and it came with the cute wooden toy bar you see pictured above! It was still more than other bouncy seats, but here's why:
It doesn't have any batteries or require any electricity — the unique design utilizes babies' movement to generate a natural, rocking motion, so they can bounce themselves even at an extremely young age

It has 3 separate recline positions AND folds completely flat — only taking up about 2″ of space

The fabric sleeve is reversible (brown on one side, cream on the other) and is easily removable whenever it needs to be washed
The seat "restraint" system (also reversible) can easily be removed when the baby can sit/stand and then used as a chair (this is how Nora uses it all the time now)
This bouncy seat can easily accommodate children up to 30 lbs.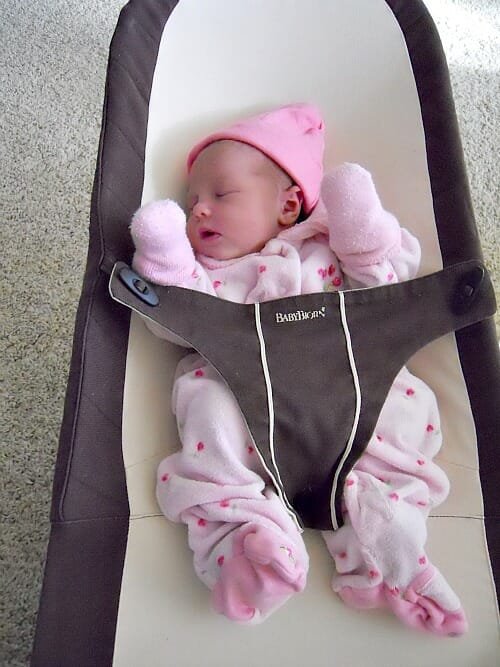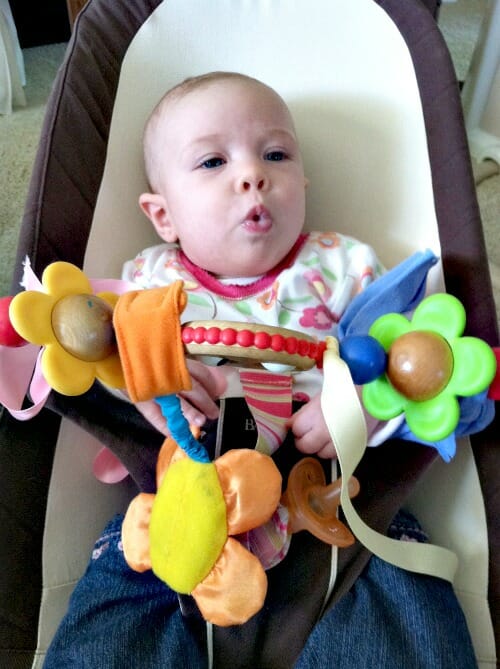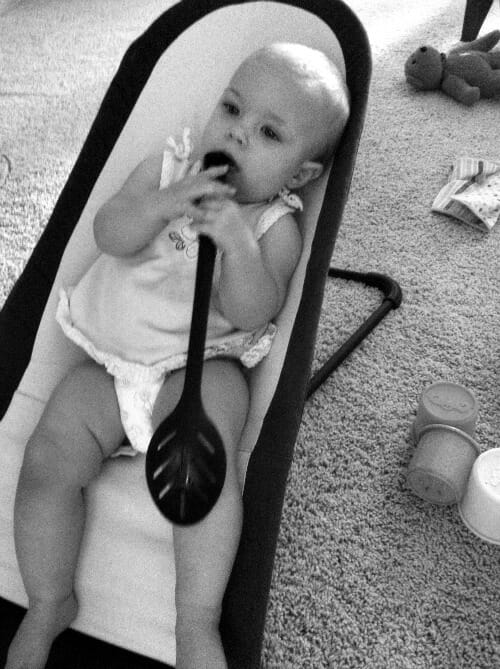 Nora uses her bouncy chair every single day — for watching TV, for eating a snack, or just for lounging with her baby. It's so comfy, it's super easy to get in and out of, and it really does grow with your child.
I would highly recommend this bouncy seat for any new baby or small child — but I would also look around for a deal before shelling out the big bucks for a new bouncer!
.
That's all for me this month.
Make sure you check out my previous months' favorite things — and feel free to share some of YOUR favorite things in the comments below!