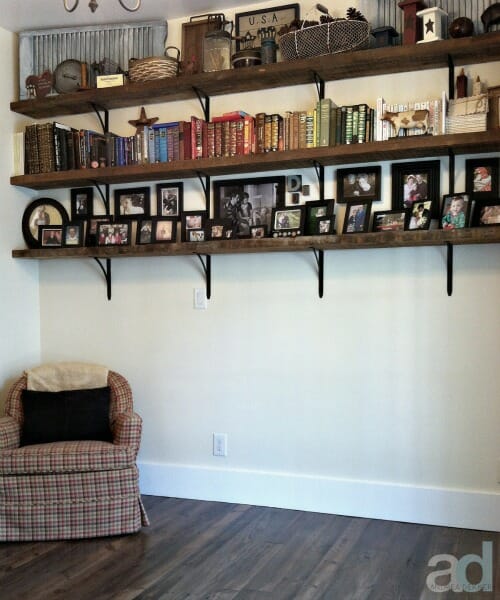 I'm over-the-moon-excited to share today's post with you — not necessarily because it's such an amazing project or earth-shattering before and after pictures. No, I'm excited to share this with you because it's a project I've wanted to cross off my list since early November!
You see, I used to have a bunch of mis-matched frames that were different colors of white/off-white and they didn't look all that great. Plus, most of them were chipped or scratched.
Even though I usually don't print pictures, I still GET a lot of pictures from people who do print them — and I have a whole bunch of favorite pictures from years past. So while I liked the idea of a shelf full of frames, these grungy old white frames definitely needed a "face lift".
I decided I would paint the frames black to match the black hardware on our rustic barnwood shelves… and the other black accents we have throughout our home… but that's about as far into the project as I got 🙂
I wanted to finish this project by Nora's birthday party… but as you can see, that didn't happen.
Since I didn't have the frames finished by the birthday party, I simply put them in a box and gave myself a new goal to paint them over Christmas break. When that didn't happen, I gave myself the goal of Spring Break… and then I hung my head in shame when I saw my frames STILL sitting in the box on the last day of Spring Break.
Sigh… only 5 months later!
I realize there are more important things to do than paint a few picture frames, but I was so sick and tired of the empty bottom shelf in my office and I knew the project wouldn't take more than a few minutes of hands-on time.
So, last weekend (at 10pm on Saturday night) I brought my box of frames downstairs and set up a little paint shop.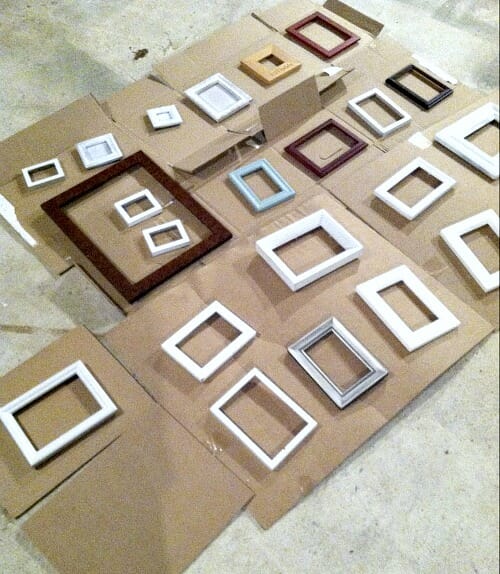 I cleaned the frames with denatured alcohol and then did a quick coat of gray primer (no sanding required). I was downstairs for approximately 15 minutes total, then I came upstairs, took a shower, and went to bed.
I bought 2 cans of "flat" black spray paint Monday at the grocery store (on sale with a rebate!)… and then did 2 quick coats of black paint over the gray primer (waiting about 2 hours in between coats).
After dinner on Monday, I brought the frames upstairs, put the pictures back in the frames, and arranged them on my shelf.
DONE.
FINALLY!
It took less than 2 hours "hands-on"– which included the time I spent putting the pictures in the frames and arranging them all on the shelf.
I'd say it's worth 2 hours of effort and only about $4 out of pocket cost.
These frames are an eclectic mix of my all-time favorite photos from our wedding, Nora's baptism, grandparents who have passed away, childhood memories, the first-ever picture of Dave and me on our first real date, lovely new family photos… and of course, Nora!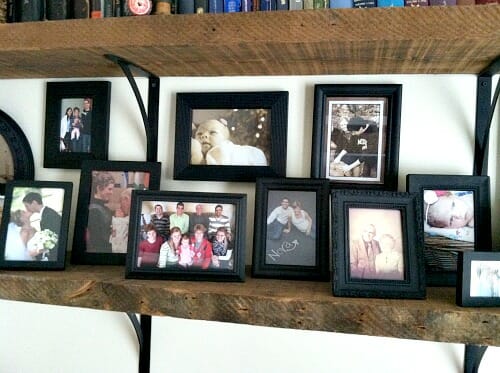 There is no rhyme or reason to the frames or the photos, I didn't use a level or measuring tape to equally space them out, and several of the pictures are faded a bit… but it's perfectly imperfect, and exactly what I envisioned way back in November of last year.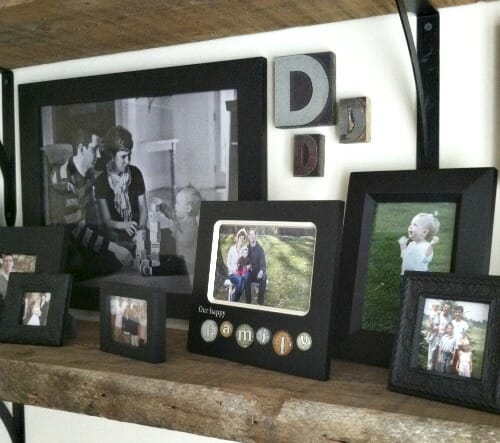 And I'm sure I don't even need to tell you how much Nora loves looking at all the pictures! It's funny to see her look at her own baby pictures. She doesn't realize it's her, because she just points and says "baby".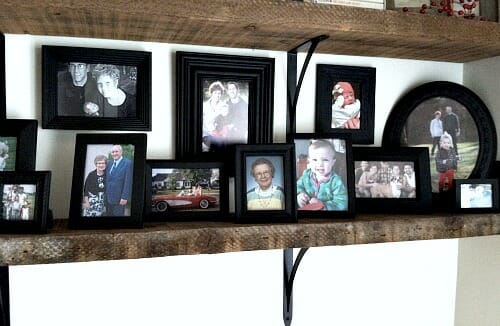 A wall of memories, that's for sure!
I realize some of you might be thinking this looks awful cluttery, but these shelves are the ONE place in my house where I have decorations… and I LOVE looking at my farmhouse decorations, our color-coded books, and my collage of black frames.
We have a few more projects to tackle on the main floor of our house, and once that dust and dirt settles, we'll get a piano to fill the empty space under the shelves. Then our office will be officially complete (until I decide to change something again!)
How do you display your photos?