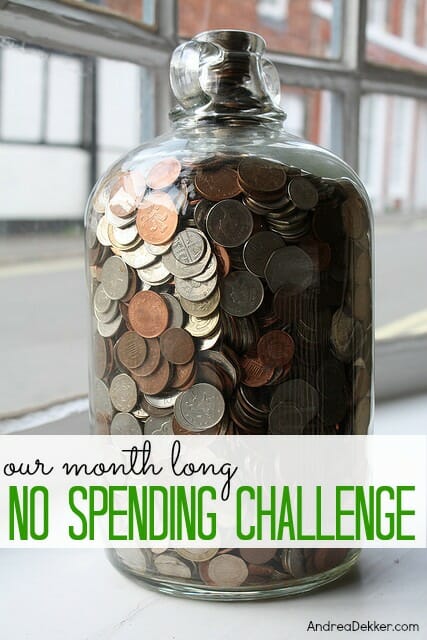 Can you believe that next week is already May?
West Michigan has had an extremely cold, snowy spring — so it's just crazy for me to think that the month of May is only a few days away.
One idea Dave and I have tossed around for the past year is giving ourselves the challenge of not spending any "extra" money for an entire month. Obviously, this would be a great way to pad our savings account a bit… but it's also a really good opportunity to reflect back on what we really NEED versus all those things we just WANT.
We decided that May would be the month we chose for our "No-Spending Challenge" — and we'd LOVE to have you join in on the frugal fun too (I'll explain the details below).
Basically a month of no-spending can be whatever YOU want it to be. You can be as strict or as lenient as you'd like… because no matter what, a challenge like this will still get you to stop and think about how you're currently spending your money.
Maybe you'll realize how much you've been spending on fast food.
Maybe you'll notice that a huge chunk of your income is going to clothing or entertainment.
Maybe you'll see that you're doing an excellent job of divvying up your income!
Even if you start and quit, I honestly don't think anything negative could come out of this challenge 🙂
So like I said before, you can be as strict or as lenient as you want… but here are some of the ground rules Dave and I have set for our No-Spending Challenge.
1. Bills don't count.
Obviously we need to keep paying our utility bills, insurance payments, credit card bill, etc… so that money doesn't count. We would also consider medical bills, car payments, and any other debt payments to fall into this category.
2. Basic necessities don't count.
This category is strictly limited to basic groceries, gas, diapers, and any medical devices or toiletries you absolutely can not function without for the month.
To be honest, I have a pretty good supply of diapers, toiletries, and groceries, so I don't foresee any huge expenses in this category.
3. Investments don't count.
We don't want our No-Spending Challenge to negatively affect our investments or our retirement accounts so we will continue to invest as normal throughout the month of May.
4. Business expenses don't count.
Unless you want my website to "disappear" for a month, I'll need to continue paying my monthly hosting fees, taxes, and other expenses I incur each month 🙂
5. Emergencies don't count.
If an emergency should arise, we will not hesitate to quit our No-Spending Challenge!
6. Currently scheduled projects don't count.
Dave and I are in the middle of LOTS of yard work (I can't wait to share more about this later!) As a result of our yard work, we had several companies and contractors scheduled to help us with various projects during the month of April. However, because of the crazy winter weather I mentioned above, most of those projects were postponed until May.
So since we're in a hurry to move forward with these projects, we have decided not to count this money for our No-Spending Challenge. We already had money set aside for yard work, and in many of the cases, we have already paid a "down-payment" and are simply waiting for the companies to come out and finish the job.
7. Using gift cards or store credit doesn't count.
We went back and forth on this point for a while — wondering if we should ban the use of gift cards and store credit for May. However, we ultimately decided that since we wouldn't be spending any EXTRA out-of-pocket money, that we would not count this towards our No-Spending Challenge.
8. Everything else counts!
We've decided that for the month of May, we will not spend any money out-of-pocket on restaurants, clothing, entertainment, travel, gifts, etc. etc.
I'm also going to do my best to eliminate any extra "stockpiling" at the grocery store. This will be a great opportunity to get creative in the kitchen as we eat through our freezer and pantry supplies!
Also, we'll be limiting the amount of driving we do to save on gas.
So I think those are all the "rules".
Dave and I aren't doing this No-Spending Challenge because we're hurting for money or because we feel like our spending is out of control. We're simply doing it as a fun way to take a small step back, focus on what's really important to us, and to see how much we might be able to save by consciously limiting our expenses for one month.
We honestly don't even have a goal for how much we hope to save or what we might do with the money we do save… crazy, I know!
Maybe we'll have to put the extra cash towards our yard projects 🙂
I'd love to have you join in on the No-Spending Challenge — feel free to set your own "rules" of course. This should be fun, not overwhelming!
Next month, I'll share some of my thoughts… and the results of our No-Spending Challenge.
Have you ever done a no-spending challenge? How did it go?