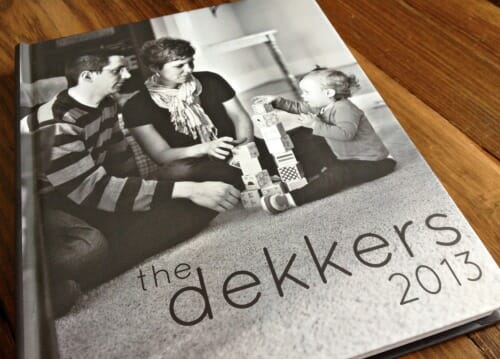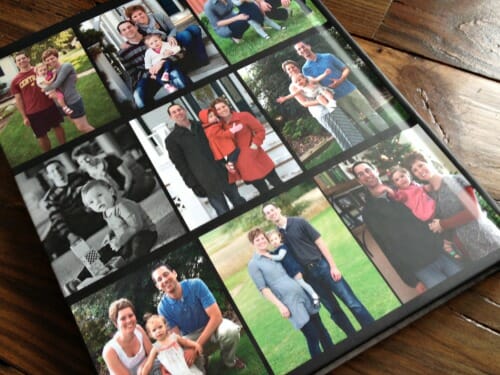 They're here!
Our 2013 photo albums are "hot off the press" as of last week — and Nora and I have looked at them at least twice (in their entirety) every single day since then!
Like always, I'm SUPER happy with the quality of the books — not that my picture taking is that amazing, but the books sure are!
Blurb.com does a fabulous job printing these books and I'm always amazed how quickly they arrive after I press "print".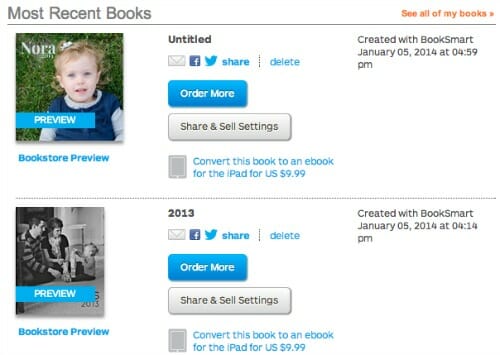 However, since I've already shared the bulk of my photo taking, organizing, sorting, editing, digital-book-making process here, I figured you didn't need to read ALL about that again.
Instead, I'm going to answer a bunch of questions I've gotten about these books — as well as share a bit more about my thoughts on digital books.
NOTE: This post is not sponsored by Blurb. They have no idea who I am or that I'm writing about their books. I just really love the quality of their books and the simplicity of their book-making process.
1. How do you keep up with your books each year?
I'd love to say that I do a few new pages every week, and stay on top of the books all year long… but that's just not the case. I usually end up putting them off for a couple months and then working to play "catch up" for a week or so. Then I put them off again and play catch-up again.
For example:
Back in July, I had just a hint of anxiety about these photo albums because I was falling more and more behind every week. I was taking so many pictures of Nora, of house projects, of yard projects, of vacations, etc. etc. — and THEN we found out we were pregnant and my mind instantly shifted into panic mode (it does this easily when big, unexpected things like a new baby happen!)
One of my very first thoughts (and I'm not joking) was "oh no, I'm behind on my photo albums and now we'll be taking even more pictures and I'll be even busier!"
Thankfully, that panic subsided relatively quickly and I realized that photo albums really aren't THAT big of deal. Life would go on whether every moment was perfectly documented in "film" or not. However, I do really enjoy making my digital photo albums and I know that it truly doesn't take up that much time to make a "good enough" photo book for our family to enjoy, remember, and look back on.
So in August, during my month-long blogging break (and the month that I coincidently didn't feel like doing anything except sitting, laying, and eating double cheese burgers) I plugged away at my digital photo albums a little bit each week until I was caught up again. It literally took me maybe 2 or 3 hours total to get caught up (doing a little bit at a time) — and I was MONTHS behind, so definitely not that bad.
Then, I stayed mostly on-top of my photo album updates until mid October when Dave got super busy with school, we started working on Nora's new bedroom and the new playroom, I was planning ahead for the holidays and Nora's birthday, and I took on a few extra short-term Virtual Assistant jobs.
So I put off the albums again until mid December, when I plowed through the last few months of the year just in time to place my order the first week of January.
It's not a perfect system, but it seems to work well for me for now.
.
2. How much time do you spend working on these albums?
Honestly, not a lot!
Like I mentioned above, I do absolutely nothing on my albums for weeks and months, then I sit down for a couple nights and plug away for 30-60 minutes each night until I'm caught up again.
Blurb.com makes it really easy to simply import photos from my computer, from Facebook, or from Flickr — and since I already have all my digital pictures sorted and organized by month, it's super quick and easy to simply drag and drop pictures from the appropriate month into new pages of my book.
.
3. How fancy or creative do you get with the pages?
Not very 🙂
I'm not a naturally "crafty" person — so I have absolutely no interest in making my books look like creative memory books. I think those type of books look amazing (I'm secretively jealous of people who have that skill) but I know my brain doesn't work that way, and when it comes to pictures, I just want them in the book in some sort of chronological order and that's good enough for me!
I did get somewhat creative with Nora's alphabet book — but as you'll read in this post, I fully created the pages using a photo-editing program and then just dropped and dragged one picture onto each page of the book. Nothing fancy, elaborate, or super time-consuming — I promise.
When it comes to our yearly photo albums, I just use the pre-fabricated templates provided by Blurb. I use either plane black or white pages, I rarely ever use boarders or other embellishments, and I just keep it as simple as possible.
There are definitely plenty of creative tools I could use to make my books look way more professional, but that's not my goal. I just want books that I can look at with Nora, share with friends and family, and eventually use to remember the "good ole' days" 50 years down the road.
.
4. Do you include text to go along with every picture?
Nope. I almost have no text in the entire book — because that would take more time!
I always do a monthly header to notate where the new month starts, but that's about it. Sometimes, if I think a photo or vacation or event needs clarification, I might jot down a few notes or a short paragraph, but not usually.
I just like looking at the pictures — and 95% of the time, they are silly every-day pictures of us in and around the house, so it's not like I need to write "Nora is eating yogurt… again" or "we're knocking down another wall" when it's obvious what's happening just by looking at the photo 🙂
5. How much do your books cost?
Obviously, this depends on a lot of variables — size, cover options, type of pages, number of pages, etc.
Our family books are 8″ x 10″ Portrait style with standard pages (usually 200-300 pages) and a hard cover image wrap. This runs us right around $85 total — but they are always offering coupons so I just wait until I can find at least a 20% off coupon before I actually place my order.
The books I make for Nora are 7″ x 7″ squares — again with standard pages (50-100) and a hard cover image wrap. The square style is more expensive, but it's just the perfect size for her little hands. These books usually cost around $40 (but then I get the 20% off).
NOTE: If you're new to Blurb.com, I believe you can create an account via this link and get $20 off your first book (no matter what the price!)
I looked back over the past several years to see how much I spent on these books, and I usually end up spending right around $100-$110 total per year — so not bad considering I almost never spend money printing any other pictures all year long.
.
6. So do you print any other pictures throughout the year?
Speaking of printing pictures… no, I honestly almost never print any pictures for the entire year. Or at least I should say I never PAY to print pictures off.
There are a couple times a year when Shutterfly or Snapfish offer 100 free prints if you pay the shipping (which can be pricey in itself). But as long as you only order 99 photos or less, the shipping is much cheaper. So if I have pictures I want to print, or if my mom/grandma/Dave's mom etc. want pictures, I'll just wait until one of those freebie sales, print a bunch of pictures, and give them away.
I also usually print one large picture of Nora and one large family picture each year. However, I have the hook-up with that too! My sister's sister-in-law works for a really amazing photo printing company and gives me fabulously good deals on these two large photos each year!
7. What's the benefit of going digital?
Honestly, where do I start?
For one thing, I don't have boxes and boxes of pictures lying around my house. As I explain in this post, all our photos are safely stored on both our computers, on Flickr, and on 2 different portable hard drives that we regularly update and keep in different spots. So there's really not a strong likelihood that we'll ever lose all our photos.
Plus, the digital albums take up WAY less space than traditional photo albums or creative memory albums. I can easily fit 2000 photos into a 300-page digital photo album and it only takes up about 1″ of space on my bookshelf!
Finally, by going digital, I always have a digital copy of my albums saved on Blurb's server and on my hard drive — so if I ever lost my albums or they were ruined in any way, I could simply reprint them again with a few clicks of my mouse.
.
8. How will you manage to do separate books for every child each year?
I saved the best for last, and I might go off on a mini rant here, because almost EVERY time I bring up the topic of my digital albums, someone asks me this question — and it's often in a condescending tone like, 'you're getting in way over your head here and just setting yourself up for failure'.
[begin rant]
Honestly, I will be the first to admit that there's a pretty good chance I might not keep this up for every single child every single year… and that's totally fine with me.
Maybe I'm a mean mom, but I'm most definitely not stuck on 100% fairness (after all, real life isn't always fair) and I definitely don't think that every child needs to have exactly the same things year after year. Life changes, our schedule will change, our family will change, etc. etc. so there is no way I can guarantee that I'll have the time, energy, money, or desire to create an album for our family and for each individual child every single year.
Right now, I really enjoy making these albums for our family AND a separate one for Nora each year. But she's TWO and we don't have any other children — so I've only been doing it this way for two years.
My hope is that I'll be able to keep up with the yearly family album for a long long time (and honestly, I don't think I'll have an issue with this). However, I'm totally fine if the kid's albums get shoved to the back burner in place of more important things — I refuse to be stressed over making sure every child of mine has equal things and equal privileges all the time.
As far as I'm concerned, there is nothing that says I'm now required to make an 86-page 7″ x 7″ photo album for every future Dekker child for every year until they move out of my house. If I want, I can always just print off a separate copy of the family album for each child if I'm worried about them leaving then nest without pictures some day 🙂
[end rant]
.
Ok I think that answers a bulk of the questions I get about these digital albums — if you have more questions, leave them in the comments and I'll do my best to answer them ASAP.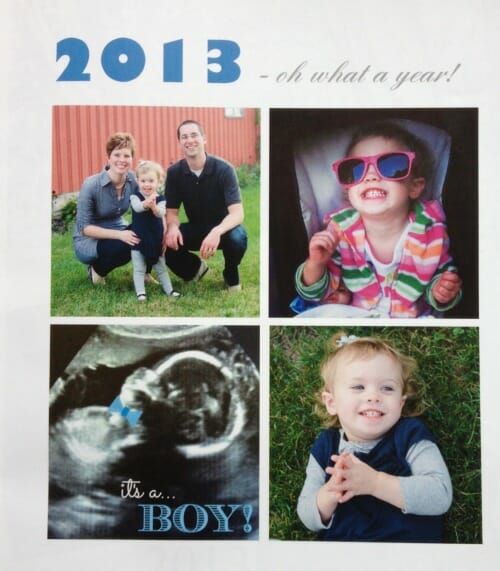 The bottom line is: we love our digital albums, they are really not that difficult, overwhelming, or time-consuming to make, and I would highly recommend Blurb.com as a very reliable book-making resource.
What about you, how do you store and / or display your photos?