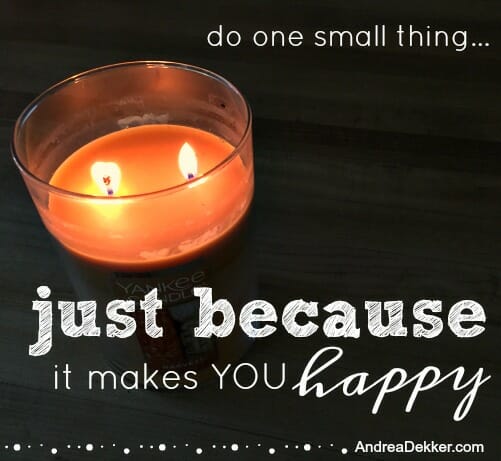 In general, I would say I almost never make impulse purchases… it's just not my style.
I'm also not the best at treating myself or doing extra-special things for myself "just because" — I guess it just seems unnecessary most of the time.
Can anyone relate?
Well, a couple weeks ago, I walked past a large display of Yankee Candles with 80% off clearance stickers — apparently the jars were an old design they were phasing out.
The candles were all the lovely Fall scents… at a ridiculously low price! So although it wasn't on my grocery list, I snatched up a Harvest scented candle (affiliate link) for this season (no, I don't hoard good deals… one large candle was plenty for me).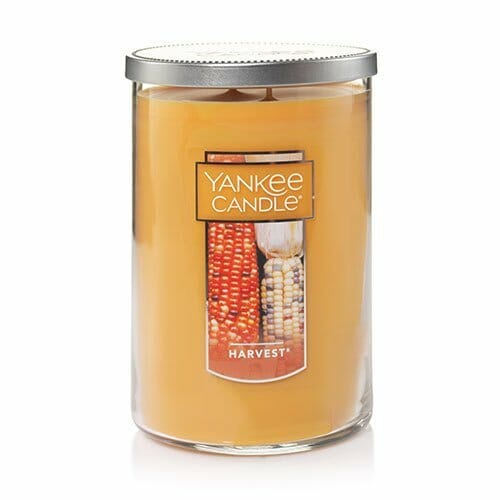 Since then, I have thoroughly enjoyed burning this candle for a couple hours each day, smelling the lovely Fall smells, and gearing up for my most favorite season of the year!
The candle was less than $5, and it has brought a ridiculous amount of joy to my life (which I know sounds silly to say about a candle, but it's true!) I have it sitting on the window ledge just above my sink, so I see it a hundred times every day and can smell it whenever I'm by the sink (even when it's not burning).
Since I'm in the kitchen a lot, I enjoy my candle a lot. And since the days are getting shorter, I can enjoy the flickering light even earlier in the evening (a bonus, considering we now to go bed by 9:30 every night!)
My intention is to burn this candle completely before Thanksgiving Day — at which point, I'll switch to burning a Christmas-scented candle through January.
Then I'll be finished with candles again until next Fall.
.
As I was thinking about how happy my less-than-$5 candle has made me, I realized there are probably many simple, inexpensive things I can do on a somewhat regular basis "just because" they make me happy.
I don't need to get carried away, break my budget, act entitled, or do anything extravagant… but the rewards for some of these simple pleasures could be profound — a happier me being the biggest reward!
I wonder if some of you could benefit from this too?
Are there any small, simple, inexpensive things YOU could do on a somewhat regular basis "just because" they make YOU happy?
If so, pick one, and treat yourself to it this week!
Oh, and leave your ideas in the comments too, so we can all benefit from them!