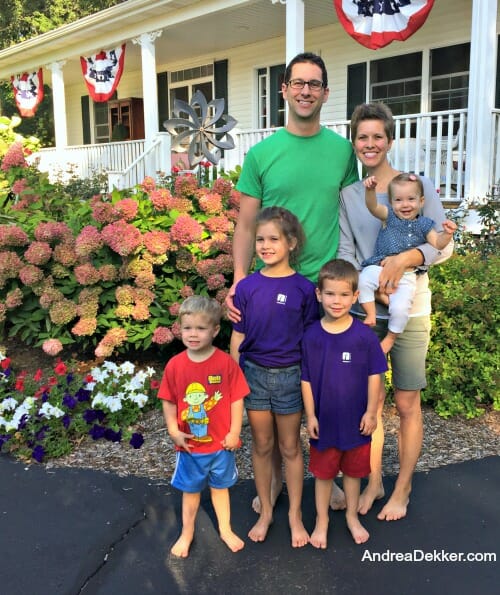 Last week was our family's first official FULL week of school — wow, did it feel long and tiring!
Dave has been in school for a full month already, but between meetings, holidays, and random beginning-of-the-school-year schedules, this was his very first completely full week of school — same for Nora.
I know we'll get used to our new back-to-school schedule soon, but we definitely all slept well last week!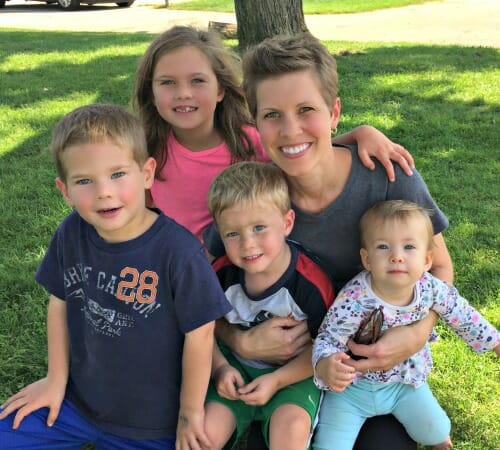 Nora absolutely LOVES 1st grade!
She already has at least 4 "best friends" in her class (all girls I've previously never heard her talk about before), her classroom is huge and has air conditioning (a big perk right now), her teacher is fantastic and will be such a great fit for Nora's personality, her bus driver is our neighbor, and her bus route puts her as the last one on + the first one off — crazy, but we're thankful for the super short ride this year!
Nora is already hard at work, coming up with ideas for her 7th birthday party in 2 months.
I'll be sharing more later this fall, but Dave and I have decided that when our kids are in 1st grade, we'll let them have a "friends birthday party" at our house, with all their same-gender classmates. To say Nora is thrilled would be a huge understatement!
She wants to go with a Crazy Cupcake theme this year and has all sorts of ideas for what we could do — cupcake decorating, cupcake stickers and crafts, Shopkins cupcake something-or-other, read a book about cupcakes, color cupcake pictures, etc. etc. We'll see how it all pans out and how "cupcake crazy" we let her go!
On an unrelated note, now that Nora is in school every day, all day for the first time ever, I'm realizing it's much more difficult to get pictures of her. I'm used to having the kids around all day so I can snap pictures of what they do — not anymore for Nora!
I'll have to get better about taking pictures of her on the weekends!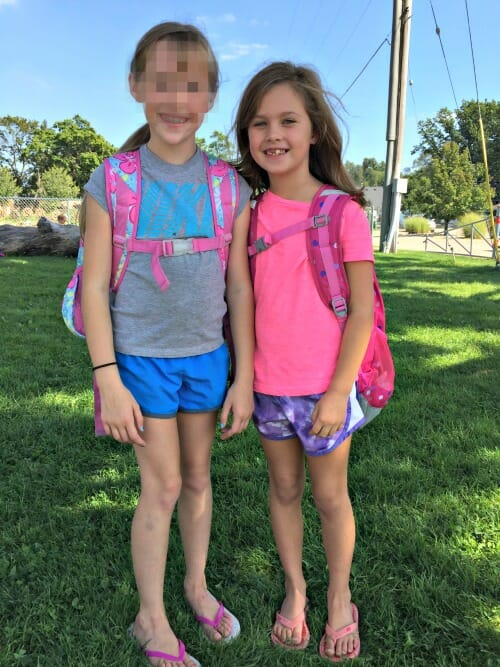 .
Simon officially started preschool last Monday!
Parents got to tag along for the first day, and then he went on his own Wednesday morning… he hardly even looked back to say good-bye to me!
He didn't have much to say about his first day of school by himself — but he did get to decorate a mouse cookie (and then eat it for snack), so the day was a success in his opinion.
He's back at school again this morning, and I'm remembering how much of a hassle preschool drop-offs and picks-ups are! There's almost nothing I can do besides get a few groceries in the short time between when I drop him off and pick him up again… and I'm constantly checking the clock because those 2 hours of preschool go REALLY fast!
I actually set an alarm on my phone last week — it goes off 15 minutes before I need to pick him up, so even if I've totally lost track of time, I can still stop what I'm doing, load up the other 2 kiddos, and get there in time!
Oh, and we found a kite at a local thrift store — but not just any kite, it's a Spider Man kite! He has been begging for a kite for months now, but I just never think to look for one. Now, his summer fun list is complete!
.
James thoroughly enjoyed being the 'biggest kid' when Simon was gone.
We got a few groceries and picked up our books at the library (right next to the school) before picking Simon up again — and James eagerly went into great detail, telling Simon all the things we bought at the store, all the books we "bought" at the library, and the fact that he and Clara both got a cookie at the grocery store.
He was talking so fast he could hardly get all his words out!
Simon just looked at me, then looked at James, and said "I have no idea anything what you just said!"
James repeated it all over again with great pleasure…. and then again when Nora got home, and finally when Dave got home! 🙂
In general, James rarely stops talking, singing, humming, or making some sort of noise. I can't even begin to count the number of times I ask him to "be quiet" or "stop talking and eat" or "talk more quietly" every single day!
James with his new baby cousin.
During the rest of the week, when Simon is home, the 2 boys have SO much fun together. They even told me I couldn't play with them because they only wanted to play with each other — so I happily went back downstairs and did my own thing during Clara's nap!
They got free kid's meal coupons from the library this summer, and we finally got around to using them last week. Apparently they've never gotten any type of happy meal or kid's meal before, so they were ecstatic with the free little prize inside their food bags! Oh to be 3 and 4 years old again. 🙂
.
Miss Clara is gearing up for her FIRST BIRTHDAY next week!!!
What a year it has been!
Thinking back to being pregnant and getting her newborn pictures honestly feels like 5 years ago… but it also seems surreal that my baby is "already" celebrating her first birthday!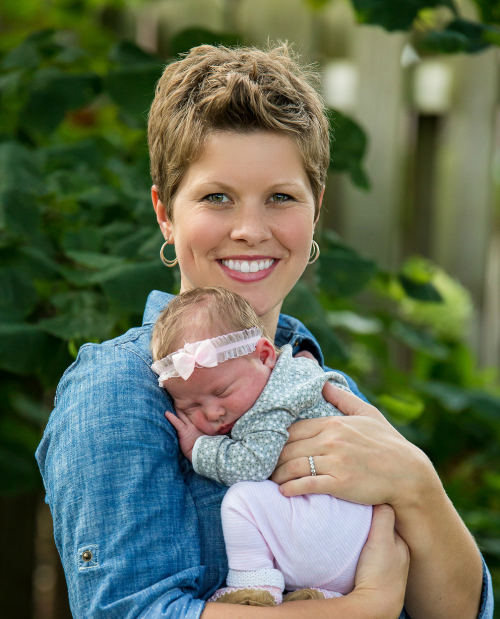 I'm being a "bad mom" and not having a party for her — sorry sweets!
We'll do some fun stuff with our own family, and I have gifts for the other 3 kids to give her, but we just have so many other things going on and I know she won't remember if her grandparents or aunts/uncles/cousins are there or not.
We never did a first birthday party for James either and he seems to be coping with it just fine!
NOTE: Here's a link to Simon's 1st birthday party and Nora's 1st birthday party… neither of which were very extravagant in my opinion.
I'm sure I'll still be her most favorite mom whether she gets a party or not!
.
Dave and I were also fairly tired after a full week of school — especially since we had a couple evening activities for school (oh, the back-to-school fun!)
We have several more responsibilities at church this year as well… all of which started up again this past week. We knowingly and willingly agreed to take them all on, but it's still a transition as we learn how to best-manage our time and energy for these new activities outside of our home.
We are the new Sunday School Superintendents and music leaders which will take up a decent chunk of time every Sunday morning.
We are "Shepherds" for our fellowship group (we're in charge of sending cards, organizing luncheons and breakfasts, staying connected with the people in our group, finding greeters and coffee servers, etc.)
I'm still in charge of many things for the nursery (cleaning, sending reminders to nursery volunteers each week, etc.)
And I'm directing the Children's Choir (ages 3-7 — they are SO fun to work with)!
Thankfully, Dave recently stepped down from a few responsibilities at school and church — and as our children get older, it does feel easier to do more outside of the home.
.
What I'm Watching and Reading:
Even with our busier week, I found a little time to finish watching Anne with an E on Netflix and start a new book, Sensible Shoes (affiliate link). It's the first book in a 4-part series and the author is speaking at our church Bible Study in 2 weeks. I doubt I'll finish the book by then, but it can't hurt to at least get started, right!
.
Our Weekly Meals:
I've been trying SO many new recipes these past few weeks — which has definitely increased the time I've been in the kitchen, but I think Fall weather sort of draws me into the kitchen, and I'm OK with that for now!
The boys have been helping me experiment with cinnamon roll recipes — they REALLY like messing with the dough!
These are currently our favorite 100% from-scratch recipes:
90-Minute Cinnamon Rolls (the quickest recipe we've tried)
Overnight Cinnamon Rolls (if you don't want to wake up as early!)
Super Soft Cinnamon Rolls (they have pudding in them… and it makes a HUGE batch!)
So far, I've been making them all exactly as the recipes instruct — but I already have several tweaks in mind for the next round. Once I have my own version of a perfect cinnamon roll recipe… you'll be the first to know!
Oh, and if you're looking for a super simple cinnamon roll recipe using frozen bread dough, I have my recipe from Dave's mom posted here!
Aside from lots of cinnamon rolls, here's what we ate last week:
SUNDAY:
Leftover steak on the grill
Baked potatoes and sweet potatoes
Corn "off the cob" (the kids don't like eating it on the cob)
Fresh Fruit
Homemade cheesy zucchini bread (no recipe yet!)
MONDAY:
Roasted Vegetables
Fresh Fruit
TUESDAY:
Spaghetti casserole (made with spaghetti squash)
Green Beans
Fresh fruit
Culver's Custard for dessert (with freebie coupons the kids got this summer)
WEDNESDAY:
Homemade Pizza (meat-lovers for the kids, BBQ Chicken for Dave and me)
Raw veggies + hummus
Fresh Fruit
Cinnamon Rolls for dessert
THURSDAY:
Broccoli and Cauliflour
Applesauce
Fresh Fruit
Caramel Apple Salad (with Snicker's Bars) for dessert
FRIDAY:
SATURDAY:
.
That's all for us this week – cheers to adjusting to another full week of school!