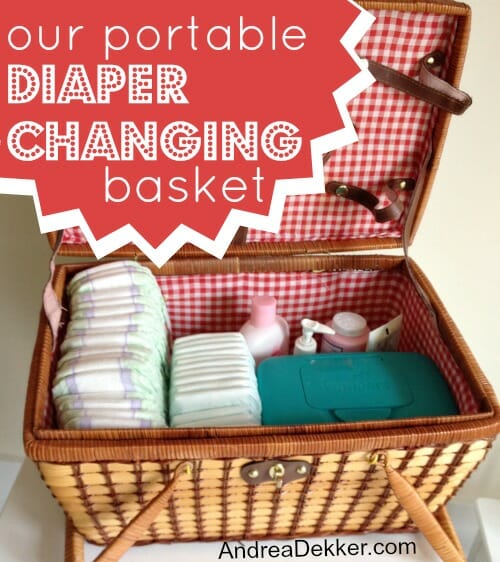 Today is Nora's 1/2 birthday. Happy 2.5 little girl!
To celebrate, I'm talking "diapers" here on the blog… because over the past 2.5 years, I've changed A LOT of diapers 🙂
For the most part, when it comes to changing diapers, Dave and I change them on the changing table in the nursery. I would say 98% of the diapers I've ever changed in our house have been on the changing table.
I know some people find it easier to change diapers on the floor, but for me, it's easier when I can stand up and have all the necessary supplies at my finger tips. Plus, I like to keep any potential poop and pee leaks in one place for easy clean-up and sanitary purposes.
This was never an inconvenience with Nora because when she was a baby, we didn't even use our upstairs. We only lived on the main floor so the nursery and changing table were always just a few steps away.
However, now that Nora is "living" upstairs and now that the playroom / toys are all upstairs, we find ourselves further away from the nursery and further away from the changing table. And since newborns go through a ton of diapers each day, I was getting tired of walking up and down the stairs 10 times a day to get to the nursery for diaper changes.
So instead, I created a portable diaper changing basket (it took me all of 5 minutes to put this together!) We leave it upstairs in Nora's room and it has everything we need to change a diaper on the 2nd floor of our house. We also have another changing pad up there but that isn't pictured below.
As you can see by the photos, I simply took an old picnic basket I had gotten from a garage sale years ago and stocked it with our necessary supplies.
Diapers for both kiddos, wipes, powder, lotion, cream, hand sanitizer, etc. It's all there in one convenient location, ready to go whenever and wherever necessary.
The basket looks great sitting out in the open, it's big enough to hold everything we need for even the messiest diaper changes, it's small enough to be easily portable, and best of all, Nora can't quite figure out how to twist the front latch to open the basket (although that doesn't stop her from trying every day!)
This super simple (and free) solution has saved me MANY trips up and down stairs these past few months… so it's definitely worth the 5 minutes it took me to pull everything together.
Are you a strict "on the changing table changer" or do you have other portable diaper changing methods?