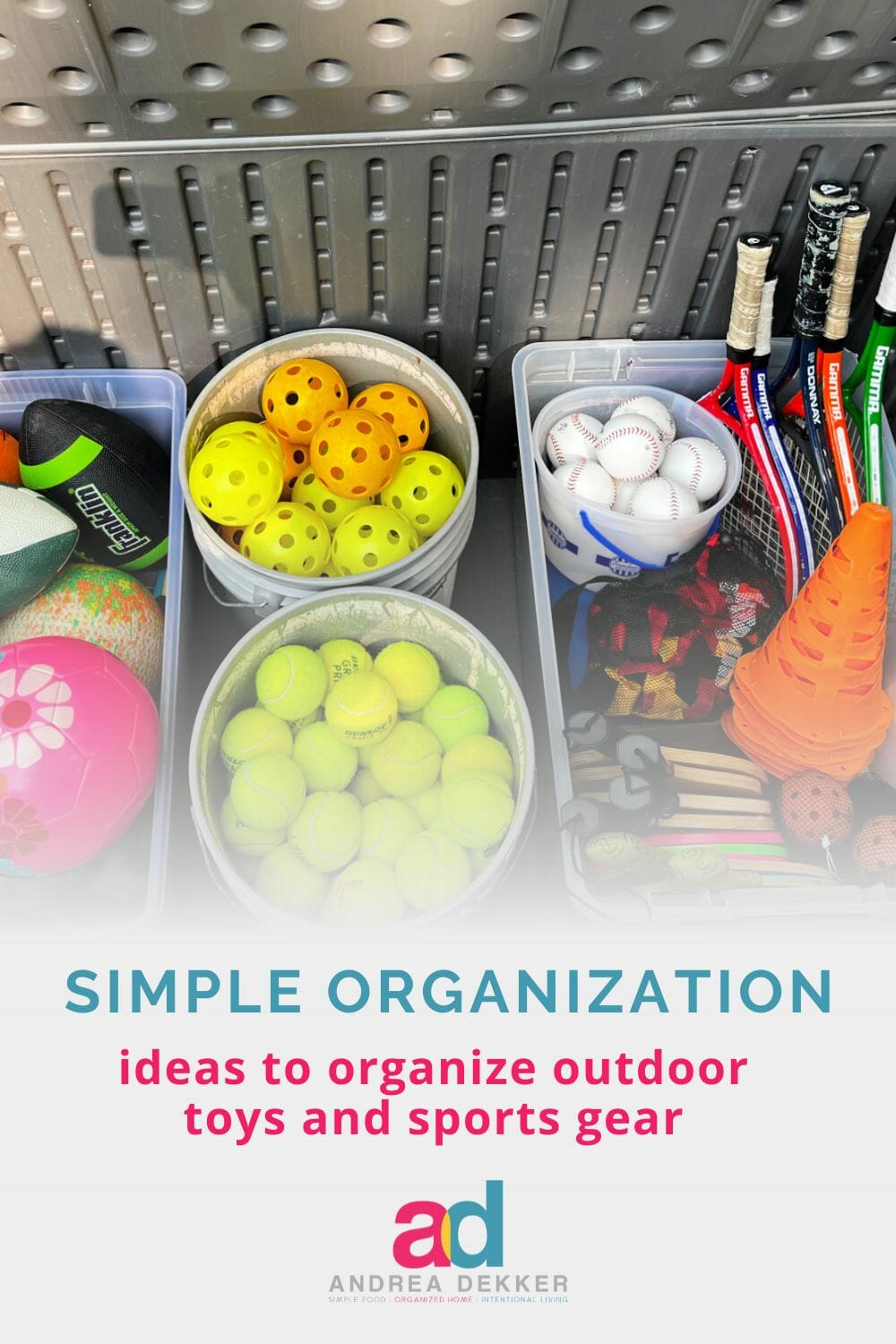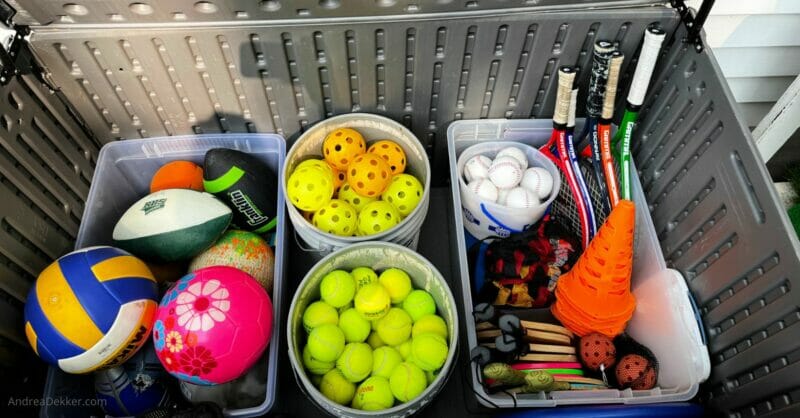 When we purchased our old farmhouse on 1 acre, smack in the middle of a neighborhood, our goal was to someday create a yard and outdoor living space where all the kids wanted to hang out.
At the time, we didn't have any children… but the goal was set.
Now, 12+ years and 4 children later, we've officially become the yard where all the neighbors hang out!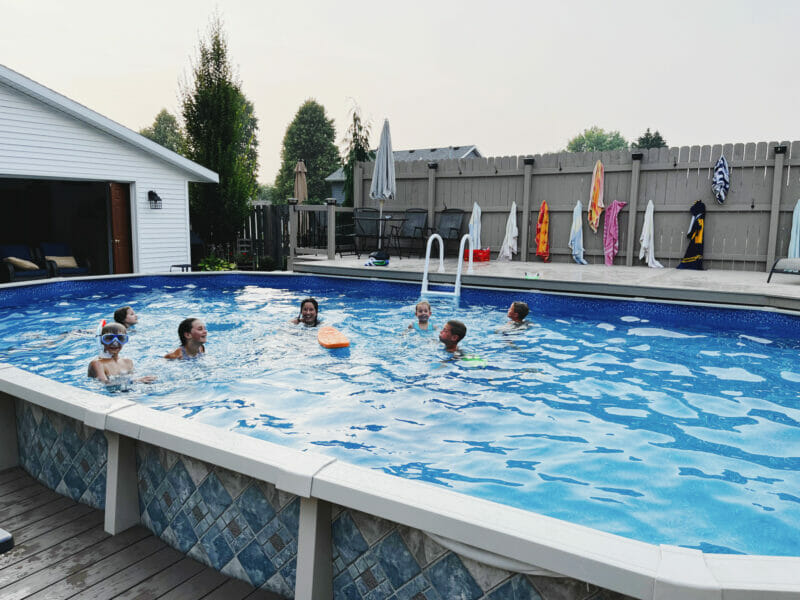 We have lots of space, lots of shade, lots of "outdoor toys", lots of snacks, and 2 parents who are around to supervise and play with the kids all day… so it's a pretty good recipe for success.
The pool helps too!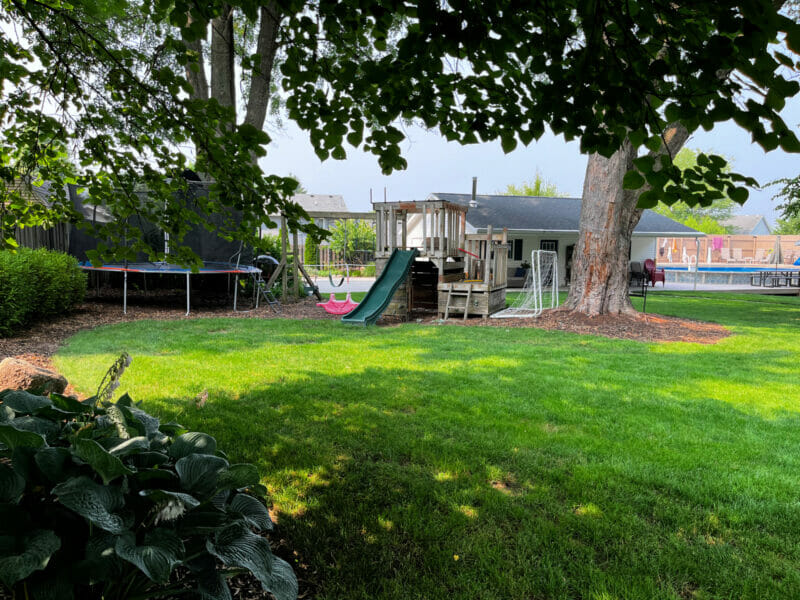 Thanks to generous grandparents and amazing thrift store bargains, we've amassed quite the collection of outdoor toys, games, and sports equipment… which means we need to store and organize it all too.
And, if there's one thing I've learned about organizing kids' things, it's that the system needs to be super easy to maintain — or no one will maintain it but Mom.
Who can relate?? 🙋‍♀️
We've tweaked our outdoor toy + sports gear organization many times over the past decade… I thought I'd share a few of the storage ideas that work well for us AND for our kids!
Storage for Bats and Balls:
We use the MonkeyBars system in our garage and absolutely LOVE it. The various attachments and accessories make organizing basketballs, bat bags, baseball bats, etc. super easy for us and for the kids.
The basketballs are in the garage since the basketball hoop is right outside the garage. The bats and bat bags just fit best in the garage, so that's where they go.
We use gallon ice cream buckets to conveniently store some of our smaller balls…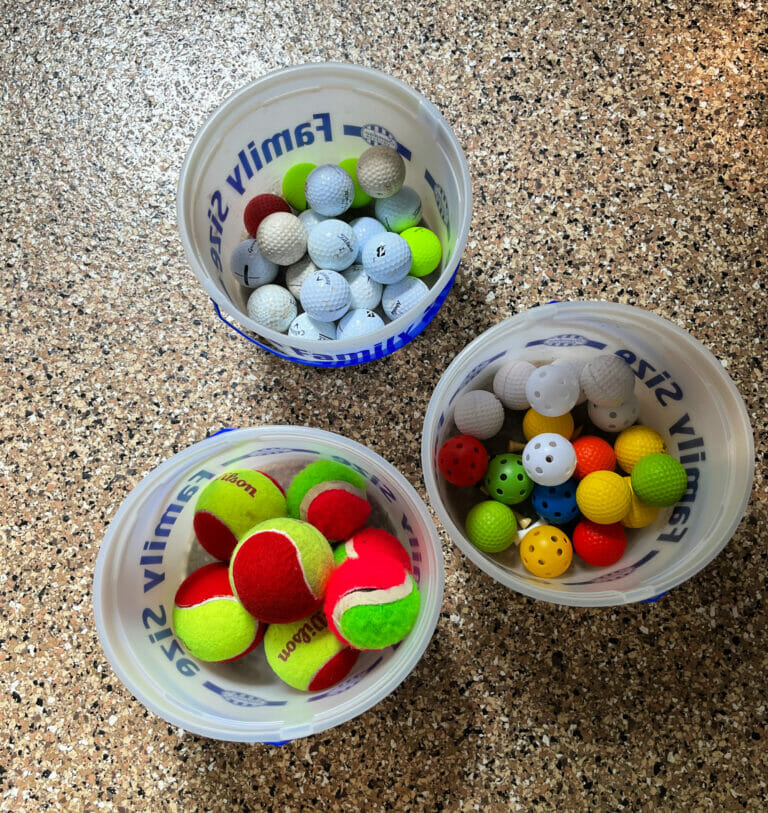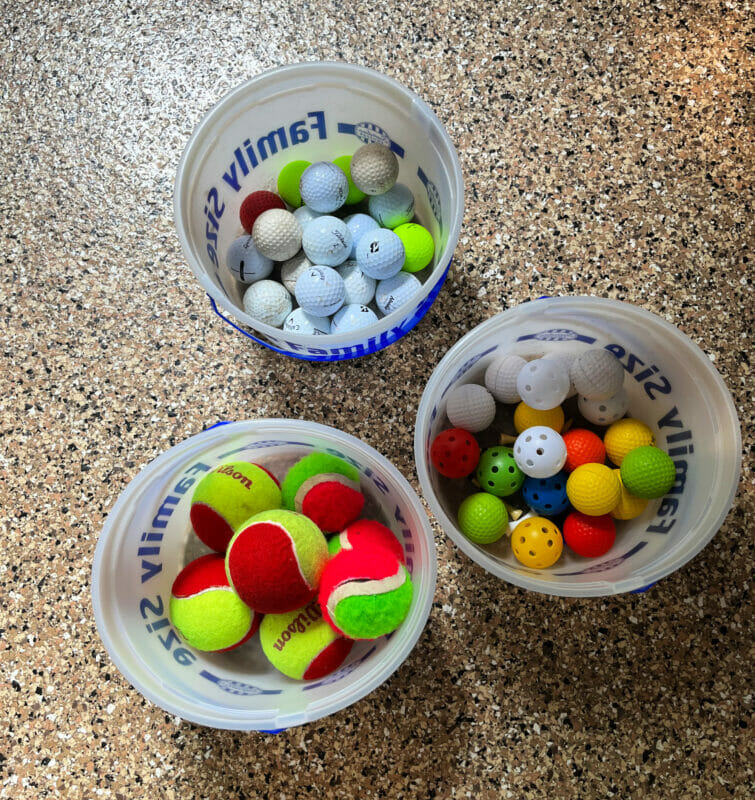 And we purchased a very large deck storage box on Facebook Marketplace to store all our other balls… apparently we have LOTS (but we do use them all).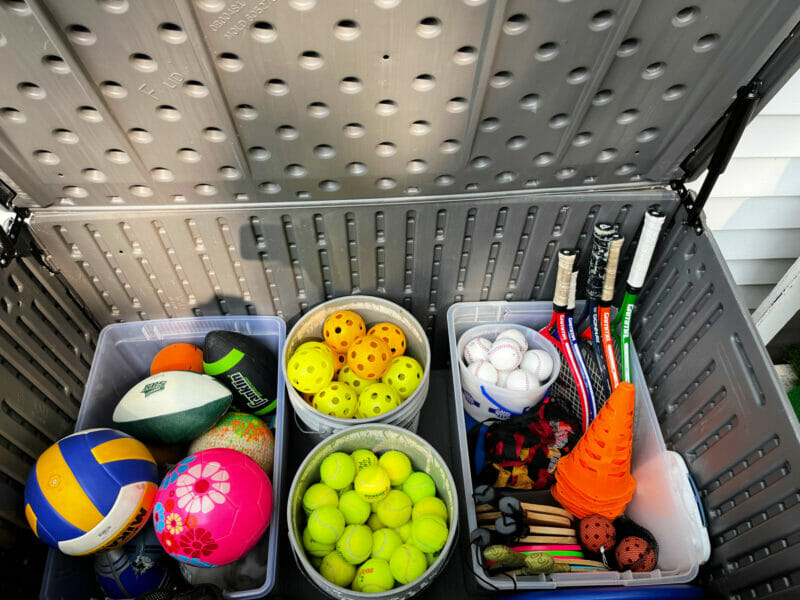 We keep the deck box on our patio, which is a convenient spot for the kids to access — making it easy for them to pick up and put things away too.
The addition of a couple of storage totes and 5-gallon buckets make organization even easier!
The kids can simply grab a bucket of balls if they want to play tennis, pickleball, or wiffle ball and they are good to go.
And putting things away is easy too — everything has it's place and everyone knows where things go (even the neighbor kids!)
Storage for Bikes and Scooters:
We used to have bikes falling all over the place in our garage, but we moved Dave's and my bikes to the shed and hung the kids' bikes up on hooks (with our MonkeyBars system).
The kids can't reach these on their own, but we just get them down in the morning and put them back up a night — no more bikes falling on our cars or on each other!
We keep rollerblades in boxes in the cabinets, and hang scooters on other hooks (not pictured above).
Besides the bikes, the kids have full access to everything in our garage and can easily get things out and put things away again whenever they want.
Here's a look at the cabinets in our garage — the upper cabinets have stuff to wash the car/home/deck, the side cabinets have tools, extension cords, air compressor, etc. and the lower cabinets have kids' stuff like rollerblades and sidewalk chalk.
We love our MonkeyBars storage systems!
Storage for Pool Toys:
So far, we've stayed away from purchasing large rafts or floaties — but I wouldn't be surprised if a few ended up in our future.
Currently though, we can fit all our pool toys, noodles, floaties, life jackets, etc. in the closet of our outbuilding — right off our deck.
The 2 large totes on the bottom store our winter cover and our leaf net — they literally fit PERFECTLY in the bottom of this closet!
We also have 2 bins for goggles/snorkles and other smaller pool toys. The bins have slits to let the water drip out and they are lightweight and easy for kids to move around when it's time to pick up.
It's crazy how messy the pool area gets — so I love that we can have it all picked up again in about 10-15 minutes with everyone working together!
I tell the kids that the more willing they are to help pick up, the more willing I am to invite friends over to swim.
Storage for Sandbox Toys:
Oh sandbox toys — how I hate them!
We've had numerous different systems for sandbox toys over the year, but our best idea yet was to put the sandbox behind our outbuilding so we couldn't see it… and just let the kids be as messy as they want!
They have a "slop kitchen" back there and a table to put all their sand toys, but other than that, we've sort of given up on storing them in any organized fashion.
We do go through the sand toys every month or so, tossing the broken toys, unearthing the buried toys, and raking out the sand so it's nice and smooth again.
Storage for Larger Items:
When we realized our farmhouse had a pretty cool (albiet strangely decorated) outbuilding, we decided it needed to be a fun hangout space — especially since our basement won't ever be "livable".
Thanks to Facebook Marketplace and a lot of white paint, we've created a fun "game space" on one side — with ping pong, foosball, and basketball — and a "pool house" on the other side.
This building provides TONS of extra storage for outdoor games, toys, and sports gear…
For example, we store the golf clubs and Kan-Jam under the basketball net.
And in the winter, we dissasmble some of our larger items and store them in our outbuilding.
During the summer months, we simply "hide" these bigger sports items in our planting beds — you almost don't even notice the golf net or baseball pitch-back when they are tucked away among the plants!
The kids just drag them out whenever they want to use them, and then drag them back into hiding again when they're finished.
A Few More Tips:
One of the most important things for our family is to create a space for everything… and make it easy for the kids to put things back in that space.
We even have a bucket for sunglasses because I was tired of finding them all over the yard, outbuilding, deck, etc.
Now everyone knows were to put sunglasses and where to find them again.
Also… use what you already have in the house. Ice cream buckets, 5-gallon buckets, extra storage totes — they work just as well outside as inside (and they're free!)
Another favorite organizing tip is to organize in plain sight with decorative items… for example, several of our yard games are red, white, and blue — so I use them as decorative elements on the porch of our outbuilding.
They are easy to grab, easy to put away again, and they look nice too!
And finally, don't store what you don't use!!
Take time to regularly go through your outdoor toys (for sure every spring and fall, if not every month) tossing things that are broken and donating anything you no longer use, like, need, or enjoy.
We did this a few weeks ago and I was shocked with how much we got rid of (even though I had done it earlier this spring as well).
Keeping your outdoor toys and sports gear organized will be SO much easier if you have fewer items to store and organize — and I dare to bet your kids will play with what you have MORE if there are fewer options!