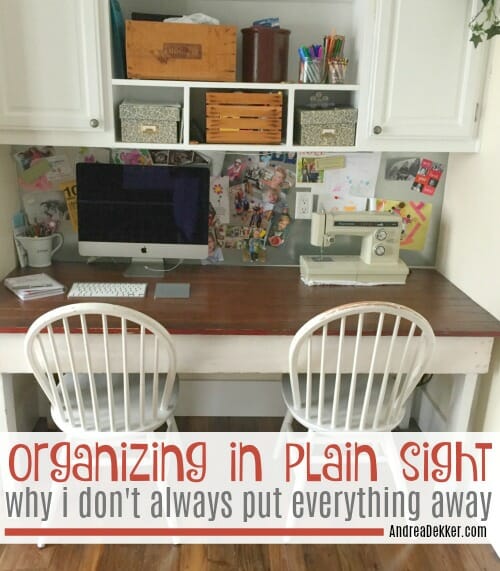 Several years ago, I inherited my grandma's sewing machine and all the accessories she had when she passed away.
Since then, I have used her sewing machine on a very regular basis for everything from curtains and baby bedding to pillows and baptism outfits.
And then there are all the alterations, "fixes", and… doll sleeping bags I've done on this machine 🙂
I'm definitely not a professional seamstress, but I sure have gotten my use out of my grandmas old machine!
However, there were many years when this machine sat in a dark closet and was rarely ever used… not because I didn't know how to sew, and not because I didn't have any sewing projects to work on.
It sat unused because I didn't feel like walking upstairs, hauling it out of the storage closet, lugging it downstairs, setting it up, then going back upstairs to grab the sewing box with all the accessories, walking back downstairs, fixing a hem or making a quick project only to pack everything up again, lug it all back upstairs, and put it all away.
I know that might sound lazy — but it's the truth.
I put off SO many sewing projects because I just didn't want to spend the time getting everything out and putting it all away again!
Then, about 3 years ago, I finally decided I would store my sewing machine in plain sight.
My sewing machine now sits right next to my computer, on my office desk. It's still mostly out of the way since you really can only see it when you're in the office. Plus, the cabinets above the desk are the perfect spot to store spools of thread, bobbins, scissors, etc.
Now, I use my sewing machine weekly — often several times a week — because its all set up, ready to go, whenever I need to fix something or do any type of sewing project.
Just last week, I used my machine to…
fix 2 outfits I purchased from Goodwill for Clara (they each had a small rip in the seams so I got them for $0.50 instead of $1!)
cut off the feet of Nora's footie pajamas (also a $1 thrift store bargain) and sew elastic cuffs on the end
hem up the sleeves of one of Nora's shirts and Simon's shirts (my kids all got my short arms!)
alter one of my old shirts to fit Nora
sew the ties back onto James' crib bumper
turn a pair of flare jeans into skinny jeans (I'm still perfecting this technique… it isn't easy!)
There is NO WAY I would have gotten my machine out 6 different times last week if it were still stored in our upstairs storage closet. So all those projects would still be sitting on my desk… waiting for me to make the time.
Now, all those projects were finished in just a few minutes, right away!
.
I'm definitely an advocate for creating a "home" for all my things — and then putting my things back in their home when I'm done using them. But I do believe there are some items that just need to be sitting out in plain site in the name of practicality.
No, my old sewing machine doesn't look all that nice sitting out on my desk, but I sure do enjoy being able to use it whenever I want and without the chore of hauling it out and putting it away again.
I do make sure to put all the thread, scraps, and other sewing items away each time I finish a project, but that only takes a few seconds to do!
I'd love to know…
What items do you store or "organize" in plain sight?