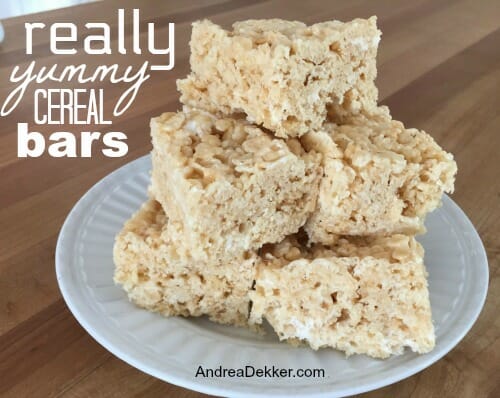 Although I LOVE chocolate, I have to admit that Rice Krispie Bars (a.k.a. "cereal bars" if you use off-brand cereal!) are one of my favorite snacks.
My grandma ALWAYS made them for my sisters and I — even when we were in college (she was almost 90 at that time!) She called them "crispy cookies", and although she hardly did any cooking or baking for herself, she often brought us a batch of her "crispy cookies" on Sundays when she came for dinner. I think she may have even brought some to Dave and me after we were married!
In some ways, I feel a little silly sharing today's recipe on my blog — it's one of those things I figure EVERYONE already knows how to make. However, after trying so many different tweaks and variations over the years, I finally have a version of this recipe that I feel is "the best".
These bars are so chewy and gooey, but not too sticky — thanks to extra butter. They also have little pockets of marshmallows within — thanks to adding some marshmallows whole at the end.
The few tweaks I've made to the recipe on the box of Rice Krispies take only a few seconds to implement, but they really do make a big difference (in my opinion!)
If you're looking for a super quick treat to whip up for snacks, school lunches, an upcoming party, etc. Give these yummy cereal bars a try!
Recipe for Really Yummy Cereal Bars
Makes a 9″ x 13″ pan of bars
INGREDIENTS:
12 T. (1 and a 1/2 sticks)

unsalted butter

1 t. vanilla

1/2 t.

salt

2 bags (10 oz. each) mini marshmallows, divided

8 c.

crispy rice cereal
mini chocolate chips or mini M&M's (optional)
DIRECTIONS:
In a large pot (I alway use non-stick for this) melt butter over medium heat.
Add vanilla, salt, and 1.5 bags of marshmallows (save about 2 c. marshmallows for later). Stir until marshmallows are completely melted into the butter.
Remove pan from heat. Stir in cereal and remaining 2. cups mini marshmallows (and any additional mix-ins).
Scoop mixture into a greased 9″ x 13″ pan and press flat (I use wax paper or the butter wrappers).
Let cool for 30-40 minutes then cut into squares (or fun shapes!)
These bars freeze really well and are perfect after-school snacks!
I often keep these in the pantry and/or freezer because they are a great for anyone who has a peanut allergy or a gluten allergy (if the cereal is gluten-free).
It's also very easy to make them look festive by adding food coloring to the marshmallow goo, or simply adding colorful sprinkles/sugar to the top of the bars.
What are your favorite quick and easy snack recipes…?
Visit my virtual recipe box for more simple, delicious, family friendly recipes!