It's no secret that we almost always buy used… in fact, as I look around my home, almost everything I see was purchased secondhand or acquired from friends, relatives, neighbors, etc.
The exceptions are my computer, Dave's computer, our IKEA sectional couch, mattresses, socks and underwear, water bottles and sippy cups, and our dishes/silverware.
We are so fortunate to have 3 fabulous thrift stores right in our small town (2 are walking distance from our house). In fact, as I was writing this post, I did a mental tally, and off the top of my head, I can immediately name 10 different thrift stores within 10 miles of our house!
Each store is very organized, well managed, and has such amazing deals (clothing for $0.50 each, 1/2 off days, tag sales, etc. etc.)
The older kids and I love browsing our local thrift stores to see what deals we can find — and because we shop regularly, we almost always find exactly what we need and/or want at rock bottom prices — like this puppet theater for $3.00!
I recently purchased all of Simon's birthday gifts used (I can't believe he'll be 4 in just a few weeks!)
I found this tin of LeapFrog Card games — including his requested "Go Fish", a pair of bright blue "comfy pants with pockets", this Paw Patrol backpack water squirter, and a massive tub of 250 Mega Blocks — all for $5.50 total!
Score!!!!
Of course, whenever I buy used, I know part of the deal is that I will need to thoroughly wash everything I buy.
I promise, I'm not a complete germaphobe, but other people's germs and grossness are too much for me! I don't know where these items have been, what type of homes (or garages) they've lived in, how old they are, or what gross germs they are covered in.
So my kids know that whenever we buy anything from the thrift store, they need to put it on the counter in the laundry room right after they walk into the house. Once it's clean, I will return it to them (or put it in hiding for the next upcoming birthday or Christmas celebration).
If you're new to buying thrift store items or if you're interested in how exactly I clean our thrift store finds, I will hopefully cover most items in this post!
ELECTRONICS:
I've gotten smarter over the years… and I ALWAYS ask to test any used electronics before I buy them.
I've also learned how to clean battery corrosion — which has been a total game-changer for my thrift store shopping!
If the item is very corroded, I'll probably still pass, but I've been able to successfully clean and remove mild to moderate battery corrosion from MANY second-hand toys and electronics — making them good as new again.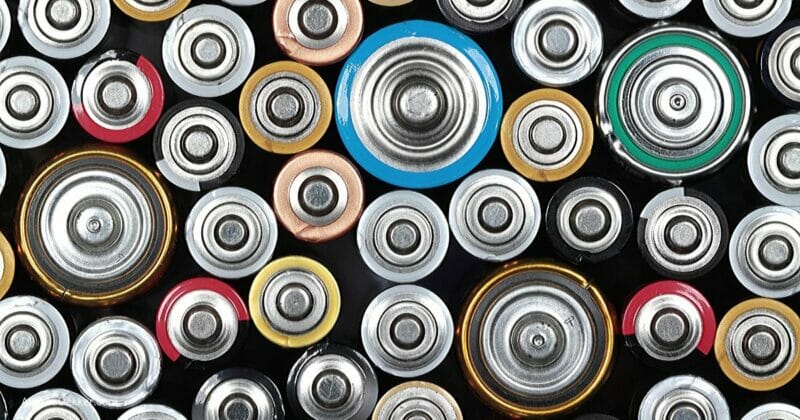 CLOTHING and FABRIC ITEMS:
When I'm shopping for clothing, I try to remind myself to look for stains as well as to make sure all zippers, buttons, and snaps are in working order.
When I get home, I check all the pockets (and usually invert the pockets out of the pants so they wash better) and dump everything in the washer.
I usually don't buy many other fabric items, but in the past, I have purchased curtains, table cloths, and towels from thrift stores — and I treat them the same way as secondhand clothing.
I almost always wash all our secondhand finds with hot water with a little bleach (or color-safe bleach) added in.
Once everything has been washed and dried, it's good to go.
The items pictured above cost me a grand total of $4.00!
.
STUFFED ANIMALS:
I NEVER buy any fabric toys that have battery components (like a talking stuffed animal) because they can't be washed well. And even though my kids know that I usually don't like to buy plush toys or animals (even without batteries) they almost always come home with 1 stuffed animal because our favorite thrift store gives each child a free stuffed animal after every visit.
Depending on the stuffed animal they get, we either trash it upon arriving home or I wash it with hot bleach water the next time I'm washing towels or rags.
Also, if the toy has hair (like a My Little Pony or a Barbie) I soak the hair in liquid fabric softener to comb out any snarls. Then rinse with warm water and lay the hair flat on a towel to dry.
NOTE: As I type this, I'm thinking there are probably better things I can do with my free time than soaking and combing pony hair! Clearly I love my children!
.
LARGER PLASTIC TOYS:
One of my kids favorite "chores" is to wash their toys 🙂
They love wiping them down with disinfectant wipes or washing them with soap and water in the sink or bathtub.
Depending on what types of toys they are, we usually just wipe them down with disinfectant wipes and use a Mr. Clean Magic Eraser to remove markers, or any other stains (seriously, those erasers really DO erase almost everything!)
If the toys have batteries, I always make sure to change the batteries and "clean" the battery area to remove any battery corrosion (I explained how to quickly do this last month).
SMALL-PIECE TOYS:
We don't have too many of these yet, but Simon is getting a HUGE set of Mega Block for his birthday and they were really REALLY dirty (I suppose that's what you get for $2!!
I have a few different methods of washing small plastic toys:
Put them in a mesh bag in the washing machine (dry on low heat for just a few minutes if necessary). This is my personal favorite method.
Put them in the top rack of the dishwasher (in a mesh bag if necessary) and do NOT use the heat dry function.
Wash them in bleach water or soapy water in the sink or bathtub.
I use all 3 methods for different toys — if I only have a couple of toys to wash, I throw them in the dishwasher or washing machine with whatever else I'm washing. If I have tons of toys to wash, I usually opt for the washing machine.
However, when the toys need a REALLY good soak and scrub, I usually go with the sink or bathtub method (which is what I did for Simon's Mega Blocks).
.
OUTSIDE TOYS, STROLLERS, BIKES, ETC:
I'm more relaxed about the cleanliness of outdoor toys, but I still usually like to scrub them down with soapy water and spray them off with a hose — especially if it's for a younger child who puts things in his/her mouth.
Here's a full post I wrote about exactly how we clean our outside toys, strollers, and other bulky baby items.
Here's another post about how we store and organize all our outdoor toys.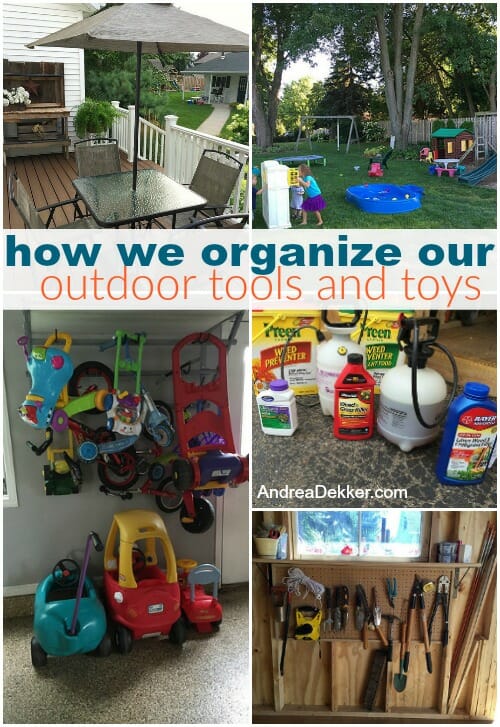 .
FURNITURE:
Almost all the furniture in our home is used… but I'm definitely pretty picky about buying used upholstered furniture.
Anything with a solid surface (wood, metal, plastic, etc.) can easily be cleaned with soapy water and disinfectant wipes. However, if I buy secondhand upholstered furniture, I do more than just wipe it down.
I usually start by vacuuming it really well, then cleaning any spots or stains with fabric cleaner (or carpet cleaner). Then I spray the entire piece with Lysol fabric spray. The furniture I buy is usually in very good condition, but you could also pay to have secondhand upholstered furniture cleaned by a professional carpet cleaner.
It's probably worth noting that I will not buy any furniture from a smoking home and I won't buy upholstered furniture from a home with pets, so I've never paid to have upholstered furniture professionally cleaned — however, I have gotten several custom slipcovers made for our furniture. It's amazing how fabulous an old chair can look with a new slipcover!
Read more about our slipcovers in this post.
.
I'm sure there are more things I could add to this list — but as I thought through all the used items we have in our home, these are the main categories that came to mind.
If you have questions about how I clean other types of secondhand items, leave them in the comments and I'll try to answer them!
Also, if you have any tips for how YOU clean up secondhand purchases, please share those in the comments too!