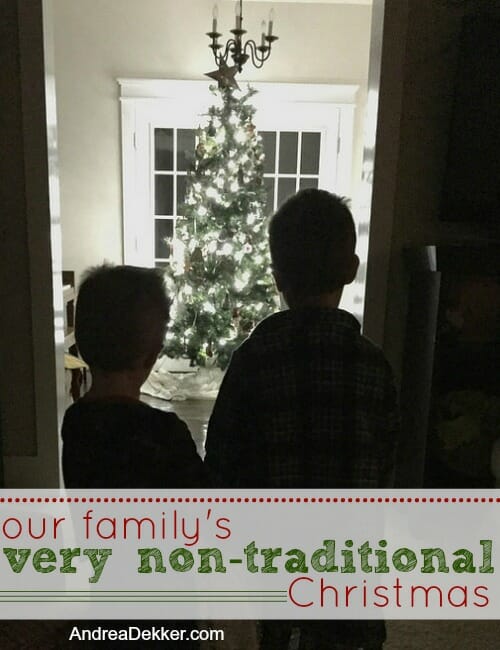 Since our family essentially skipped Thanksgiving this year, it only seems fitting that we celebrated Christmas in a VERY non-traditional manner as well.
And that's just what we did this year!
We celebrated our family's Christmas on December 1 — and by "celebrate" I mean, we read a special Advent devotional and opened a handful of gifts after breakfast.
That's it!
We have been FINISHED with the commercialized side of Christmas for over a week now!
Oh my word, it feels nice!
We've never had a specific day when our family "always" celebrates Christmas — usually just some day when Dave is home from school and we're NOT going to any other parties or festivities, as we hate feeling rushed.
Well, after looking over our December calendar during Thanksgiving break, Dave and I quickly realized most of our weekends were already filled with other Christmas parties and celebrations.
We're at the age when our extended families still get together (aunts, uncles, cousins), plus we have both Dave and my immediate families (parents, siblings, nieces and nephews). Then there's Dave's staff party, a friend's party, Christmas programs for school and church, Dave's birthday, my mom's birthday, Dave's dad's birthday, a New Year's party, etc. etc. etc.
Needless-to-say, we are gone more in December than we are for the rest of the year… seriously!
We noticed that December 1st was the date that worked best to celebrate Christmas with our own children.
This just so happened to be the DAY AFTER the "Love Bazaar" at the kids' school (they each buy little gifts for our family).
The kids are always super excited for us to open their gifts, so we knew opening those gifts the next day would make them so happy!
I quickly wrapped up the few gifts I had stashed away for the kids, and I just happened to buy new socks for everyone that week, so those got wrapped up too. I also had some candy and other special snack items I'd been saving for the holidays — so why not wrap those up and let the kids have the fun of opening them as gifts!
I found a few random items to wrap up for Dave and myself (I literally shopped our extra toiletries and pantry) and of course… our socks were wrapped as well!
After I was finished, our tree actually had quite a few "gifts" under it!
When the kids came downstairs the next morning, I had candles burning, Christmas music playing, the breakfast table was set somewhat "fancier", and our assortment of gifts were wrapped under the tree (very few of which were actually wrapped in Christmas wrapping!)
The kids were beyond excited to celebrate Christmas so early!
.
Initially, I felt like we were "giving in" by letting the kids open their gifts so early, but after thinking more about it this past week, the earlier date worked out so well.
Now our kids have a couple weeks to enjoy the few gifts they got from us before all the other gifts start piling on as we get closer to Christmas Day. Plus, there's no rushing to try to quickly open gifts before church, or before heading out the door to another Christmas party, only to leave their new things in a pile under the tree.
Another reason our earlier Christmas worked so well is because the kids' main gift from us was a year-long family pass to Rebounderz (a local trampoline place) and we could start using that pass immediately. We have already taken them to jump, and now we will be able to enjoy that family gift all throughout December, instead of waiting until next year!
Our kids are smart enough to know they will most likely get a boatload of gifts from grandparents, aunts, and uncles later this month, but they also know that we are completely DONE with gifts in our house.
Also, they didn't seem phased at all by the fact that there were almost NO "traditional" Christmas gifts!
They got the Rebounderz family pass (which isn't anything tangible) and we got a nice electric pencil sharpener as another family gift — something we needed badly!
Each individual child got:
socks
candy
a few fun snacks
an ornament
a personalized journal
a book
some stickers
one Love Bazaar gift from a sibling
No one said a word about the fact that there were no toys, or that each child "only" had 4 smaller gifts to unwrap (I combined some items).
Don't get me wrong, my kids definitely get all hyped up over gifts and could probably tell you 10-15 things they really want to get for Christmas. However, it was amazing how little they seemed to care about the gifts they got (or didn't get). They all seemed most excited for their siblings to open the Love Bazaar gifts they had picked out on their own.
It was refreshing to witness this, and also fairly eye-opening as well.
I realized, once again, how much pressure we parents put on ourselves to make this time of year "magical" and "special" for our children, when we really might not need to do much at all.

Light a few candles, play Christmas music, eat a "fancy" meal or go out to eat, open a few simple gifts, enjoy fun snacks, and call it a day!
I know this won't work for every family — especially those with older children who are accustomed to specific traditions. However, I still wanted to share our experience, because I think many families could benefit from simplifying parts of their holiday season.
Fewer gifts
Fewer events
Fewer extra things
Less stress
Less pressure
Less structure
Just sit back, take a deep breath, and tell yourself you probably don't need to DO all that much to make Christmas special for your family.
If there's something you don't want want to do this year… don't do it, and don't worry what anyone else thinks.
If you want to start a new tradition… start it, and see what happens. It might flop, or it might not!
If you want to limit gifts… try it, and see how your family reacts. You might be surprised how much they don't seem to notice.
If you want to totally skip the holidays and go on a 10 day cruise, by all means do it (assuming you can afford it!)
Whatever the case, I hope you are able to enjoy the last few weeks of the year while anticipating the start of another fresh New Year, full of possibilities and potential.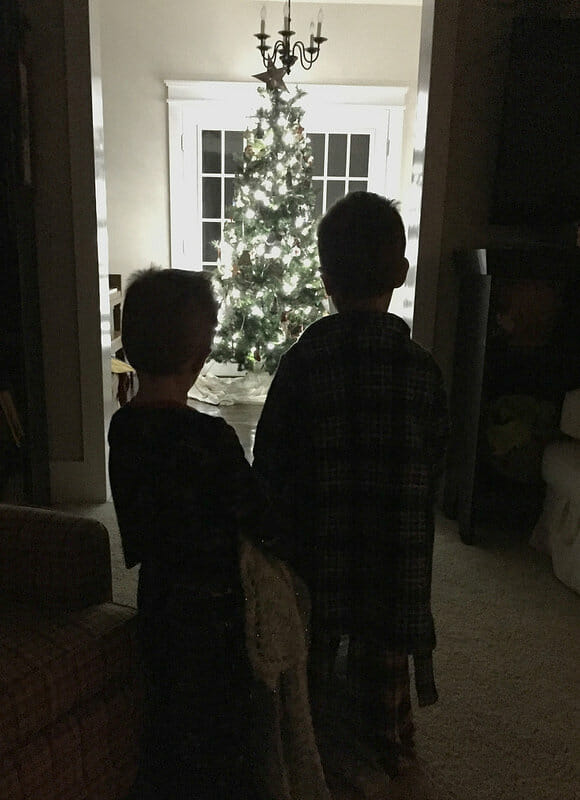 What are your Christmas plans this year?
Or are you "finished" with Christmas at your house too?
No children were harmed in the taking of this photo! 🙂