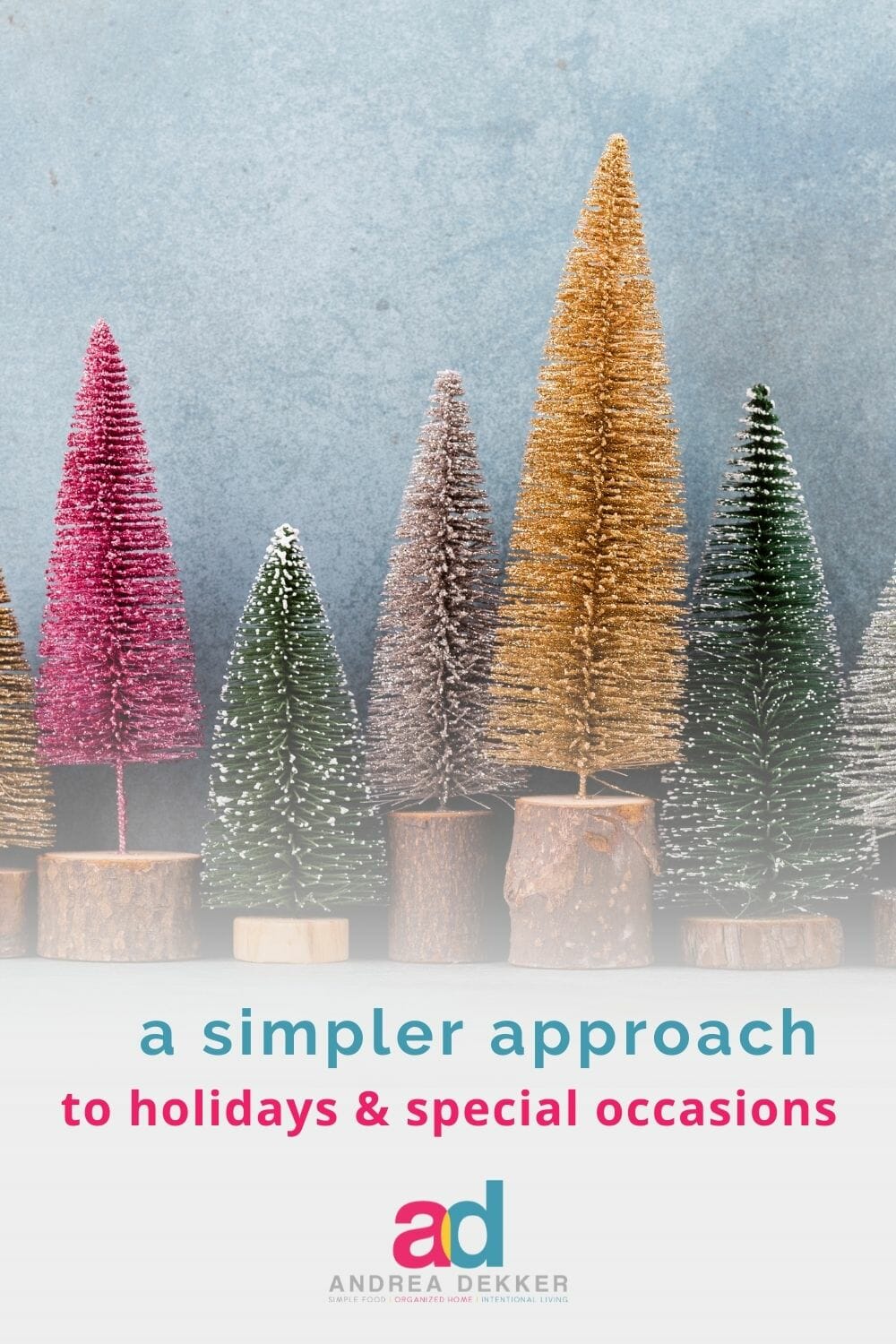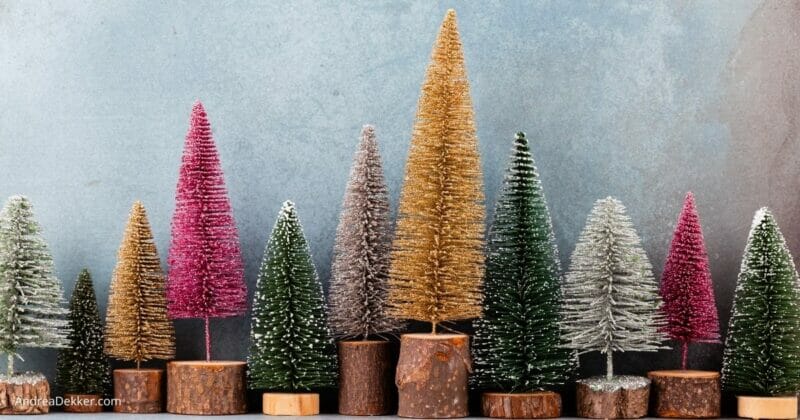 Although Dave and I are fairly "traditional" in terms of our values and beliefs, we aren't overly enthusiastic about "traditions", especially if they feel complicated and forced upon us.
Our aversion to doing the same thing year after year is often most apparent at Christmastime when SO many traditions are practiced among families, churches, schools, etc.
I know our family's simpler approach to Christmas (and most other special occasions) is not for everyone, but I do think there are benefits to toning down the holiday hoopla a bit, veering from doing something just because you've always done it, and instead, focusing on what works for you and your family for now (not necessarily forever).
If you're tired of traditions that leave you feeling stressed out and over-busy, I hope this post offers you permission to simplify and make your own rules this year.
And if you're a tradition-loving family, I encourage you to enjoy those traditions… BUT I challenge you to ask yourself a few questions first.
Are your traditions truly still enjoyable for everyone involved?
Do any of your traditions cause unnecessary stress for you or loved ones?
Do any of your traditions feel forced now that you're in a different stage of life?
Are you simply going through the motions just because this is what you've always done?
Does adhearing to your traditions cause strain on any of your relationships?
Are there any traditions you'd like to skip to make room for something else — maybe even just for this year?
Dave and I regularly ask these questions as we navigate holidays, birthdays, and other special occasions. It's amazing how often we get sucked into doing something just because it's the way we've always done it, or just because we did it that way last year.
Don't get me wrong, I love systems and routines, but we often cause unnecessary stress and busyness in our lives when our systems and routines turn into traditions we feel we can't quit.
Here are a few ideas for those of you who'd like to simplify your holiday season (and possibly save your sanity in the process!)
1. Celebreate when it works for you.
We rarely ever celebrate a holiday ON the exact day because there are often so many other celebrations happening on that day.
For example, we never celebrate Christmas with our kids ON Christmas day. Instead, we let them open their handful of gifts much earlier in December.
This simpler, more practical approach to gift-giving allows them to enjoy their gifts for longer, it spreads out the excitement, and it eliminates the need to rush on Christmas morning trying to hurry the gift process before shoving everyone out the door to church and then on to various holiday parties the rest of the day.
Our kids love opening their gifts early, and I love the motivation to get my shopping done early… plus, our Christmas mornings are super relaxing and low-key.
2. Scale back on everything!
Yes… EVERYTHING!
Fewer decorations, fewer gifts, less food, less hoopla — even if it's just for one year.
We've been scaling back on gifts for our kids for many years now. They still get plenty from grandparents, aunts, and uncles… so don't feel too badly for them!
This year, they each got a sled, a headlamp (they all wanted them), 2 books, a clothing item, and a toy.
They were happy and thankful, and I saved so much time and money (and space) by not going overboard on gifts.
We also have years where we hardly put up any holiday decorations or hardly do any holiday baking — simply because I need a break. It's a nice change for a year and then I'm ready for more decorations and goodies the next year.
3. Lower your expectations.
I know this might seem like a "Debbie downer" thing to say about the holidays, but I'm convinced that one of the main reasons holidays and other special occasions are so stressful is because we all have unrealistic expectations for ourselves AND for others.
For example, I know many women who are ALWAYS disappointed with the lack of gift-giving from their husbands and/or children… either they completely forget, they give something very impersonal, or they buy something junky at the last minute.
I realize this is a big deal for those whose love language is "gifts" but, hear me out a minute.
As someone whose husband is excellent at acts of service but not so much at gifts, I decided many years ago that I simply could not let myself feel annoyed or disappointed by gifts (or the lack thereof).
Instead, I buy myself something I want (usually at a bargain price) and give it to Dave to wrap for me for Christmas. The kids are thrilled that we give each other gifts, Dave has no pressure to find the perfect gift, I get exactly what I want, and our marriage is still intact! Win, win, win, win!
The same thing goes for decorations, holiday cards, food, parties, costumes (Halloween), birthday cakes, etc. Try lowering your expectations and see how far it gets you this holiday season!
4. Say "no for now".
Special occasions are primetime to get together with friends and family we might not see all that often throughout the year. However, it doesn't mean we need to see every friend and every family member or attend every party each year.
Pick and choose what works for you… and say "no for now" to the rest.
We did this all the time when we had babies — basically, any late-night parties were out because our sleep (and our sanity) was more important than one party during that season of life.
One year, I showed up with store-bought cinnamon rolls instead of homemade (which was apparently a bigger deal to some than others!)
Bottom line, when certain events or to-dos feel stressful for you, that's usually a good indication you should say "no for now".
You can always jump back into it next year if you want.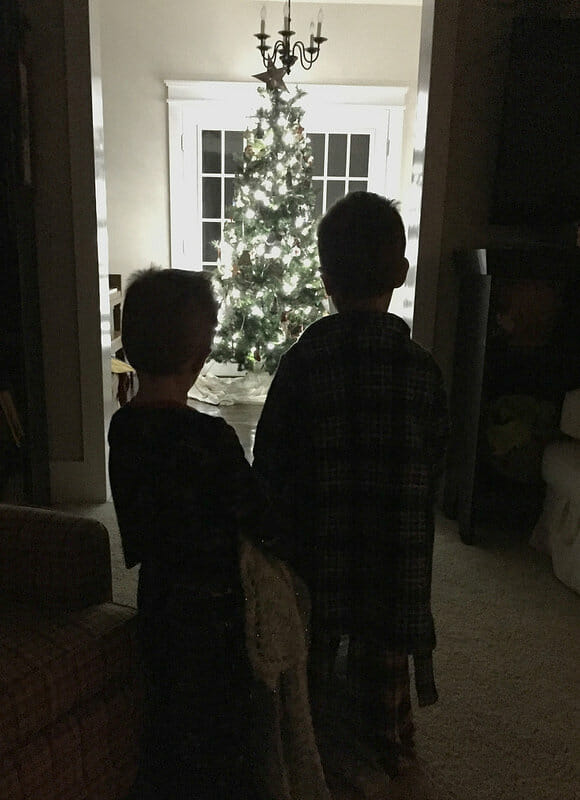 5. Skip the entire holiday.
I can speak from experience that skipping a holiday is an acceptable option if you're burned out on a specific holiday or special occasion.
A few years ago, our kids all got sick over Thanksgiving week and we skipped Thanksgiving.
Of course, we still acknowledged the day with our own little family, but we skipped the big parties, the over-indulgent meals, the long afternoons, the big crowds, and the endless small-talk… I didn't hate it!
We also regularly skip smaller holidays without even acknowledging them… no one seems to care or even notice all that much.
We wouldn't want to skip holidays every year, but once in a while is OK for me!
These are just a few ways our family simplifies the holidays (and many special occasions all throughout the year).
Sit back, take a deep breath, and remind yourself that you really don't need to DO all that much to make special times special for your family.
Fewer gifts
Fewer events
Fewer extra things
Less stress
Less pressure
Less structure
Doesn't that all sound lovely!?
There's truly no "right way" to celebrate, so I encourage you to evaluate your traditions this year and consider if a few minor changes (or a major overhaul) might help your family enjoy a simpler, less stressful season.
If there's something you don't want want to do this year… don't do it, and don't worry what anyone else thinks.
If you want to start a new tradition… start it, and see what happens. It might flop, or it might not!
If you want to limit gifts… try it, and see how your family reacts. You might be surprised how much they don't seem to notice.
If you want to totally skip the holidays and go on a 10-day cruise, by all means, do it (assuming you can afford it!)
Whatever the case, I hope you are able to enjoy the last few weeks of the year while anticipating the start of another fresh New Year, full of possibilities and potential.