This post contains affiliate links. Read my disclosure policy here.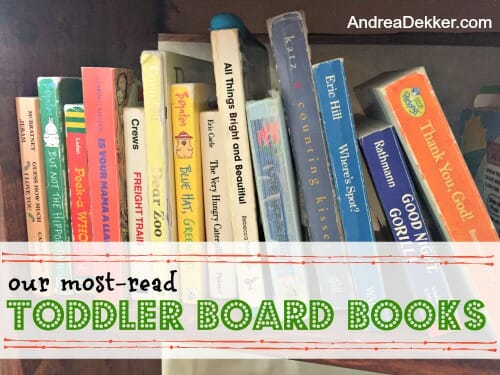 The kids and I love utilizing all the "free" books at our local library — I honestly can't even begin to count how many thousands of books we have checked out over the past 7 years (our kids are all part of the "1000 books before Kindergarten" program).
Since we check out piles of library books every week, and since I don't particularly love buying or having lots of extra things around our home, we've never really gotten into the habit of BUYING books to keep.
Our children have been gifted books over the years and we've picked up a handful from the local thrift stores, but in general, when it comes to children's books, we borrow instead of buy.
However, I will admit to having a teeny-tiny "soft spot" for toddler board books… so we have a dedicated shelf for those in our living room (inside the end table next to our couch).
We don't have a huge number of board books, but the ones we have are chosen carefully and have been read, and read, and loved and loved for the last 7+ years, through all 4 of our toddlers.
Dave and I know them by heart, the kids know them by heart, they know when to flip the pages, they know if we skip words, and they know if one book is missing off the shelf.
I realize there are hundreds and thousands of amazing children and toddler board books — in no way do I think my list contains the "best books" or the "right books" — they are simply the books ALL 4 of our kiddos have loved and enjoyed and requested and memorized and talked about and dragged around with them on a daily basis for the last 7 years!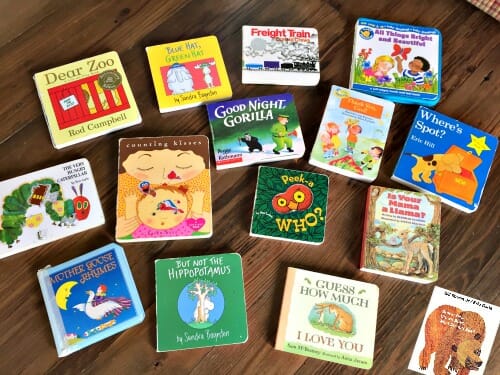 Here they are, in no particular order…
Our Most-Read Toddler Board Books
Photo Credit: AndreaDekker.com

This was the very first book Nora memorized and it has been a favorite of my toddlers ever since. They love "reading" it to younger siblings.

Photo Credit: AndreaDekker.com

I don't know what it is about this book, but our toddlers are obsessed with it. They love the colorful train, they love listing the names of the different train cars, and they love the last picture with the smoke billowing behind the train that has driven past the page.

Photo Credit: AndreaDekker.com

This is one of my personal favorites -- the rhyming, the alliterative names, it's just so fun to read. And my kids love shouting out the name of the next animal as we turn the page.

Photo Credit: AndreaDekker.com

I can't even find this exact book on Amazon (ours is SUPER old), but any type of Mother Goose Rhyming book is a big hit with my tribe!

Photo Credit: AndreaDekker.com

This lift-the-flap book has been a favorite of ours since we first got it when Nora was a baby. She requested it over and over and over again, and all the kids have just loved it. The poor flaps aren't doing so well anymore, but we make do!

Photo Credit: AndreaDekker.com

This super short book is a fun interactive book because the kids need to lift the pages to see what's "hiding" behind the cut-outs. They like shouting out the last word -- peek-a-BOO, peek-a-ZOO, peek-a-CHOO-CHOO, peek-a-YOU! etc.

Photo Credit: AndreaDekker.com

This book reads like a rhyming prayer and follows the story of creation (thank you for day/night, thank you for land/water, etc). I can remember reading this book to Nora in the middle of the night with my eyes closed, and still turning the pages at all the right places because we had read it so many times!

Photo Credit: AndreaDekker.com

I suppose I can't list favorite children's books without including this one! The little holes in all the fruit are just the perfect size for tiny fingers to poke through -- an activity that apparently never gets old, even after reading this book hundreds of times!

Photo Credit: AndreaDekker.com

I thought this book was so odd the first time I read it, but it has thankfully grown on me after years of daily reading! The over-all message is fantastic, and I'm a sucker for clever rhyming! 🙂

Photo Credit: AndreaDekker.com

This is the PERFECT bedtime story book -- not only does it teach kids various body parts and counting to 10, it's also a great way to give a few extra smooches before heading off to bed when they put the baby to bed in the book. And the artwork is fantastic!

Photo Credit: AndreaDekker.com

I believe every single one of the flaps on this fun lift-the-flap book has been torn off at least once. It's just so much fun to "find spot" that eager hands get a little too rough. Never-the-less, it's apparently still just as fun to "find spot" with re-taped flaps!

Photo Credit: AndreaDekker.com

This book has very few words but there are SO many things to look at on every page -- different patterns to follow, different colored keys to find, etc. etc. and my kids like saying "goodnight" to each animal. Of course, they find it hilarious when all the animals end up in the zoo keeper's bedroom (sorry, spoiler alert)!

Photo Credit: AndreaDekker.com

I think we have the 90's version of this book (the new one on Amazon is much prettier!) but the soft edges, puffy pages, sparkly flowers, and cut-out designs offer much fun for little hands. And the book follows the lyrics of the song, so we regularly "sing" this book instead of reading it!

Photo Credit: AndreaDekker.com

The infamous "oops book", as my children call it, is a HUGE favorite for all my toddlers. They giggle and laugh the whole way through, and try to say the "ooooooops" in their highest-pitched voice -- which of course, makes them all laugh again (even more so when Dave does it!)

Photo Credit: AndreaDekker.com

I said this list wasn't in any specific order, but in my opinion, I "saved the best for last"! I absolutely LOVE this book, the pictures, the story, the message, everything. I practically get choked up every time I read it (which is SO abnormal for me)! I will read this book to my kids as long as they let me -- it's just fantastic.

As you can (maybe) see by some of the book pictured above, these books are WORN!
Even though they are board books that are supposed to hold up to rough toddler hands, our books have "been through the wringer". The covers of some have been completely ripped off and tapped back on, most of the "lift-the-flaps" have been taped back on (multiple times), there are stickers covering many of the covers and marker scribbles inside. The books are covered with stains, water marks, frayed edges, and even a few bite marks.
These might be signs of a lazy parent who doesn't properly supervise her children while reading… or they might be signs of how much my children have loved these books over the years!
Our beloved board books might be ready for the trash… but we'll hang onto them for another year or so, until Clara is ready to start reading bigger-kid books with her siblings!
In the meantime, you'll probably find me reading Blue Hat, Green Hat 27 times every day, just so she can say "oooopssss" in her tiny little voice at the end of every page! 🙂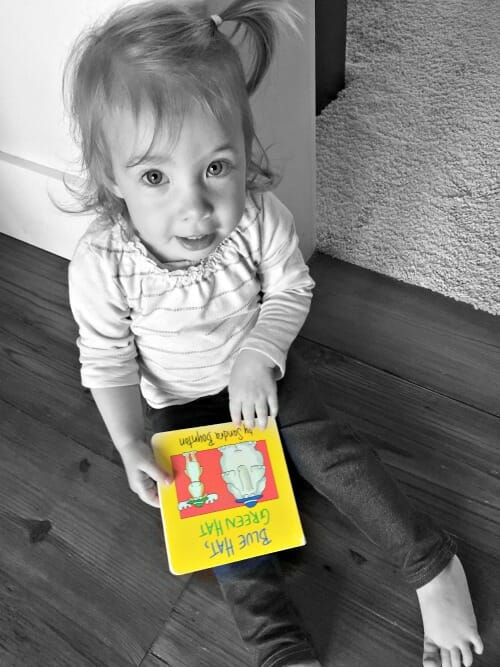 What are/were your most beloved, well-read toddler board books?