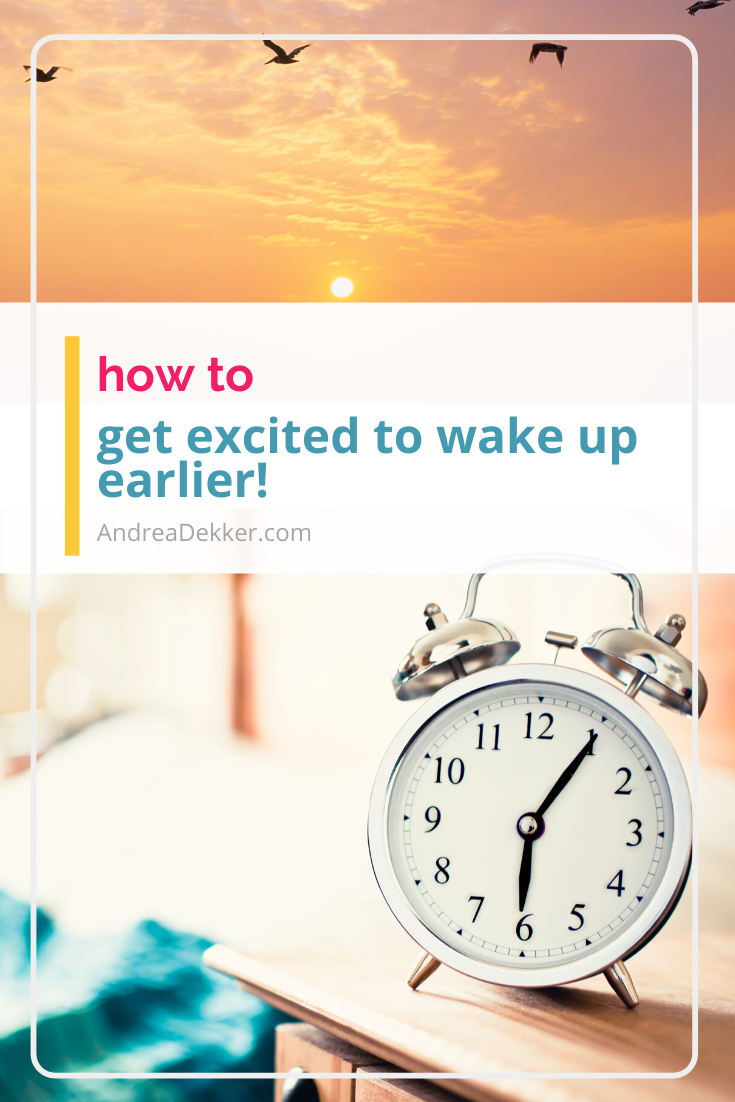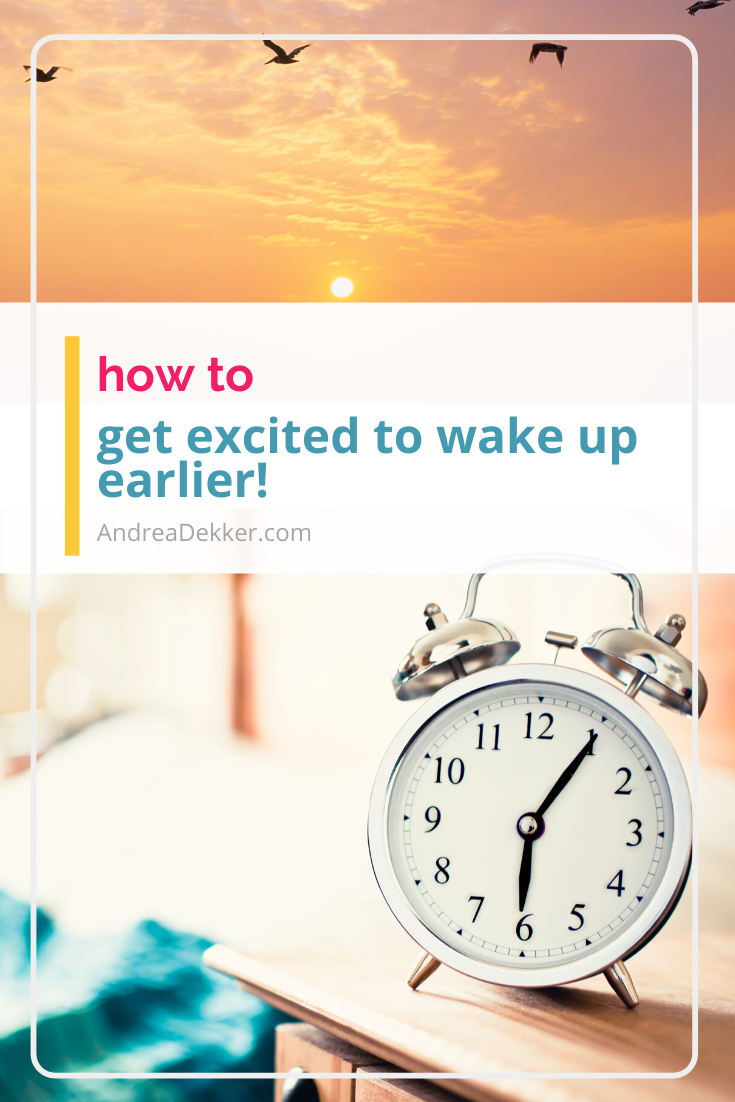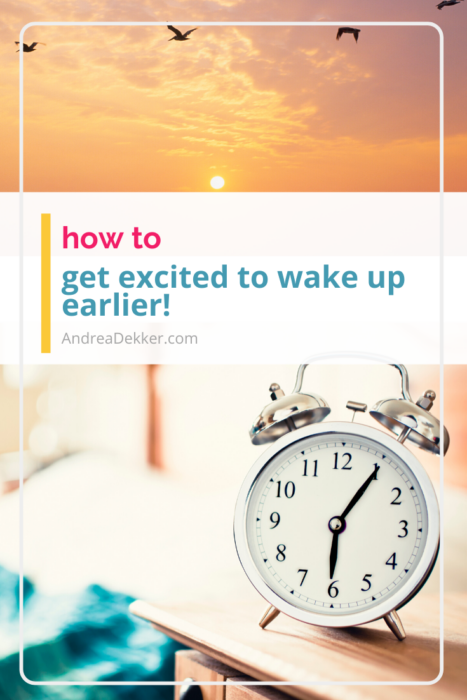 As you might remember, Dave and I decided to start waking up at 4am last summer — crazy, I know! Now, after a full year of sticking to our plan, I have a few thoughts to share… including one of the easiest ways to get excited about waking up early!
But first of all, I want to mention that I don't think waking up early is essential for productivity or a lifetime of success. It's completely possible to sleep in and be productive during different times of the day… HOWEVER, based on the number of emails and comments I've gotten asking about our 4am wake up time, I figured it was time for another blog post.
If you have no desire to be a morning person — check out my Facebook feed or my blog archives instead, and then come back tomorrow for a delicious Southwest Spaghetti Squash Casserole! 🙂

If you ARE interested in learning to become a morning person (something I DO think you can learn), I hope the 4 tips in today's post will help!
Tip #1: Don't Stress Out About Bedtimes
Whenever anyone realizes that Dave and I wake up at 4am, the first question they almost always ask is, "oh my word… what time do you go to bed?!?!"
Yes, we obviously go to bed earlier than most other adults, but I really don't think it will be that big of a deal once you get on your new schedule.
Dave and I are almost always in bed by 10:00, often earlier — but we both prefer to be awake early in the morning versus late at night, so this is not a hardship for us at all.
It might be more challenging once our children are older, but I'm confident we'll figure out a way to adapt whenever that times comes. For now though, we will happily sacrifice a bit of our evening social life for a huge amount of quiet time every morning.
If you feel like you could never go to bed early enough to make this work, I'd like to challenge you to at least give it a try. However, don't start out trying to go to bed significantly earlier than normal. Just go to bed at your normal time but set your alarm earlier in the morning. After a few days, your body will naturally be tired earlier in the evening and it will be much easier to get to bed on time.
.
Tip #2: Don't Let Yourself Nap
I've never been a napping person — but if you start taking naps during the day, you basically start a really vicious sleep cycle where you're not tired at bedtime so you stay up later to finish your to-do list, but then it's harder for you to wake up since you went to bed so late, so you're groggy in the morning (and not as productive as you could be), but then you're exhausted by mid-afternoon again, so you decide to take a nap and the whole process starts all over again.
I'm not saying it will necessarily be easy or enjoyable for the first few days while your body adjusts to the new time-frame, but after the first few days, it will get so much easier… I promise!
Drink lots of water, have healthy snacks ready for your afternoon cravings, have easy meals planned that you can tackle even if you're super tired by that time of day, etc. etc. Just don't let yourself take a nap!
.
Tip 3#: Have a Plan for When You Wake Up (and make it fun):
I've mentioned over and over and over again how we ALWAYS have some sort of a to-do list ready to go before we go to bed at night. You know I don't use the word "always" that often — but when I say "ALWAYS" in regards to our to-do list, I truly mean "ALWAYS"!
I can't remember a day in my adult life when I went to bed without knowing what my plan was for when I woke up the next morning. This was important long before I decided to start waking up so early, and it's even more important now.
In fact, I think that having something FUN planned for when you first wake up is one of the best and easiest ways to get excited about waking up early!
Just think, would you really have a ton of motivation to wake up at 4 am if you had absolutely no plan in place for how you would use that time? No way, you'd just press "snooze" and roll over again. However, if you knew you were going to read your favorite book, work on a hobby you enjoy, go for a walk, enjoy a special breakfast, or take a nice long hot shower with no interruptions, I have a feeling you'd be a little more excited to actually get out of bed.
Just because you're waking up early doesn't mean you can't have any fun….
Dave and I regularly use our early morning hours to read a book (or various articles we've saved online). I often use my early morning hours to bake or cook or roast vegetables. Dave often goes running. We enjoy a piping hot breakfast together before the kids get up.
And yes, we do try to tackle several other more mundane to-dos on our list as well… but our early morning hours definitely are not "all work and no play".
I can't tell you how many people I know personally complain about "not having enough time for ________" (insert something they enjoy doing). I just want to tell them: "Wake up at 4am and you'd have time!"… but I don't!
However, I WILL say it here! If you want more time to exercise, read, watch Netflix, work on digital photo books, bake, cook, journal, or do anything else just for you, I can almost guarantee you will find that time if you wake up earlier — AND it will be easier to get out of bed if you have something fun to look forward to once you're awake!
As an added bonus, you'll be much more awake and alert when others in your home finally roll out of bed, which will most likely result in a less-stressed, more enjoyable morning for your entire family.
.
Tip #4: Start RIGHT NOW!
I know you might be tempted to wait until school starts up again or even until the New Year to change your habits, but I really think you'd be smarter to start right now (maybe even tomorrow morning).
In my opinion, Summer is a FANTASTIC time to start waking up early because it gets light outside so much earlier than in the winter. Plus your house is nice and warm already, making it easier to get out of bed instead of staying snuggled up under the covers.
So while I realize you might want to sleep in over your summer vacations, I would highly encourage you to use the summer months to develop this new habit that you can hopefully carry on with throughout the rest of the year!
.
I want to reiterate that I honestly do not think early mornings are the right solution for every person or every season of life. However, I also feel very confident that if you want to be a morning person, you can most definitely train yourself to be one. It might just take a little time (like any other new habit).
Just for fun, I'd love to know…
What time do you wake up?