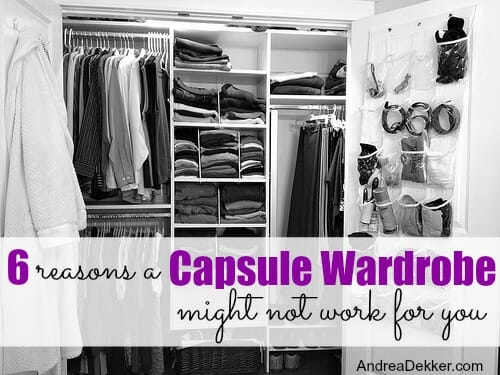 If you've spent any amount of time reading "Home" blogs or browsing Pinterest , you've probably heard a lot about "Capsule Wardrobes".
As many of you know, a capsule wardrobe is one where you have a very limited number of clothing — usually around 40 pieces total (including shoes, but not including undergarments, pj's, etc.).
The idea is that all the tops and bottoms coordinate with each other so you can make many different outfits and achieve numerous different looks with only a few items taking up space in your closet.
I'll be honest, the idea is absolutely THRILLING for me!
I love reading about other people's journey to a super minimalist wardrobe.
I enjoy flipping through before and after pictures of their closets.
I'm inspired when I see how many different outfits they can put together with so few pieces of clothing.
I've even shared a few posts about capsule wardrobes on my Facebook and Pinterest pages.
HOWEVER… I do not, in any way, intend to create a true capsule wardrobe for myself. Not because it's a bad idea, but simply because I don't feel it's very practical for me at this point in my life.
If I had to guess, I'd say that for the majority of people, a capsule wardrobe isn't easily do-able due to a variety of reasons. Yes, every one of us COULD get by with only 40 articles of clothing if our lives depended on it. Our ancestors did it for hundreds of years, and I know I could easily purge the majority of my closet if I absolutely had to… but I don't HAVE to… nor do I WANT to! 🙂
If you share my interest in capsule wardrobes… but at the same time, are frustrated with your own bulging closet, I hope today's post will be encouraging for you!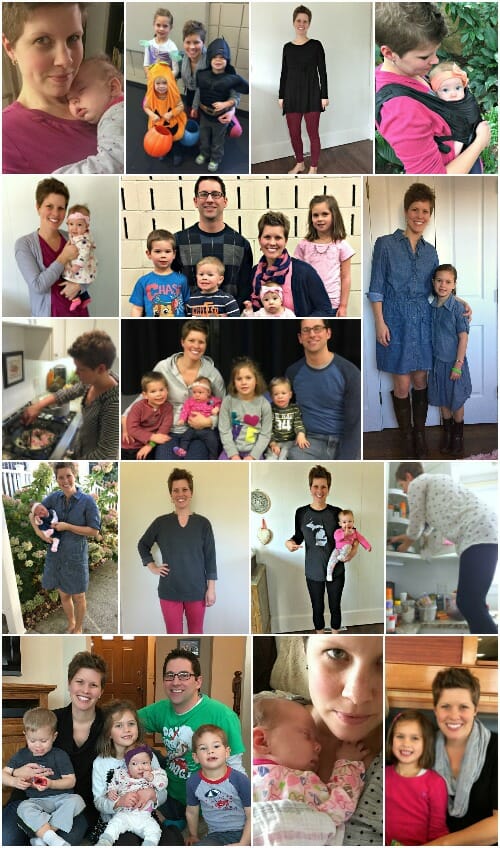 REASON #1. You live in a region with varying climates.
Many of you know I live in Michigan — a.k.a. "the land of unpredictable and crazy weather". We often experience at least 3 "seasons" of weather every single week — this time of year, it's not unusual for us to wear pants and a light jacket in the morning, but be in tank tops and shorts by the afternoon. And then there are the random blizzards in late April and the 70º days in early February (seriously, I'm not making this stuff up).
We have no plans of moving out of West Michigan any time in the foreseeable future, so a minimalist wardrobe really isn't practical for us. We need clothing that works for sub-zero winter temps, cold rainy Springs, hot and humid summers, and hot OR cold falls.
We keep ALL seasons of clothing in our closets at ALL times because we never know when we'll need a different type of clothing due to weather changes.
For those of you who can relate to these climate changes, you know that just 10 tops is NOT going to cut it.
REASON #2.Your weight is fluctuating.
Over the last 8 years, my weight has fluctuated HUGLY due to being pregnant 4 different times, and eventually losing the last of my baby weight this past fall.
I was fortunate to borrow many of my maternity clothing, but since all my babies were spread out throughout the calendar year, I needed different types of maternity clothing for each child — and many of you can relate to the fact that pre-baby clothing doesn't necessarily fit or flatter the same way after you have the baby!
While I personally try to purge anything that is more than 2 sizes "off" for me, I do keep at least a couple items in various sizes in case my weight fluctuates a bit over the year.
If you are pregnant, just had a baby, or are in the middle of losing or gaining weight for any number of reasons, a super minimalist capsule wardrobe probably isn't ideal for you.
REASON #3. You have a more difficult body shape to work around.
I didn't know quite how to word this one — so I hope it doesn't come across as offensive 🙂
Basically, what I'm trying to get at is that almost every single person I've seen blog about their capsule wardrobe has been very "average size". And even for myself, when I shared my mix-and-match wardrobe years ago, I think one of the main reasons I was able to make that work is because I am somewhat "average" in my height, weight, build, body structure, etc.
My one "difficulty" is that I have an extremely LOOOOOONG torso, which often makes finding shirts and sweaters more difficult for me. I have to try every shirt on — and even with the longer "tunic" styles, they often hit me at an odd spot, which makes them much less flattering.
One of my sisters is very tall and has a difficult time finding pants that are long enough, and I have a couple of friends who are very pear shaped and also have issues with pants, shorts, and even skirts.
Broad shoulders is another biggie for women as it makes buying shirts more tricky… and I've heard that the cute shoe selection for anyone bigger than a size 10 is basically non-existent. 🙂
If you have any specific body features that makes it more challenging for you to find clothing, a capsule wardrobe will most likely be more difficult for you to put into place.
REASON #4. You don't know what styles flatter you.
This is usually the biggest problem for most women — or maybe I'm the only one. We see all the new fashion trends in magazines, online, and everywhere else around us, and we want to wear them. Even if we don't have the right body type (see #3 above) we try to squeeze ourselves into these clothes that are supposed to be fashionable… but end up looking awful on us.
Personally, I had NO idea if specific styles or colors looked better or worse on me… until I worked with a stylist several years ago. She really opened my eyes to what styles and colors looked good on me (I've been wearing skinny jeans and bright pink ever since!) and helped me realize why I liked certain articles of clothing and why I didn't like others.
Now I know to stay away from certain fabrics, certain types of clothing, and certain "cuts" of clothing that just don't do anything for me, and shopping online is SO much easier since I know exactly what items to search for.
While I don't have a "minimalist" capsule wardrobe, I HAVE gotten to the point where most of my clothing is within the same color palate (black, grey, white, and pink) so most of my clothing mixes and matches fairly easily.
That said, if you do NOT know what styles or colors flatter you, it would be more difficult to create a capsule wardrobe with pieces of clothing you'll enjoy wearing over and over again.
REASON #5. You're on a tight budget.
Obviously, creating a brand new wardrobe from scratch is going to cost money — possibly a lot of money. I realize there are potentially a few items in your current closet that would work for a capsule wardrobe, but often times, the concept of a capsule wardrobe requires a "fresh start".
I'm not saying it's not worth spending the money — but it IS something that prohibits many people from creating that ultra minimalistic capsule wardrobe.
Unless you have unlimited funds to spend on clothing, it just doesn't make sense to spend a large sum on new clothing UNLESS you have a very steady weight, you know exactly what styles and colors flatter you, you don't mind wearing the same things over and over again, and you know how to work around any body "obstacles" to find the pieces that are the perfect fit for you.
REASON #6. You're a fashionista.
If you're someone who really enjoys staying current with the latest fashion trends, a capsule wardrobe would be torture for you!
Striving for a capsule wardrobe would most likely rob you of the joy and fun you get from wearing new outfits and trying new trends — which totally isn't worth it in my opinion!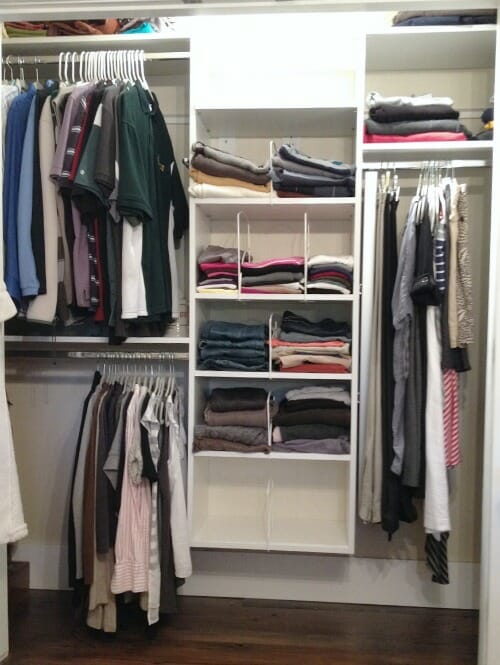 Although I most likely won't ever have a true capsule wardrobe, I will continue to strongly advocate for a neat, well-organized closet with clothing that makes you feel great.
I know from lots of personal experience (and working with hundreds of organizing clients over the years) that having a neat, organized closet filled with clothing that fits and flatters you is MUCH more doable for the average person than having only the minimum necessities a capsule wardrobe allows.
That said, if you have a capsule wardrobe, WAY TO GO! That's awesome — don't change a thing if it works for you!
I will continue reading about capsule wardrobes and drooling over the wonderfully minimalistic closets — but I will NOT let myself feel bad for having more than the bare essentials in my own closet!
What are your thoughts on super minimalist capsule wardrobes?