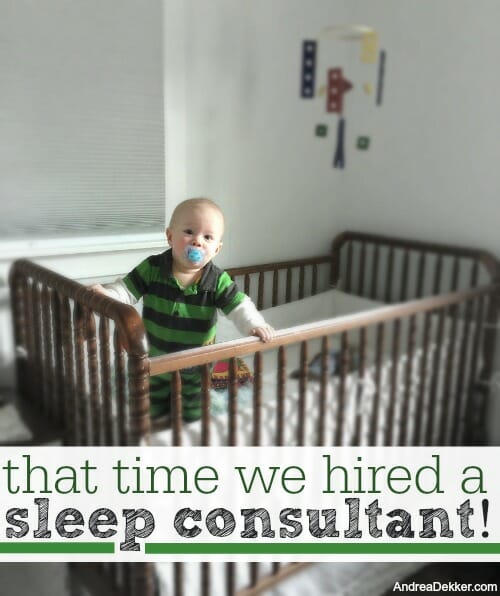 As many of you know, Nora was a HORRIBLE sleeper from the moment she was born. The nurses in the hospital sheepishly told me that we'd probably want to invest in a good swing and bouncy seat because she screamed and cried most of the time she was in the hospital nursery and only slept when I was holding her (yes, that was when she was just 2 days old!)
Over the next 3+ years, we tried almost everything to get that child to sleep (you can read everything we tried in this post).
There were just 2 things we knowingly didn't try.
The first was to completely let her "cry it out". We did let her cry for periods, then go in and lay her back down, rub her back, hold her hand, etc. but I never just let her cry for an extended period of time. Come to find out later, crying it out is one of the worst things you can do for a high-needs sensory baby, and I'm SO glad we didn't ever have the heart to do it.
The second was hiring a sleep consultant. I did look into hiring a few different ones, but at the time, the consultants either required that we do a sleep study with Nora in a special office location (which seemed way too overwhelming for me) or they would come into our home at night when Nora was sleeping (and that was just too weird for me). So we never did it — but I always wondered if that would have been the thing to "solve all our sleep issues".
When Simon was born, I was fairly worried that we'd be starting Round 2 of "eternal sleeplessness"… but to my surprise, he developed a pretty fabulous sleeping schedule all on his own.
By about 8 -10 weeks old, he was sleeping for 12 hours at night, only waking once to eat and then going right back to sleep. He also loved sleeping in his crib, and by about 4-5 months, we could simply lay him in his crib awake for naps and at night as he liked to "play" and babble for a bit before snuggling in and drifting off to sleep all on his own.
I thought I had won the sleeping baby lottery!
By the time we announced we were pregnant with James, we officially had 2 children who were regularly sleeping through the night! Life was good!
.
As James' arrival approached, everyone joked about who he would look like, who he would act like… and who he would sleep like! Of course, our fingers were crossed that he would take after his big brother in the sleep department 🙂
I was thankful that James got his days and nights figured out very quickly, and he was an excellent napper. He did wake up a lot more than Simon did at night, but he would usually go back to sleep easily after feeding, and he was always SO HAPPY — nothing like the days and nights filled with Nora screaming and crying.
We were hopeful that things would continue to improve with James' sleeping, but right around 5-6 months, he started waking up regularly ALL NIGHT LONG. Plus, his naps were getting shorter and shorter, it was taking longer and longer for him to fall asleep, and he was crying A LOT.
Not cool!
.
At first, I thought he was sick or teething; but after a solid month of almost no sleep for me, I knew it was more than that. Ironically, around 6 months is when Nora's sleep got significantly worse as well… and it continued to go downhill for the next 2 years.
I wasn't necessarily panicking about James' poor sleep just yet… but around 7 months, when I realized that I had been sleeping in the twin bed in the nursery for almost 2 weeks straight and holding him for a significant part of the night just to get him to sleep, I knew I had to do something!
As I was sitting there in his dark room one night, I started scrolling through Facebook on my phone. One of my high school classmates mentioned something about how her baby wasn't sleeping well, and someone left the information for an internet-based sleep consultant in the comments of that post.
I immediately went to the consultant's website (more information on this at the end of the post) and decided I would hire her in the morning — after all, there was NO WAY I was letting James' sleeplessness plague me for 3 full years!
Within 24 hours, I had a personalized "sleep plan" for James in my inbox, and we were ready to get started.
I was hesitantly optimistic that anything would change, but I was desperate enough to try almost anything.
I worked with the sleep consultant for 2 weeks at the end of February, and since then we have enjoyed significantly better sleep from James.
The main sleep issues we worked on:
Breaking James' association with feeding and sleeping (a.k.a. I had to keep him awake when feeding him during the day)
Getting James to go into the crib awake and fall asleep on his own
Encouraging longer naps and less waking at night
Limiting feeding times at night.
The results:
Honestly, within 2 to 3 (long) days of working with the sleep consultant, I already noticed a big difference. James was no longer eating to fall asleep and he was able to fall asleep on his own for naps and at bedtime. He also put himself back to sleep a couple time in the middle of the night — without me going into his room!
Now, about 6 weeks later, I feel like we have a pretty good sleep "routine" in place.
James eats at 7:00pm, then I get him ready for bed, and snuggle him in the living room while the other kids eat their bedtime snacks.
He is almost always sleeping by 7:30pm — and usually falls asleep easily on his own.
He often wakes up around 11pm and then around 5:00am to eat and immediately goes back to sleep (it takes less than 10 minutes to feed him).
I wait to go to bed until I feed him at 11:00… and also go back to sleep after the 5:00 feeding too.
He often sleep in until 8:00 or 8:30am.
He takes 1 nap during the day — usually 2-3 hours, around noon.
Why I didn't take all the consultant's advice:
In my opinion, the progress above is fantastic and I do not regret paying for the consultant at all.
However, when I initially hired the consultant, I envisioned James sleeping blissfully for 10-12 hours a night by the end of our 2 weeks. That didn't happen, but I do think we could have gotten there IF I was willing to take all the consultant's advice.
The consultant really encouraged me to eliminate ALL nighttime feedings so James would sleep for 10-12 hours at night, but I honestly didn't feel like he could go that long without eating.
After lots of trial and error during those 2 weeks, I realized that the only way I would be able to successfully eliminate all nighttime feedings was to let James cry for a really REALLY long time, for several nights in a row — and I'm not willing to do that at this point.
Although a full night of uninterrupted sleep sounds so fabulous right now, I would honestly rather wake up once or twice for a super quick feeding if he goes right back to sleep (which he does 99% of the time).
The consultant did a good job of suggesting various alternative methods to try, but I have a feeling she wanted me to let him cry for longer than I was willing to. She did agree that it was my decision on how much to let him cry and she respected that decision.
The consultant also told me that at his age, he really should be taking 2 naps every day — but whenever he took 2 naps, he went to bed much later and woke up much earlier. I tried everything she told me to try, but the 2 nap schedule just wasn't working for us, so I went against her advice to do what seems to be working best for our family.
Now, all 3 kids go to bed between 7:30 and 8:00pm every night and Simon and James often wake up around 8:00 or 8:30 every morning (of course, Nora is our early bird and up WAY earlier than that, but I'll take what I can get!)
.
Although James technically isn't "sleeping through the night", I'm thrilled with the progress we made.
In fact, we implemented some of the consultants ideas with Nora and Simon too. Within a week, we FINALLY got Simon to give up his nighttime bottle and we greatly expedited both of their bedtime routines as well!
My Take-Aways:
I'm SO glad I found (and hired) the sleep consultant when I did!
I learned a lot about sleep for babies and children, but I also realized that all children are different and just because an "expert" says I should do it one way, it doesn't mean that's my only option.
Babies are people too — we can't expect them to sleep exactly the same all the time. They will get sick and not sleep well, they will start teething and not sleep well, they will have nightmares and not sleep well, they will have growth spurts and wake to eat more. However, by having a more regular routine, we can hopefully get back to "normal" more quickly after any "bumps in the road".
Getting a young baby to sleep a full 10-12 hours at night feels somewhat overrated to me. Even my fabulously-sleeping Simon didn't officially sleep 10-12 hours straight until close to a year old. Having a good routine, falling asleep on their own, and sleeping in the crib are all more important to me than sleeping for 10-12 hours (at least when they are so little).
I am a really good mom and sacrifice a lot for my children… but I am so much happier and more fun when I get more sleep!
Information About the Sleep Consultant:
Since I know many of you are wondering who this magical sleep consultant is, I'll share all the information below 🙂
The consultant's name is Violet. Her website is Sleep Baby Sleep

We purchased Sleep Package #4 (2 weeks of unlimited emails and consultation)

Personally, I would recommend Sleep Package #3 — which is ONE week of unlimited emails. We really accomplished everything we needed to in that first week, so the second week didn't seem necessary in my opinion.
NOTE: It looks like she has raised her prices since we hired her just 2 months ago, but they are still fairly reasonable for what she offers. She is VERY quick to respond to all emails and thorough with her responses to your questions and concerns.
Also, I should mention that I really didn't seek out any other sleep consultants to compare services or pricing. I saw that a handful of people left very positive reviews for Sleep Baby Sleep and just decided to go for it.
Finally, this is NOT a sponsored post in any way (she doesn't even know I'm writing it), but I know there is a place for you to list who "referred" you to her services, and I'd love it if you shared that I sent you her way — just so she knows!

Also, I'd love to know if any of you have ever worked with a sleep consultant?
If so, did you learn a lot? Did your babies magically start sleeping better or not?