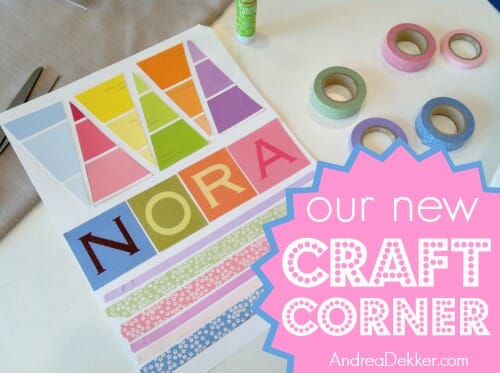 Over the past several months, it's become very apparent that Nora LOVES doing crafts… well, at least toddler-appropriate crafts like ripping paper, coloring with crayons, and sticking stickers everywhere!
Since I'm not a naturally crafty person (outside of painting furniture and making digital photo albums) I don't have a ton of craft supplies — but I have some.
Previously, my limited craft supplies were stored in a big basket on the top shelf above our office desk. It worked fine for the very few times each year I needed some sort of craft supply… but for the more every-day use Nora needed, it was becoming a real pain.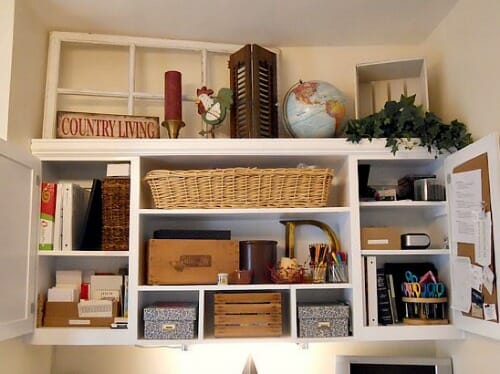 So since our needs have changed, my organizational method also had to change — unless I wanted to climb up on a chair and hoist the craft basket up and down on a daily basis for the next few years!
Thankfully, we had a pretty simple solution.
You know that red hutch that we have in our kitchen? Well, it just so happened that the entire top drawer and the left lower cabinet were completely empty (we've since filled the top with our China dishes).
And since we usually do crafts at the kitchen table (Nora in her high chair), I decided this would be the perfect place for our new "craft corner".
I loaded up the top drawer with stickers, stamps, buttons, glue, tape, paper punches, scissors, etc.
This drawer is hard to open so it will be a LONG time before Nora (or any future children) will be able to open this drawer on their own (insert evil laugh).
I used the tops of 2 shoe boxes for the stickers and stamps, and a small square basket for the tape, glue, and misc things. And there is still plenty of room for growth if we start to accumulate more crafting supplies.
.
In the cabinet below the drawer, I have a box of crayons, a box of play-dough supplies, a box of ribbon, an accordion folder with colored paper, coloring books, and some "decorative edged" scissors tucked behind the ribbons.
Nora can't open this cabinet either because it has a really strong magnetic closure — but for the most part, I don't care if she accesses the crayons, play-dough, and paper on her own (she's not coloring on the couch anymore!)
Again, I just used a few organizing tools I already had on hand — baby wipe containers for crayons and play-dough…
A small box for ribbon…
The TRIO accordion binder for our colored papers (no, I didn't label each folder because I feel like it's obvious what color is inside!)…
And I just stacked up the extra white paper and coloring books on the top shelf.
It's definitely not anything fancy or "Pinterest worthy" but it's working wonderfully for us to have all our crafty things in one place, right next to our kitchen table, and with a little room to grow.
Plus, it's right next to our refrigerator so we can easily hang some of Nora's (and my) creations on that wall!
I fully realize that as Nora grows and as we have more children, our craft supplies might grow — and if/when this current organization method stops working, I'll come up with a new plan at that time.
But for now, this seems to be a perfect solution to our craft "problem"… and it took me a grand total of 45 minutes to implement (at 11:00pm!)
Nora is still loving her crafts, and I'm loving that I don't need to climb up on my desk and hoist down that heavy basket EVERY day!
How do you organize your craft supplies?