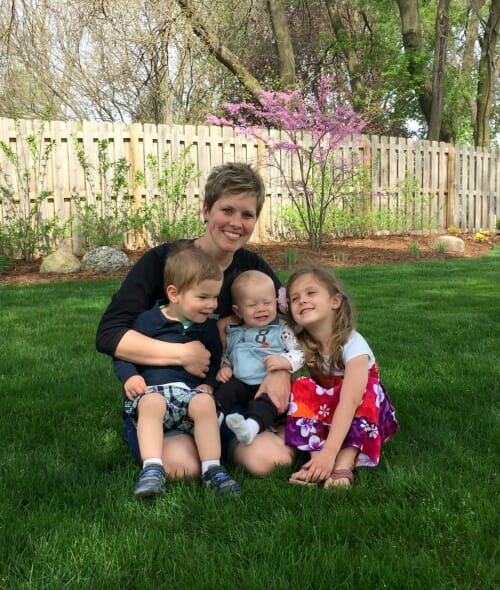 Exactly 5 years ago today, Dave and I shared our surprise baby news with our parents (it was Mother's Day).
At the time, thinking about becoming a first-time parent was exciting, happy, scary, and nerve-racking all at the same time. And over the next couple of years, dealing with a very fussy newborn, infant, and toddler, I started to wonder if I was really cut out for this whole Motherhood gig.
I just couldn't get over how difficult, overwhelming, exhausting, and humbling it was to be a parent of ONE small person — and we hoped to have more!
Now, a couple years and a couple babies later, I feel like I'm FINALLY finding my groove — you might even say we're THRIVING instead of merely SURVIVING!
As I mentioned a few weeks ago, motherhood has never been, and will never be, "easy" for anyone. But over time, I do feel like it has gotten "easier" for me as I gain experience, wisdom, confidence, strength, and perspective as a mother.
Over the last few months, I have even surprised myself with how adventurous, spontaneous, and relaxed I have been as I tote my miniature tribe of small people around town.
I have gotten out of the house with all 3 kids several times each week for various outings at the library, at Nora's school, in our community, or just running errands.
We make it to both the morning and evening services at church — with Nora happily attending the Children and Worship program and Simon + James playing nicely in nursery.
I've gone for several walks and bike rides with all 3 kids on my own — even pulling all 3 kids to the library and back on my bike (and crossing a very busy road)!
We have invited several new neighbors and area friends over to play, over for lunch, even over for breakfast — and we enjoy visiting many of our friends and neighbors at their houses too.
We have visited the local parks (and even had a picnic lunch).
We have eaten outside on the deck and the front porch for lunch and dinner because the kids request this nearly every day.
We have successfully completed a full meal at Culver's without a tantrum or meltdown, without throwing or spilling food, without tears, without a diaper blowout or potty emergency, and without too much stress for Dave or me.
Also, I stopped by Target AND the mall with all 3 munchkins!
I know how ridiculous some of this might sound to those of you who are more extroverted than me, more "go with the flow" than I am, have children spaced out a little further than mine, have older children than mine, etc. etc. but this is BIG STUFF for me, my friends!
Having 3 kids in 3.5 years was a lot for me mentally and physically – but I'm doing it!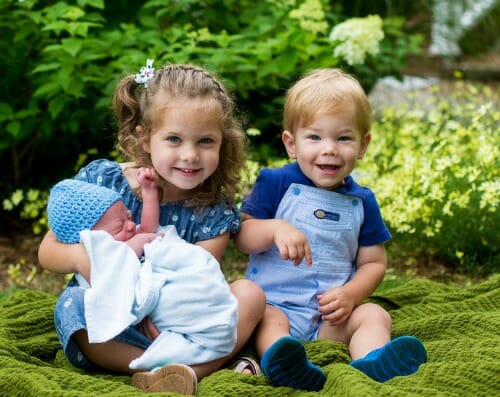 You might not believe it, but over the past month, THREE different people have said some version of: "You're such a relaxed mom, I wish I could be more like you".
Each time, I caught myself turning around to see if they were talking to someone behind me… then I had the urge to laugh in their faces!
Me… relaxed?
Maybe you CAN teach old dogs new tricks 🙂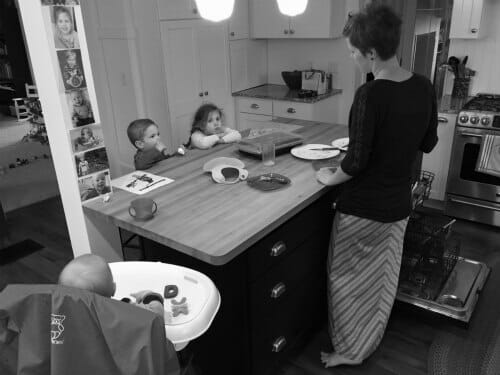 We are almost 10 months into parenting 3 children and it really is starting to feel so much easier.
We have a great bedtime routine and all 3 kids are usually sleeping by 7:30 pm.
Simon almost always sleeps through the night and Nora goes right back to sleep if she does wake up.
James is sleeping better and goes right back to sleep after eating.
Nora and Simon play SO well together and entertain each other for extended periods of time.
Nora and Simon can both easily feed themselves.
Nora is very self-sufficient and can get dressed on her own, go to the bathroom on her own, brush her teeth, wash her hands, get a drink, get ready for bed, and even do her own hair!
Simon is stubborn, but also such a good listener, and he is so good at following the rules.
Nora is more confident on her bike which means we can go for longer walks again with me pushing the boys in the double stroller (this is huge for me because we are used to walking to so many places).
Nora and Simon can get their own shoes and coats on, they can get into the van and into their carseats on their own, and Nora can even fully buckle herself in. They can also get out of their carseats on their own and push the door button to open the door once the car is parked.
Simon and James have been consistently napping at the same time, which means I am "child-free" for a few hours each week when Nora is at school!
I know these are all really small things in the scheme of life, but when you're used to doing EVERYTHING for 3 children all day long, even the smallest acts of independence really do offer so much freedom for me.
Of course, I still need to do a lot for all 3 of them, but not as much as I had to do just a few months ago!
One more "thriving" story…
Last week, I had to actually go into the grocery store to get groceries because we were almost out of fruit, milk, and eggs, people were coming over for dinner, and curbside pickup didn't have any openings when I tried to place my order earlier in the week.

I didn't want to use the time when Dave was home to go by myself because we had quite a bit of yard work to do, so I decided to take all 3 kids with me in the morning. I was hesitantly optimistic as to how it would go, and I really didn't know what to expect because it's been ages since they all came with me to the store.

When we got there, we realized they no longer had the big carts for 3 kids… that meant Nora and Simon would both need to walk with me through the entire shopping trip.

I prepared for the worst, told them both to hold hands and stay right by the cart, and 30 minutes later… we were checking out with a cart full of groceries, 2 hand-holding kids munching on their free cookie, a happy baby, and a super impressed mom.

After a horse ride and a few waves to the old ladies waiting for their bus to pick them up, we tromped through the parking lot to our car, Nora and Simon climbed up in their seats and waited for me to load James and the groceries. They happily sang and laughed on the drive home and played nicely outside while I put the groceries away and made lunch.
As I sat at the table with Nora and Simon, both eagerly scarfing down their lunches and requiring little assistance from me, I felt such a huge sense of accomplishment — not for making it through the grocery store with 3 kids (although that is an accomplishment) — but because for the entire morning, I truly felt like we were "thriving" and not just "surviving".
.
I felt like I was thriving 5 years ago before we had kids — working outside the home, running my business, renovating our home, speaking for women's events all across the state, actively participating in a multitude of church and community functions, enjoying my own hobbies, spending time with friends, traveling with Dave, etc.
Then I had Nora. I felt like motherhood "threw me under the bus" and left me there for a few years.
Thriving was not a word I would have used to described my life… until the past few months.
Of course, there are still many of those difficult "survival mode" days (maybe even weeks and months) around here, but more and more, I'm starting to realize that we are "thriving" — and boy does it feel good.
We have a general routine and structure to our days, my children are growing more and more independent and self-sufficient every day, and (most importantly) I have FINALLY allowed myself to let go of almost everything I did before having children and fully own my role as "Mother".
There will still be time for growing a business, speaking for women's groups, volunteering for church and community functions, visiting antique stores and flea markets, picking up new hobbies, traveling, and more, once our kids are a bit older… and honestly, I'm really excited to get back to those activities.
But for now, my goal is to thrive in my vocation as a mother.
This is NOT to say I will completely give up all other areas of my life to devote 100% of my energy and attention to my children. Rather, it means I will no longer be satisfied to simply "survive" motherhood. I am better than that and I can do better than that.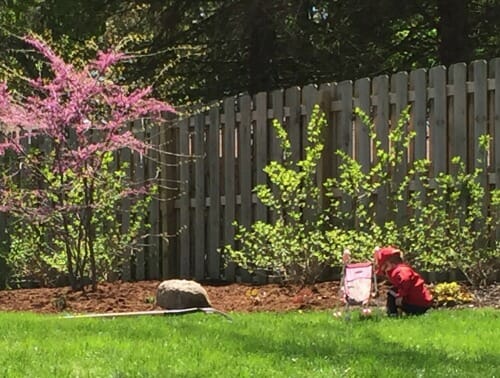 If you are smack in the middle of a survival mode period of life, I honestly don't have many words of wisdom for you — I don't want to throw out a cliche phrase like "it will get better" or "there's a season for everything" or "this too shall pass" because I know that won't help.
I will commiserate with you though (because I know it stinks) and I'll offer 3 tips that seem to help me.
SIMPLIFY your life as much as possible — remove stuff, things, activities, events, and maybe even people from your life if you think it will help you to lighten your load, de-stress your days, and simplify your life.
Do ONE small thing really well (preferably something you enjoy) and allow yourself to cut back on (or completely quit) things you don't enjoy — even if it means being the bad guy or letting others down.
Take a break (if you can!) If there is any way you can get even a small break from whatever is forcing you into survival mode, DO IT! Even if it's just for an hour or two, I know you will feel more refreshed and less stressed if you can just get away and take your mind off that situation. I realize this might not be possible, depending on your situation (and I know how frustrating that can be too) but it's worth a try!
Living in survival mode is often necessary for periods of life — and although it's not ideal, it IS doable. However, if the survival mode period seems to linger indefinitely, it might be time to take a step back and evaluate your life as a whole.
You might not be able to magically "fix" the situation right now, but you can slowly start moving away from "surviving" and towards "thriving".